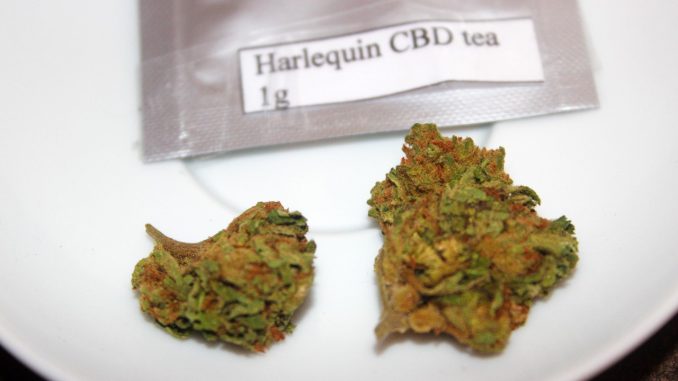 Today's Hemp CBD Flower review and up this time we have the "Harlequin" CBD Flower from Hygeia CBD.
Hygeia CBD are a United Kingdom based retailer of premium quality CBD flower and other CBD products.
All of Hygeia's CBD tea flowers contain less than 0.2% THC and are third party lab tested.
The "Harlequin" is a currently unreleased strain from Hygeia CBD, so I was really looking forward to the chance to review this strain.
The CBD Blog Review
I recently reviewed the "Le Femme Vurt Kush" CBD Flower from Hygeia CBD which was one of the best CBD strains I have tried to date, really recommend that one.
So I was really looking forward to trying the 1g of the the unreleased "Harlequin" that I got generously as a sample with my order.
Appearance: The Harlequin is some of the best cured CBD Flower I've reviewed in a while on the blog here.
Lovely well-cured light green buds with lots of orange and more trichomes than the photo gives credit for. I knew the Harlequin was going to be primo quality CBD flower from how well it was cured and the smell alone.
Smell & Flavour: The smell and flavour of the Harlequin was really nice, pungent almost citrus haze type aroma to it.
I vaped most of the Harlequin and the flavours were citrusy with a touch of the usual hemp cannabis flavour also.
Effect: I vaped most of the Harlequin as mentioned above and the effect was everything I look for in a CBD flower strain.
Very thick nice vape clouds which is a must for me in the Volcano Vaporizer and a great CBD strain anytime of the day.
Hygeia CBD's flower has been some of the most potent hemp CBD flower I have tried to date, the effect is really different and unlike many other CBD flower I've tried, a great balanced high, the flower from Hygeia CBD is really satisfying and leaves you a nice pleasant feeling.
Preferred to vape the Harlequin mostly as a day time strain, I suspect it was a balanced sativa/indica profile from the effect.
Overall: I would definitely recommend our readers to check out Hygeia CBD and their great quality CBD Flower. Customer service is also brilliant too and a good company.
Information
Profile
Harlequin – Strain Name
Under 0.2% THC
Where To Purchase
For more information or to purchase check out Hygeia's Official Website at: Hygeia CBD