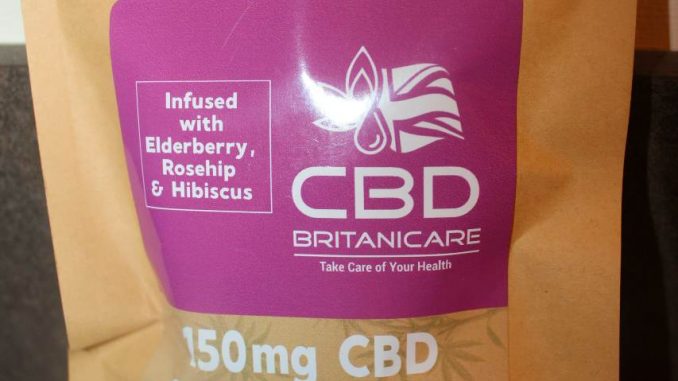 This week's Hemp CBD product review and up this time we have the 150mg CBD & Hemp Tea Infused With Elderberry, Rosehip & Hibiscus from CBD Britanicare.
CBD Britanicare are a United Kingdom based retailer of premium Hemp and CBD products with a huge range including CBD oils, CBD Capsules, CBD e-liquids, CBD infused hemp teas and many others.
Their CBD & Hemp Tea range comes in a range of infused flavours including Elderberry, Rosehip and Hibiscus, Green Tea, Lemon & Ginger, Nettle & Peppermint, Chamomile and Turmeric Chai.
Each tea bag contains a 15mg dose of CBD hemp leaf. 150mg CBD total content per pack.
Suitable for vegetarians and vegans.
CBDBritanicare describe their Eldberry, Rosehip & Hibiscus tea as:
Our Fair trade Elderberry, Rosehips and Hibiscus Tea blend infused with CBD hemp leaf is rich in flavour.
Fruity herbal combination with earth rich hemp flavour can be enjoyed at any time in the day.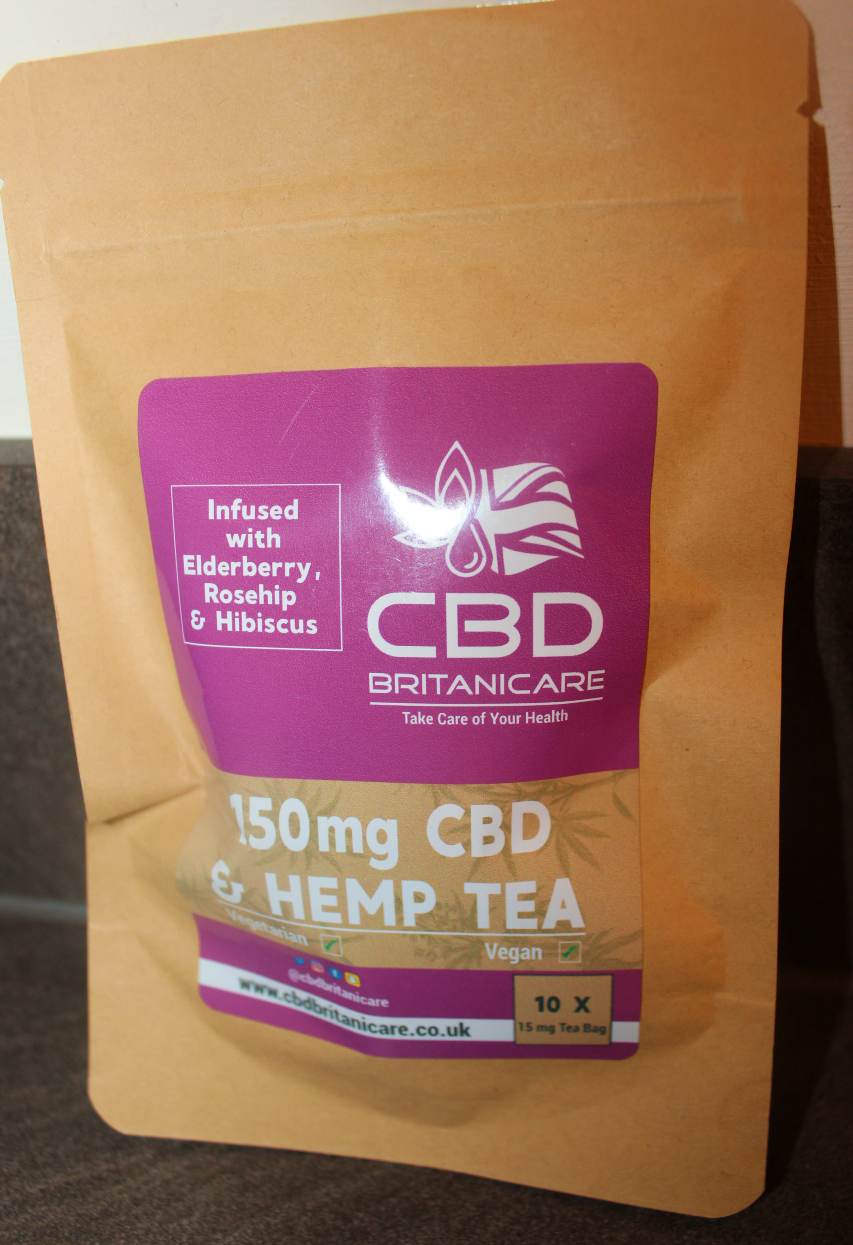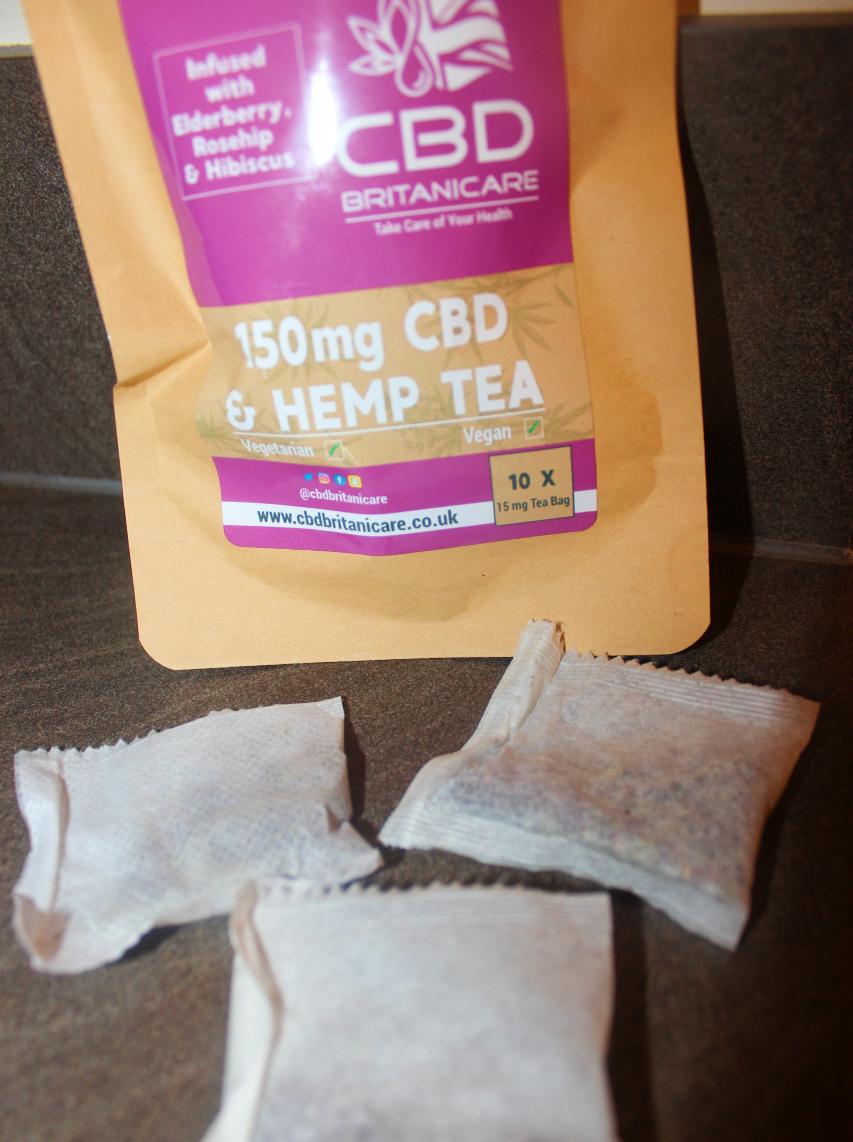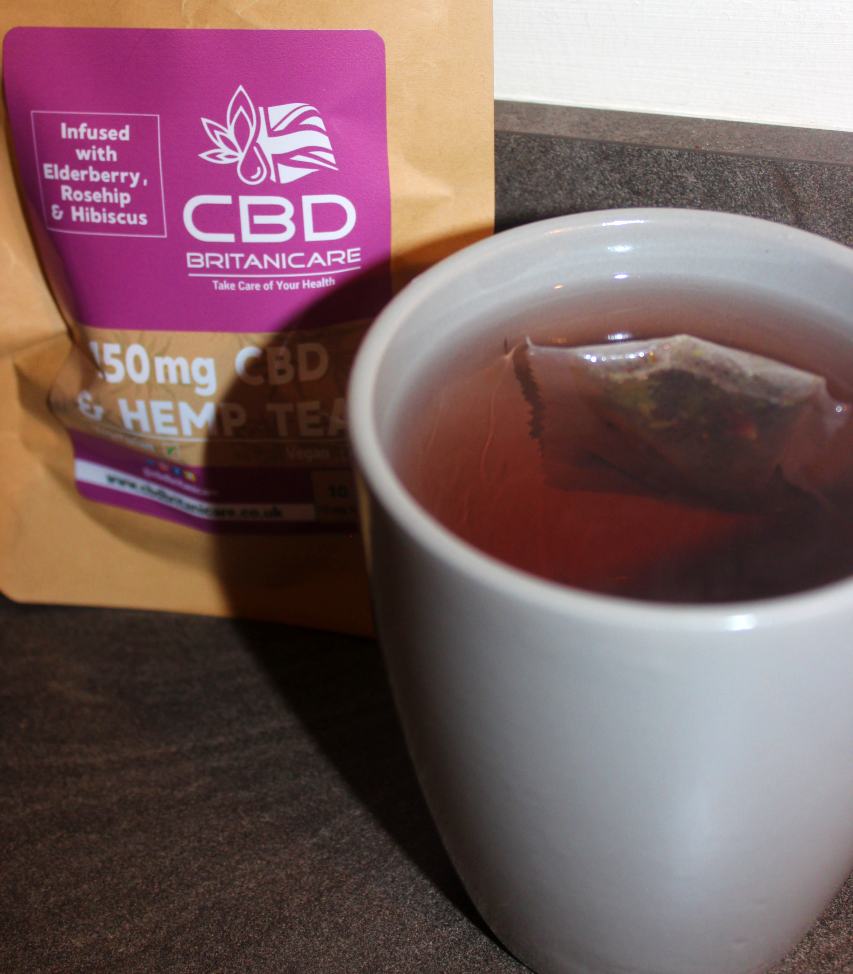 The CBD Blogger Review
Firstly I would like to start off the review by once again saying many thanks to CBD Britanicare for generously gifting us some samples of their products for reviewing on the blog and the continued support.
We have reviewed a few of CBDBritanicare's products now at The CBD Blog including their Turmeric Chai flavour Hemp CBD tea, which was very delicious, healthy and has a great effect.
I have been a huge fan of Rosehip and Hibiscus tea for years and drink it regularly, so I was really glad that CBDBritanicare included this flavour of their Hemp CBD teas for me to review.
However this flavour of Hemp CBD tea isn't only infused with Rosehip and Hibiscus, it also includes the addition of Elderberry, which is another amazing plant with anti-viral and immune boosting properties.
I have been highly impressed with the Hemp CBD infused tea range from CBDBritanicare so far. as an individual who studies herbal medicine and is a big fan of herbal tea infusions.
Taste & Flavour:
Amazing taste and flavours once again from CBDBritanicare, you have the usual mild sour tart taste from the Rosehip and Hibiscus, but you also get the Elderberry and Hemp leaf coming through to balance it out.
The Hemp leaf in particular adds a really nice earthy cannabis aroma and blends really well with the other herbs to enhance the flavour.
If you are a fan of Rosehip and Hibiscus tea then you will no doubt enjoy this infusion. Delicious taste.
Effect:
The effect of CBDBritanicare's Hemp CBD tea range continues to amaze me, even as someone with a high CBD tolerance all I need is about a quarter to half a cup to produce a really nice relaxing CBD effect before bed.
A cup is a great healthy way to get your CBD in my opinion and you get the synergistic benefits of the various herbs the CBD hemp leaf is infused with.
Hibiscus tea for example has shown in studies to have similar blood pressure lowering effect to some standard anti-hypertensive medications, but with a better side effect profile.
Rosehip, Hibiscus and Elderberry are also great sources of numerous bioactive phytochemicals such as flavonoids, chlorogenic acid, phenolic compounds and other antioxidants such as ascorbic acid.
Each tea bag contains 15mg CBD content and I would say these are much more potent than even your average 10-20mg CBD gummy.
Great effect overall for hemp CBD tea format.  Definitely the most potent CBD hemp teas I have had the pleasure of reviewing so far.
Overall:
Huge fan of CBDBritanicare's CBD and Hemp healthy range of teas.
Rosehip and Hibiscus tea is great for health before we even get to the extra bonus of Elderberry and CBD rich Hemp leaf for addition benefits.
I think next on my list to try will be their Chamomile infusion and maybe their Nettle and Peppermint too, which is up my street.
Chamomile is a mild sedative, calming nervine herb which I suspect will pair very well with CBD rich hemp leaf.  Both Chamomile and CBD have proven anxiolytic properties.
Nettle leaf is also an excellent nutritive general tonic herb, so interested to see how that pairs with CBD rich hemp leaf.
If a healthy CBD product is what you are looking for then I would highly recommend CBDBritanicare's infused range of CBD Hemp teas.
Great taste/flavours, plus the health benefits of the supportive botanicals/herbs the teas contain are worth the cuppa in itself and most of all they provide a good strong CBD effect.
Information
Price
£5.99 per 10x tea bags

Ingredients
Elderberry (45%), Rosehip fruit shell (35%), Hibiscus. CBD hemp leaf
Where To Purchase
For more information or to purchase check out CBD Britanicare at: CBD Britanicare Hemp CBD Teas