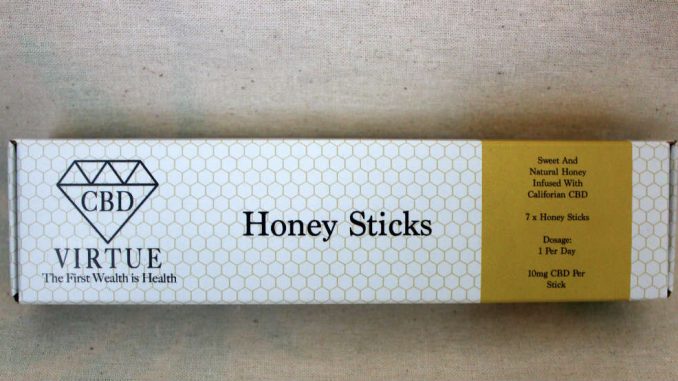 This week's Hemp CBD product review and up this time we have the CBD infused honey sticks by CBD Virtue.
CBD Virtue produce a range of Hemp/CBD(Cannabidiol) products including CBD gummy bears, CBD infused honey sticks, CBD skincare products and much more.
Today I will be reviewing their 10mg CBD Honey Sticks.

Buzzing with premium Californian natural honey, blended with smooth, clean CBD, these honeysticks slip down easy.
The sweet goodness of rich Californian honey, enhanced with a strong infusion of ultra-premium CBD makes our CBD honey sticks our all time bestseller.
For anyone who wants the benefits of CBD over the long term, these honey sticks are the ideal combination of great strength and great taste, with a CBD dosage that's safe and effective for everyone.
Each stick is made from certified pure CBD distillate from sunny California. All our CBD has all the full spectrum phytocannabinoids needed for the entourage effect, and is naturally rich in CBG, CBN, CBC, 100+ synergistic terpenes, flavonoids, and essential amino acids.
These honey sticks are a great way to make CBD a part of your every day life, try spreading them on toast or stirring them into tea.
XTRA POWER
Californian honey is renowned for high levels of flavonoids and antioxidants which could help reduce the risk of some cancers, heart disease and a whole range of conditions.
With balanced levels of fructose and glucose it can help the body regulate blood sugar levels. It's also antibacterial, antiseptic, and has been shown to lower cholesterol. It's the perfect pairing.
The CBD Blog Review
This was my first time trying the CBD infused honey sticks by CBD Virtue and I was really impressed overall.
Honey and CBD(Cannabidiol) might be some of my favorite superfoods at the moment, so I was very eager to see how the CBD infused honey sticks fared.
The taste of the honey is superb and very sweet, there is no taste of hemp or CBD which is good.
My favorite way to take the CBD honey sticks are by sweetening about half a stick in a cup of Organic Black Tea.
That way you get the health benefits of three great "functional foods" at the one time in black tea, honey and CBD(cannabidiol). The honey also really adds to the taste.
The honey sticks contain pure broad spectrum CBD distillate, which produces a very nice clean CBD effect and you can tell its very good quality Cannabidiol.
Overall: If you are a fan of honey and CBD then I would definitely recommend to give the CBD honey sticks by CBD Virtue a try.
Information
Price
£19.99 per 7 CBD honey sticks.
Ingredients
Raw Honey & CBD (Cannabidiol)
This product is not intended to diagnose, treat or cure any disease or illness.
All our products are within the UK 0.2% THC limit. This product is THC free.
Where To Purchase
For more information on CBD Virtue's products check out their website at: CBD Virtue<!–
---
Top Sponsor:
Get a massive 25% discount off orders at Orange County CBD using our special code – THECBDBLOG