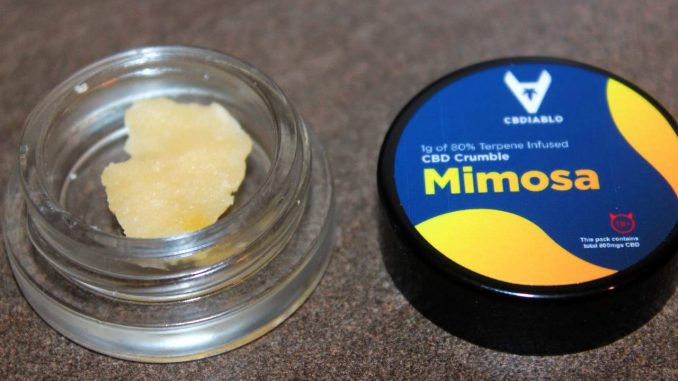 This week's Hemp CBD product review and up this time we have the Mimosa terpene infused 80% CBD Crumble from CBDiablo.
CBDiablo are a United Kingdom based retailer of premium quality CBD products with an amazing range including CBD Oil, CBD gummies, CBD vape cartridges, dab crumbles and much more.
CBDiablo's CBD Crumble is Broad Spectrum: CBD, CBDa, CBG and contains 0% THC.
Organic, Lab Tested and Vegan Friendly.
Their CBD Crumble comes in a range of terpene infused flavours including Stardawg, Wedding Cake, Tangerine Dream, Mimosa and Zkittlez.
CBDiablo also donate an amazing 20% of their profits to CALMzone. The Campaign Against Living Miserably (CALM) is leading a movement against suicide.
CBDiablo describe their Mimosa terpene infused blend as: If you like flavour, then you need to start your day with a Mimosa. 
You may expect the flavours to be akin to the famous cocktail which gives this strain its name;  a sweet, tangy and sour array of citrusy flavours. Lemon, grapefruit, mango with a champagne chaser of creamy herbal funk. Replace your morning cup of coffee with a slow sip of Mimosa.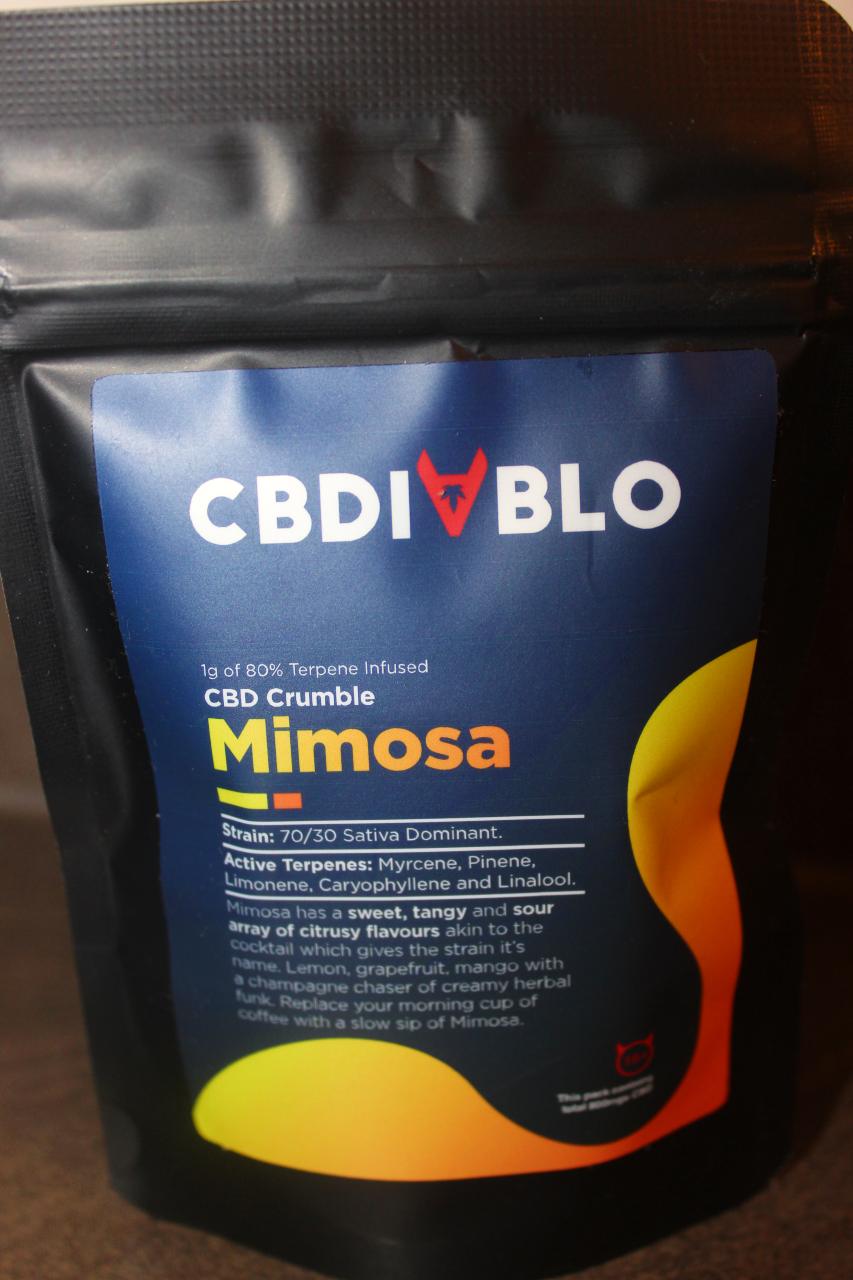 A close up picture of the Mimosa terpene infused 80% CBD Crumble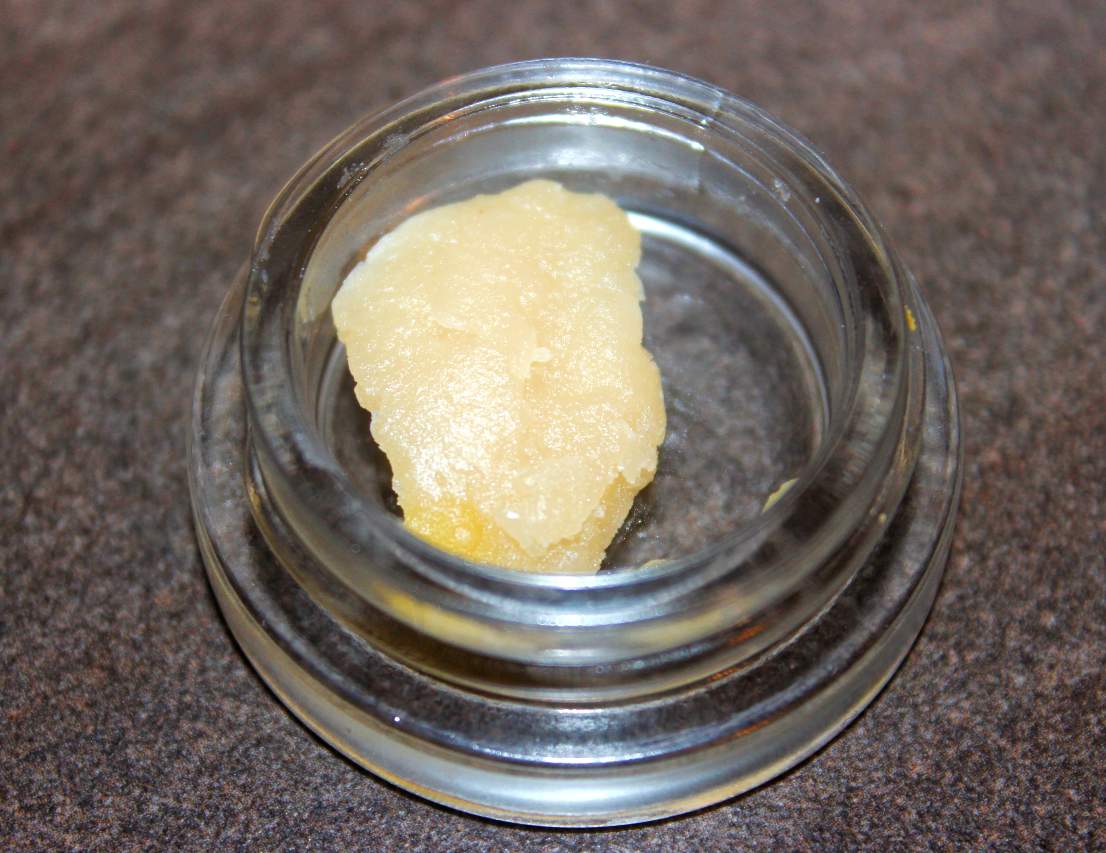 The CBD Blogger Review
Firstly I would like to start off by once again saying many thanks to CBDiablo for generously gifting us some samples of their products for reviewing on the blog.
This was my first time trying CBDiablo's products after luckily stumbling upon their company on Instagram recently during one of my missions searching for new CBD companies to review.
Woah! is all I can say to describe the Mimosa terpene infused 80% Broad-Spectrum CBD crumble from CBDiablo.
Absolute amazing quality and one of my favorite all time CBD products that I have reviewed so far here at The CBD Blog.
Taste & Flavours:
The Mimosa terpene infused CBD Crumble is definitely the most flavoursome and authentic cannabis tasting extract that I've had the pleasure of sampling to date in the CBD industry.
The balance and depth to the Mimosa terpene blend flavours is just unreal.
You initially get some nice well balanced mild sour, citrus, tangy notes and then suddenly you are hit with an amazing almost hashy polm cannabis aroma in the flavour.  Hits the palate just like the real thing.
The Mimosa terpene blend is so authentic in cannabis aroma that even handling the CBD Crumble/wax can leave your fingers smelling like top quality hash from Amsterdam.
Great flavours and very moreish.  The Mimosa's active terpenes include Myrcene, Pinene, Limonene, Caryophyllene and Linool.
If flavours are what you are chasing then you definitely will not be disappointed with the Mimosa terpene blend.
10 out of 10 for flavour and taste.
Effect:
The Mimosa terpene infused 80% CBD Crumble from CBDiablo has some of the most satisfying effect that I have ever experienced from a CBD product so far.
I am a huge fan of Sativa dominant strains, so when I learned that the Mimosa terpene strain blend was a 70/30 Sativa dominant strain I couldn't wait to try this one.
Most of the terpene blends I have reviewed in the past here at The CBD Blog have tended to be Indica dominant/Kushes, so it's nice getting a Sativa for a change as a huge Sativa lover.
I dabbed about 1-2 rice grain size of CBD Crumble/Wax in my CBDLife Dab Vaporizer pen and almost immediately you are greeted with an amazing uplifting cerebral heady sativa CBD effect.
The Mimosa CBD Crumble from CBDiablo is the first CBD product I have tried to date that is so satisfying in effect that it has actually taken my cravings away for THC and is a genuine substitute for me.
The Mimosa CBD Crumble once again gets a 10 out of 10 here for effect, not just in terms of potency but how satisfying the effect is also.  Energizing, euphoric and uplifting terpene blend.
Amazing product overall.
Packaging:
As you can see from our pictures the packaging from CBDiablo is really as good as it gets, when it comes to CBD products and storing CBD Crumble.
I really love the branding here from CBDiablo and its one of the things that first initially drew me to their brand and products.
The Mimosa terpene infused 80% CBD Crumble comes perfectly packaged in a high quality dark navy outer mylar bag complete with sticker/strain information, inside contains the usual glass jar containing the CBD Crumble.
Great packaging, keeps the CBD Crumble/Wax very fresh and potent for maximum flavour.
Overall:
Absolutely blown away at the quality of CBDiablo's Mimosa CBD Crumble here and can't rate it enough.  Top quality all round.
The Mimosa terpene infused 80% CBD Crumble is definitely a true connoisseur grade product in terms of both authentic flavours, right through to the amazing satisfying effect.
I highly recommend that our readers head on over and check out CBDiablo's amazing range of CBD products.
Information
Price
£35.00 per 1g CBD Crumble (800mgs CBD)
Where To Purchase
For more information or to purchase check out CBDiablo at: CBDiablo