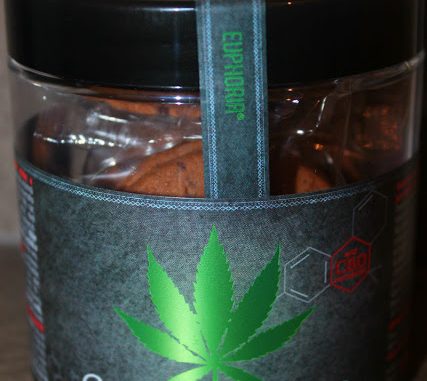 This week's Hemp CBD product review and up this time we have the Hemp Cannabis with CBD Chocolate Cookies by Euphoria.
Euphoria are a company based in Czech Republic who produce a range of hemp cannabis/CBD infused edibles such as cookies, biscuits, chewing gum and many other products.
The hemp cannabis with CBD chocolate cookies contains less than 0.2% THC.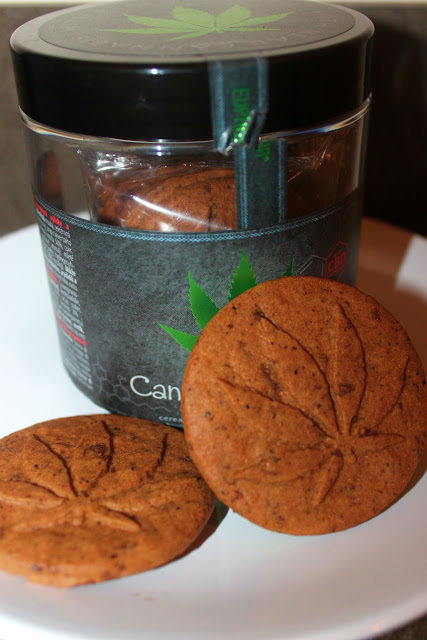 The CBD Blog Review
This was a product I reviewed a while back after purchasing them from my local corner shop which had started stocking some CBD edibles and other hemp/CBD products.
These were slightly more expensive at £9.99 than the other hemp cookies from Euphoria that I reviewed the previous week, which was priced at £4.99.
These chocolate cookies appear to be slightly larger in size and feels like there was more eating to them. Inside the tub they come in five sealed packs of two individual cookies.
Two cookies at a time I find is a nice dose of CBD or if you are greedy then 3-4 for a generous CBD effect.
The taste was good, your typical cookie milk chocolate cereal biscuit flavour, although you get the nice hints of hemp flower through it also.
I have enjoyed every hemp edible that I have tried so far from Euphoria and again the chocolate cookies were no different.
Another great product by Euphoria. Although if I was to choose between the £4.99 hemp cookies from Euphoria or the £9.99, I'd probably go with the cheaper as they were equally as strong and also tasty.
Overall: I would definitely recommend our readers to check out Euphoria's Hemp/CBD range of products.
Information
Price
£9.99 per tub
Ingredients
Cereal Cookies with Cannabis, Chocolate and CBD (Cannabidiol)
Jar contains 110g
Where To Purchase
For more information on Euphoria's products check out their website at: Euphoria
---
Top Sponsor:
Get a massive 25% discount off orders at Orange County CBD using our special code – THECBDBLOG