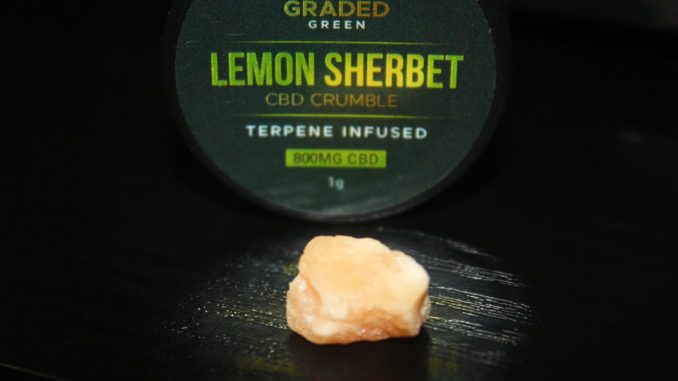 This week's CBD Extract review and up this time we have the very tasty Lemon Sherbet Broad Spectrum 800mg CBD Crumble from Graded Green.
Graded Green are a United Kingdom based retailer of premium quality Hemp CBD products with an extensive range including CBD Oils, CBD Extracts(Shatters/Crumbles), CBD Disposable Vape Pens, CBD Vape Cartridges, CBD Gummies and much more.
Graded Green's Broad Spectrum CBD Crumble is hand crafted using 95% THC free extract from organic hemp. Infused with top shelf terpenes in an artisan style.
Terpene Profile: Lemon Sherbet
CBD Content: 800mg CBD
Dominant Terpenes: Beta-Pinene, Terpinolene, Myrcene, Beta-Caryophyllene, Alpha-Humulene
Aroma: Sweet, Citrus, Pine
Brand: Graded Green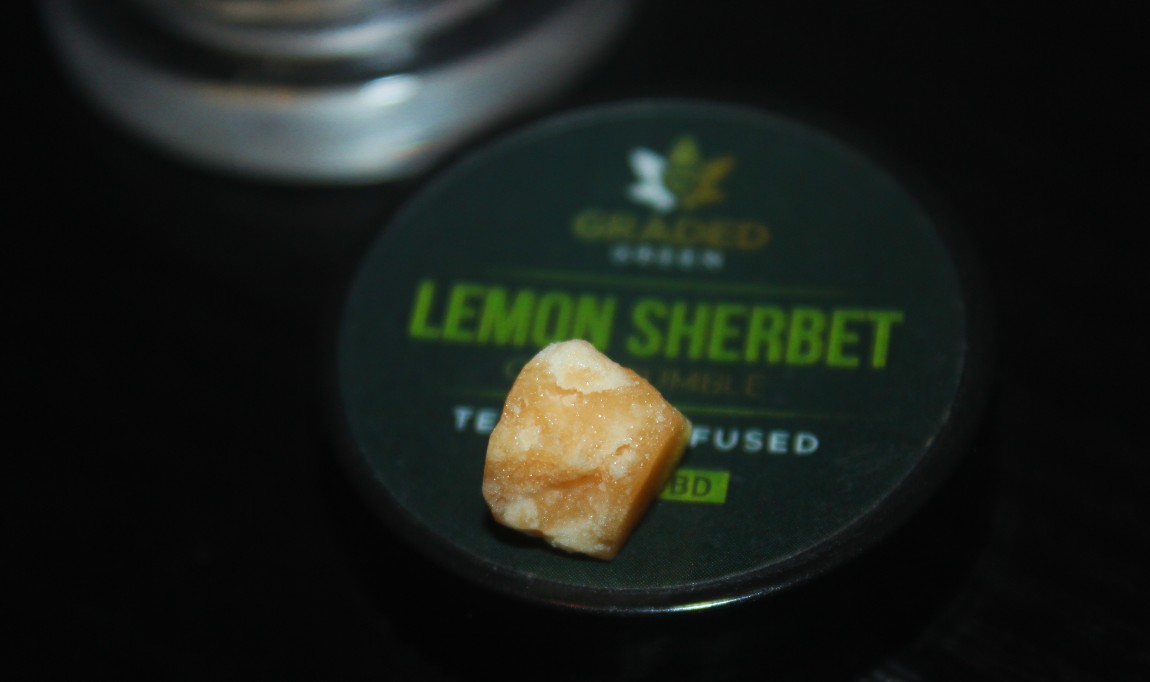 Close up picture of the Lemon Sherbet CBD Crumble from Graded Green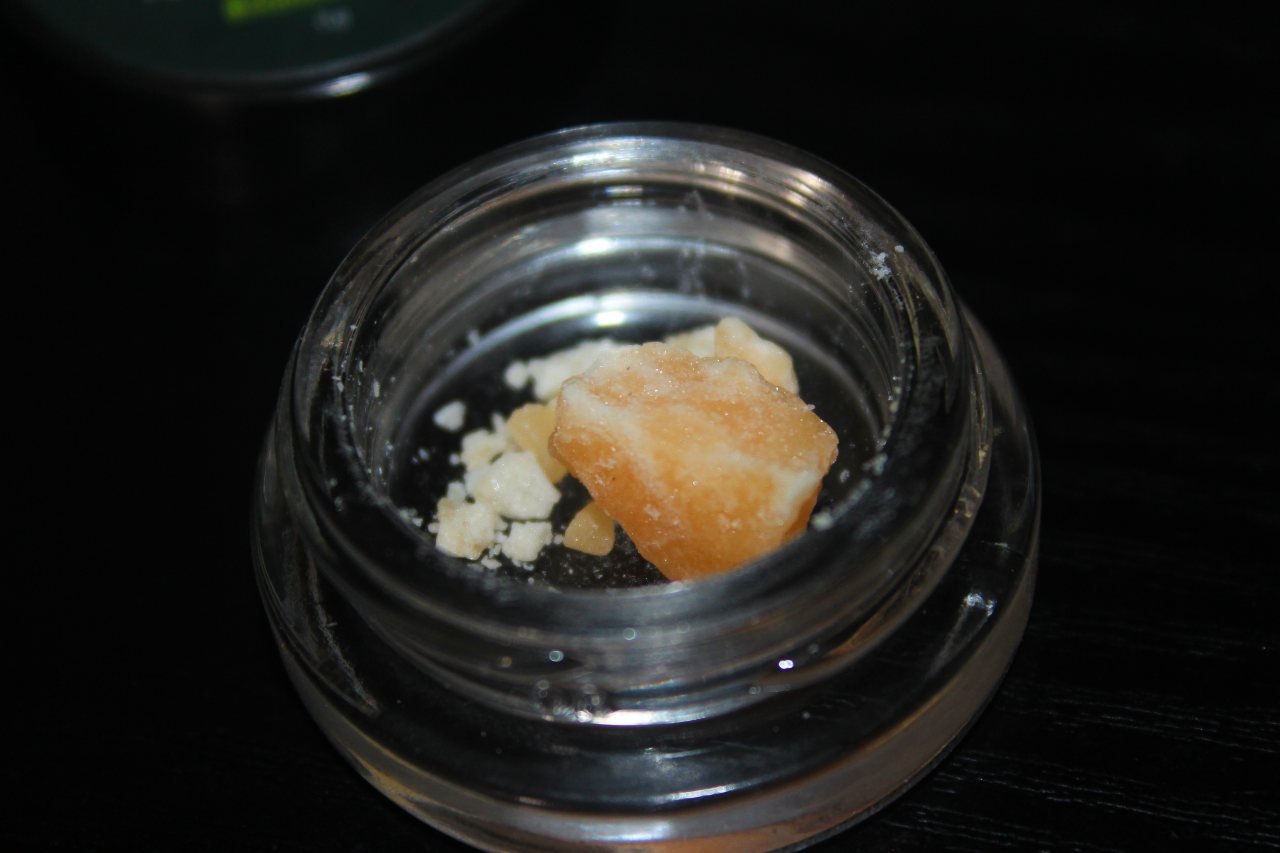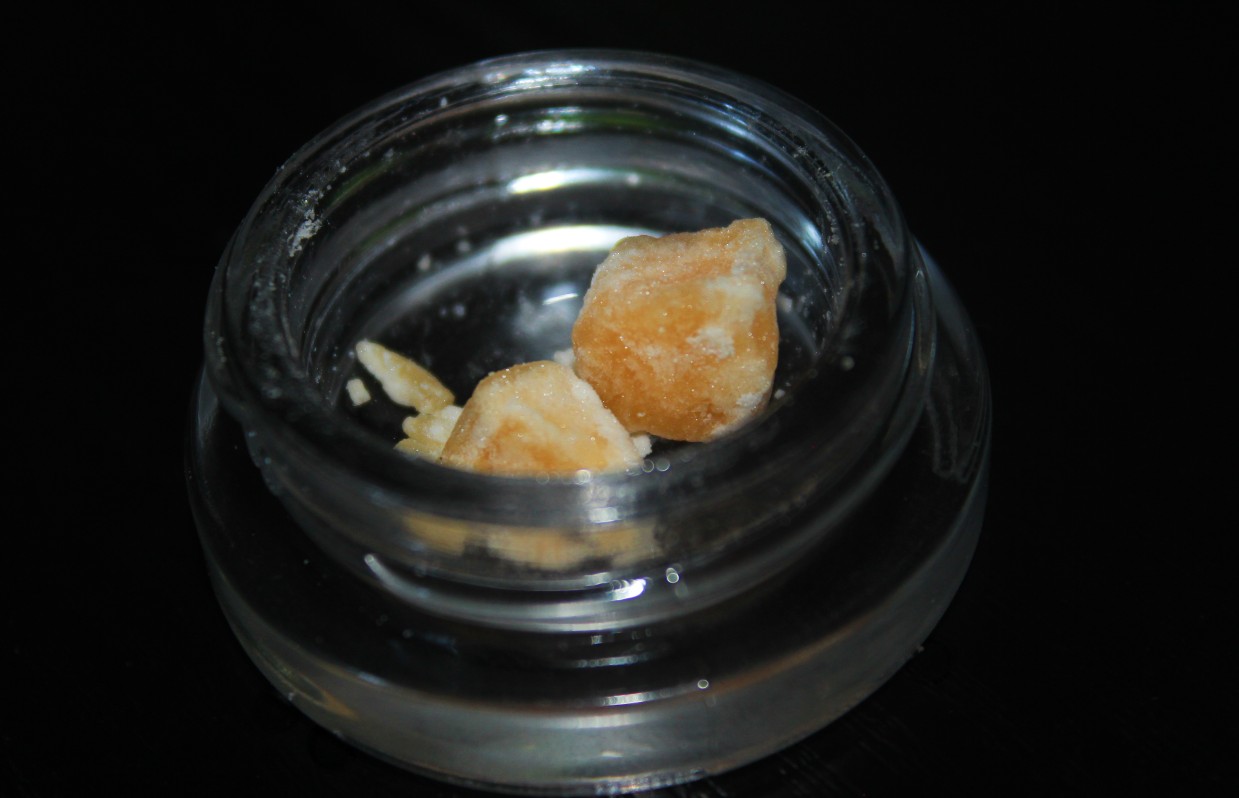 The CBD Blogger Review
I would like to start off the review as always by once again saying many thanks to Graded Green for the continued support at The CBD Blog and generous samples.
I have spent the last year now sampling lots of Graded Green's CBD concentrates and many of their different, unique tasty terpene profiles from Sour Cookies to Amnesia.
I am a huge fan of Graded Green's CBD Extracts especially the effect of their terpene infused CBD Crumbles and Shatters.
Anyway onto the Lemon Sherbet terpene infused CBD Crumble review…
Aesthetics:
The Lemon Sherbet is once again visually another stunning bit of CBD crumble from the Graded Green team.
Quite similar in appearance to the Mango Melt CBD Crumble that we reviewed a while back from Graded Green.
Orange to beige colour crystalized CBD crumble.
Nice big chunks of CBD crumble as always.
Taste & Flavours:
Amazing flavour from the Lemon Sherbet CBD Crumble, definitely one of my favorite terpene profiles that I have sampled so far from Graded Green.
Uplifting zesty lemon citrusy cannabis terps.
Just the right level of balance in the flavour all round, not too much lemon/citrus and a really nice mild almost cannabis-esque aroma to the flavour.
Very tasty and moreish terpene profile overall.
Effect:
The Lemon Sherbet CBD Crumble has an amazing effect dabbed or vaped in a dab vaporizer pen.
You get an instantaneous potent Indica CBD effect, which is also very heady, energetic and cerebral at the same time.
Very heavy hitter the Lemon Sherbet, I like to take a dab or vape before bed as its gives that classic heavy eyed Indica, hard to keep your eyes open feeling which is great to just aid sleep.
I really miss that feeling from top quality Indica's, so its really nice to get such a pronounced similar effect from CBD extracts.
Whilst the Lemon Sherbet CBD Crumble is heavy in the eyes, there's no heavy body load or tiredness that sometimes comes with strong CBD crumbles/extracts, so it has a really nice balanced uplifting effect overall.
Really continue to be blown away with the effect of the CBD crumbles from Graded Green.  I find they hit slightly different from many other CBD brands and a gram lasts ages, so very economical way to medicate with CBD (Cannabidiol).
Overall, amazing effect from the Lemon Sherbet CBD Crumble and a potent bit of CBD extract.
Overall:
Another quality and flavorsome CBD concentrate from the team at Graded Green.
Although the flavour is amazing, it is the effect here of the Lemon Sherbet CBD Crumble which is stand out for me and gets a 10 out of 10.
Definitely one of the most all out potent CBD crumbles that I have sampled to date, very near instantaneous sedating CBD effect that just seems to keep building in intensity after a dab.
Has a very enjoyable mood boosting, uplifting, heady effect to balance it out also.
Highly recommend our readers and the CBD extract connoisseurs to check out the many tasty terpene profiles and amazing CBD products on offer at Graded Green.
Graded Green also have some new flavours of their Cali CBD Vape Cartridges coming soon, so keep an eye on their website and Instagram for their latest updates.
Information
Price
£24.99 per gram or discounts for larger quantities.  Currently on sale at £16.99

Important Information
800mg Broad Spectrum CBD
10%+ Terpene Infused
Organic Hemp Derived
THC Free
Co2 Extracted
Food Grade
Solvent Free
Where To Purchase
For more information or to purchase check out Graded Green at: Graded Green