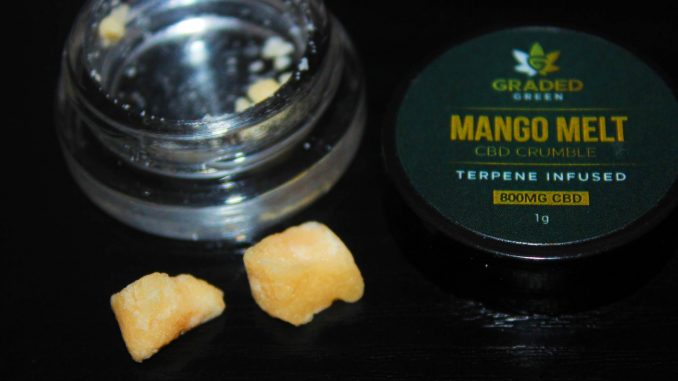 This week's Hemp CBD concentrate review and up this time we have the Mango Melt Broad Spectrum CBD Crumble from Graded Green.
Graded Green are a United Kingdom based retailer of premium quality Hemp and CBD products with an amazing and ever expanding range including CBD Oils, CBD Concentrates such as their terpene infused CBD crumbles and CBD Shatters, their new terpene infused disposable vape pens range and much more.
Their Broad Spectrum CBD Crumble is hand crafted using 95% THC free extract from organic hemp and infused with top shelf terpenes in an artisan style.
Graded Green's CBD Crumbles come in a range of different terpene profiles including Birthday Cake, Lemon Sherbet, Mango Melt, Sour Diesel, Stardawg and Zkittlez.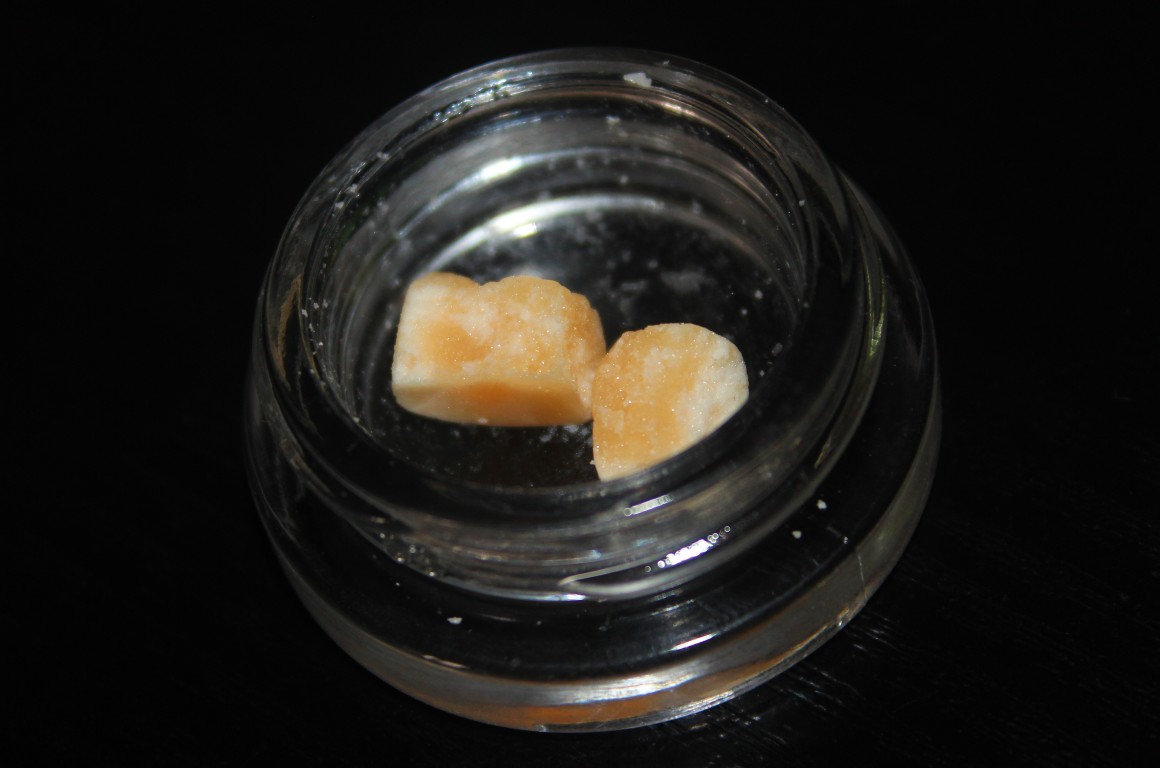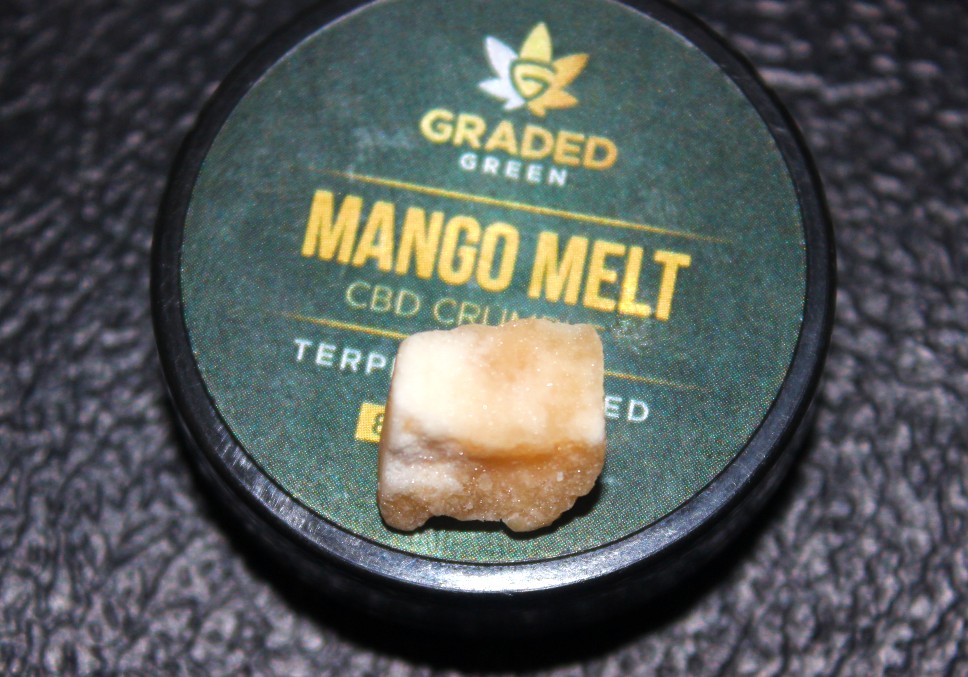 A close up picture of the Mango Melt terpene infused CBD Crumble from Graded Green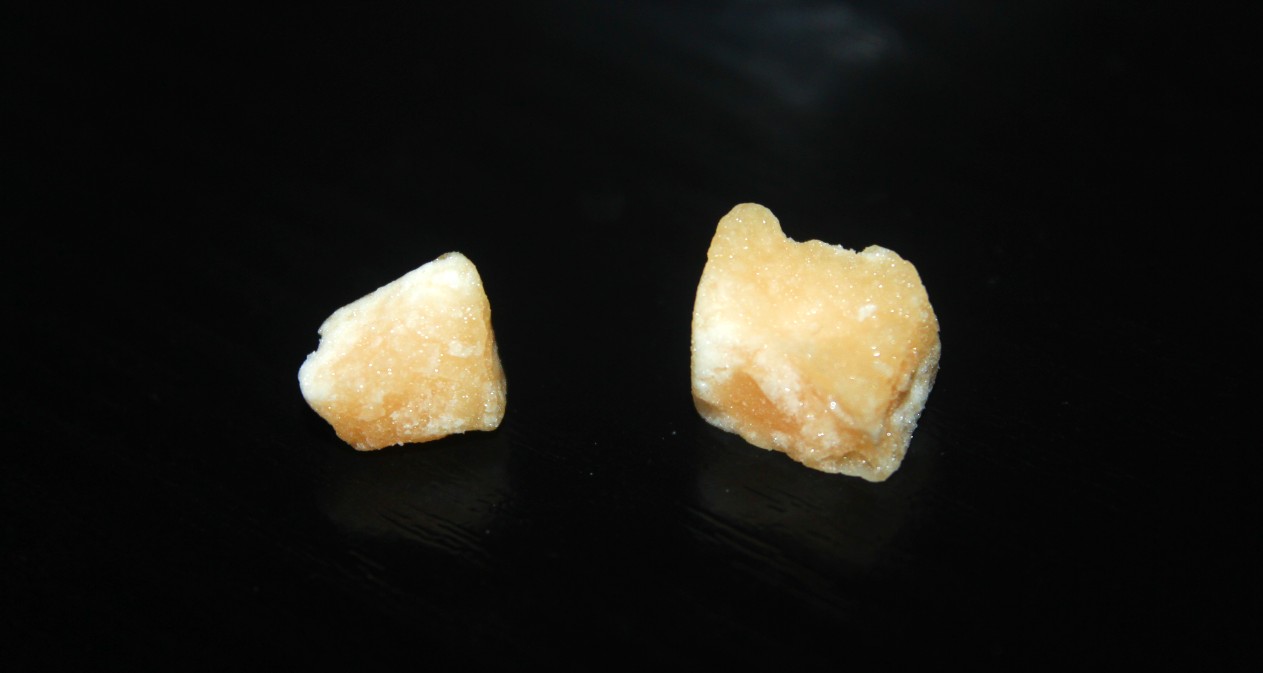 The CBD Blogger Review
Firstly I would like to start off the review by once again saying many thanks to Graded Green for the very generous selection of samples to review here at The CBD Blog and for the continued support.
I recently reviewed Graded Green's Amnesia terpene infused CBD shatter, which was a really quality bit of shatter, full of flavour and a very potent effect.
With such a fine selection of Graded Green's terpene infused CBD shatters and crumbles on hand it was a mighty difficult task even choosing which terpene profile to review next, as all the flavours are top notch.
However, the Mango Melt CBD Crumble has stood out as a top flavour these past few weeks, so I figured it was the perfect choice of terpene profile to review next.
Aesthetics:
The Mango Melt CBD Crumble is aesthetically another amazing piece of CBD concentrate from the guys at Graded Green.
Huge mango yellow to pure white colour crystalized rocks of CBD Crumble.
Visually a really nice bit of CBD Crumble.
Taste & Flavours:
As soon as you crack open the jar you are greeted with extremely pungent Mango terpenes.  The Mango Melt CBD Crumble smells even more authentic than actual Mango and is very moreish to even smell.
This is definitely one for the mango and fruit lovers, and those who enjoy a really flavorful fruity terpene profile.  Smells and tastes very similar to a mango ice lolly.
The Mango Melt flavour comes out absolutely amazing in the Volcano Vaporizer, I've never seen a terpene profile come through in the Volcano bursting with such intense fruit flavour.
A really nice uplifting day time and afternoon terpene profile.
Effect:
I have been experimenting with Graded Green's CBD Crumbles and Shatters for the past couple of weeks now on a near daily basis and continue to be absolutely blown away with the effects.
I find the shatters to have a more outright instantaneous strong sedating effect, whereas the broad spectrum CBD Crumbles have a more balanced effect that builds over the hour.
Not too sedating, more uplifting and with a great mood boost, although you still get plenty of the heavy eyed Indica CBD effect.
I also find the broad spectrum CBD crumbles from Graded Green in particular to increase music appreciation, which is amazing.  Really great effect overall.
Another thing I love about the Graded Green CBD Crumble's is how versatile they are.  They are of course amazing dabbed/vaporized as intended in a dab pen or dab rig, but I have also been topping joints and using the Mango Melt particularly in the Volcano Vaporizer as mentioned previously.
The amount of vapour they produce and the throat hit Graded Green's CBD Crumbles give is as I say pretty much equally as pleasurable as vaping real flower in the Volcano.
The CBD Concentrates from Graded Green are also very good I find for reducing cravings for THC and provide an amazing calming effect for chilling out at night.
Amazing effect overall. 10/10 for enjoyment.
Overall:
Hugely impressed with the Mango Melt CBD Crumble from Graded Green and their range of CBD concentrates in general.  Highly recommended.
We still have lots of reviews coming for more of Graded Greens CBD Crumbles and Shatters in the very near future, so keep an eye on the blog.
Definitely head on over to Graded Green's website to check out their vast and ever building range of quality CBD products.
They also have many new unique and very interesting CBD products in the works, which you can find the latest updates on their Instagram.
Information
Price
£24.99 per gram or discounts for larger quantities.  

Important Information
800mg Broad Spectrum CBD
10%+ Terpene Infused
Organic Hemp Derived
THC Free
Co2 Extracted
Food Grade
Solvent Free
Where To Purchase
For more information or to purchase check out Graded Green at: Graded Green