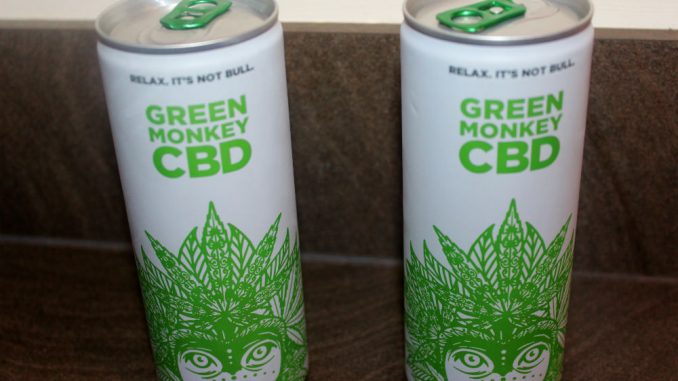 This week's Hemp CBD product review and up this time we have Green Monkeys CBD Infused Carbonated Drink.
Green Monkey was the first brand to introduce CBD Infused Carbonated beverages in the United Kingdom.
Green Monkey CBD is a carbonated drink containing 10mg of CBD(cannabidiol) per can.
My local shop was running a half price sale, so I figured I would pick up a few to review for the blog.
The CBD Blog Review
I've been a massive fan of the Green Monkey CBD drinks ever since they launched and must have consumed well over 50 cans at this point.
There are quite a few different brands of CBD infused carbonated drinks now on the market, but it is usually always Green Monkey's CBD drink that I consistently go back to for both flavour and effect.
CBD edibles and drinks are one of my favorite methods for consuming Cannabidiol, especially if you enjoy the odd tipple of alcohol.
I find the carbonated CBD infused sparkling drinks to mix well with the likes of vodka.
Taste – The taste is similar to your typical carbonated energy drink flavour, which is really nice.

You do get a small hint of hemp cannabis notes in the flavour too which is really nice.
Effect – Green Monkey's CBD drink is infused with 10mg CBD(Cannabidiol) which is the perfect dosage, not too strong but enough to provide a nice calming typical CBD effect.
Overall: I would definitely recommend our readers to check out Green Monkey's CBD Drink.
Great taste and a nice refreshing versatile beverage.
Information
Price
£1.00-£2.50 depending on retailer
Ingredients
Ingredients: Carbonated water, sugar, acid: citric acid flavourings, acidity regulator: sodium citrate, sweetener: sucralose, CBD cannabis Sativa L (4mg/100ml) safflower concentrate, colour: copper complex of chlorophyll. Pasteurised. 10mg CBD per can.
Where To Purchase
For more information or to purchase Green Monkeys CBD Drink, check out their official website at: Green Monkey CBD Drink
---
Top Sponsor:
Get a massive 25% discount off orders at Orange County CBD using our special code – THECBDBLOG