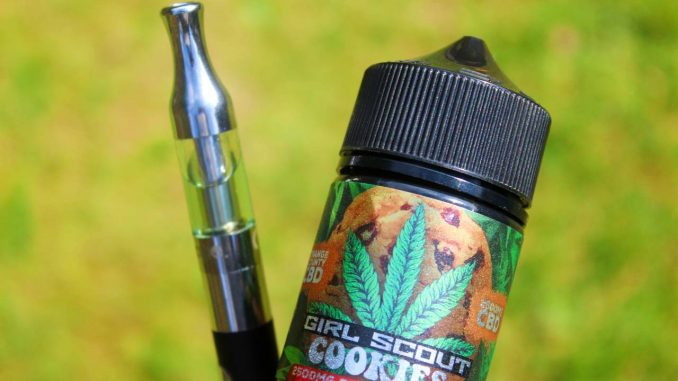 Another Hemp CBD product review this week at The CBD Blog and up this time we are reviewing the very tasty Girl Scout Cookies "Cali Range" CBD E-Liquid from Orange County CBD.
Orange County CBD are one of the most popular and well known brands of Hemp CBD products in the United Kingdom.
They have one of the biggest range of award winning CBD products in the United Kingdom including CBD Oils, CBD Edibles/Gummies, CBD E-Liquids, CBD Extracts and much more.
Our customers can also get a very generous 25% discount off their orders at Orange County CBD with our special discount code – THECBDBLOG
Our Girl Scout Cookies CBD E-Liquid is the star of this show, the headline of our Cali range and one of our most popular products to date.
It was this fantastic blend of cookies and classic flavour that won us the esteemed Product of the Year at the 2020 Cannavist Awards. 
Coming in both 1500mg and 2500mg concentrations.  Today I am going to be reviewing the stronger 2500mg CBD strength here at The CBD Blog.
Orange County's Cali Range is also completely THC free and contains broad-spectrum CBD, providing a range of naturally occurring cannabinoids alongside CBD.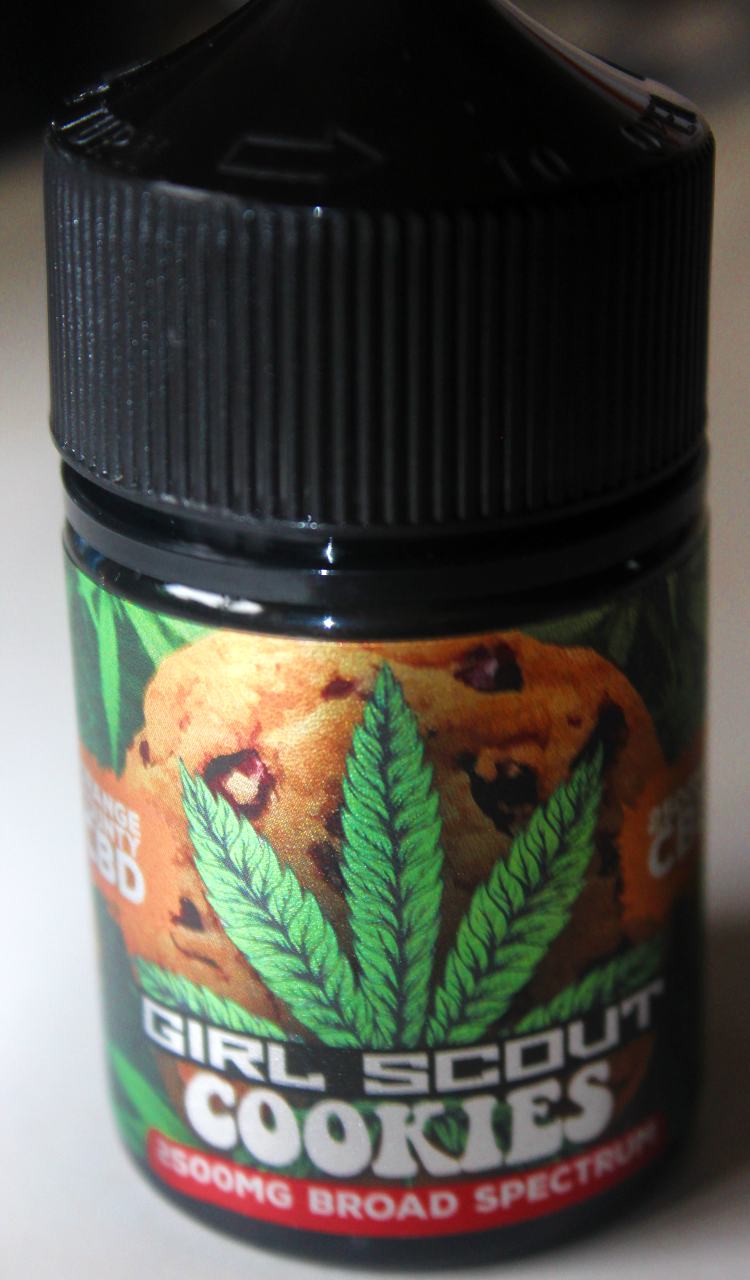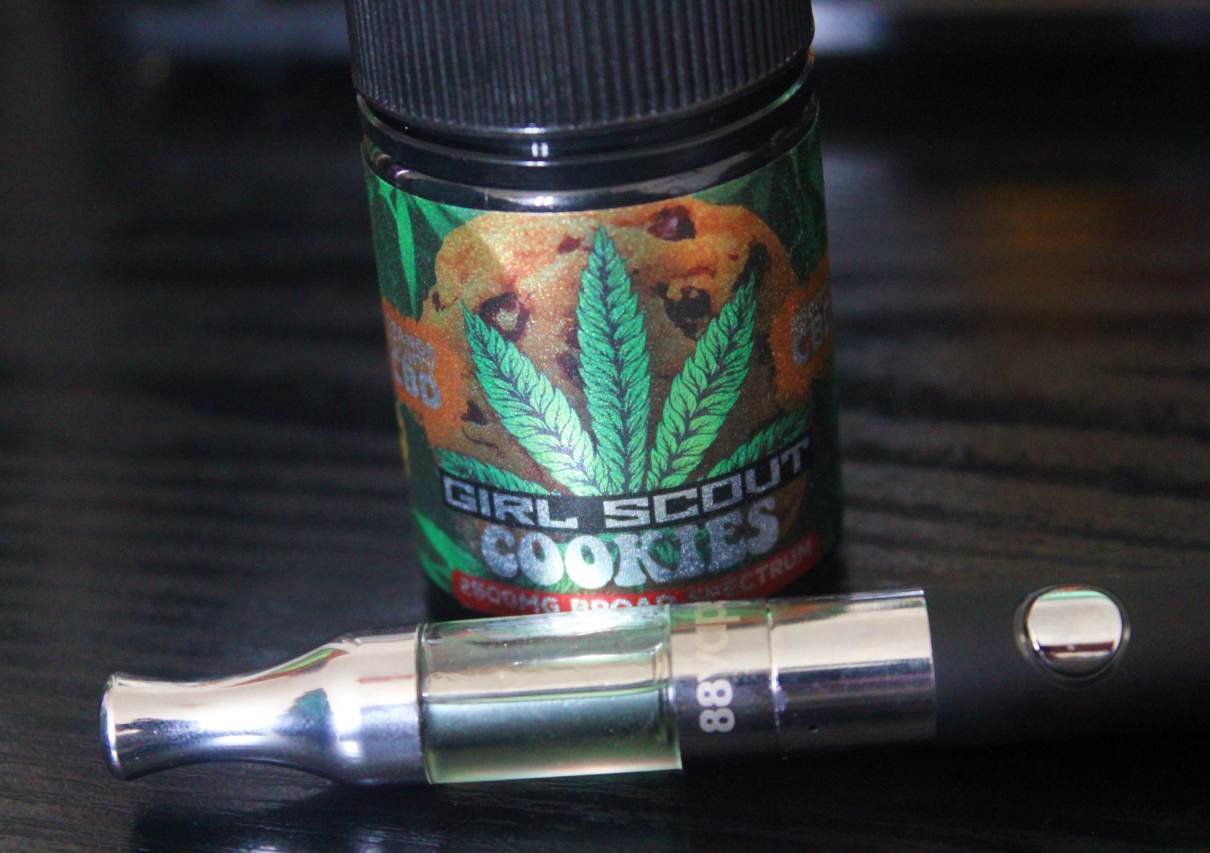 The CBD Blogger Review
Firstly I would like to start off the review by once again saying many thanks to Orange County CBD for generously gifting us samples of their amazing CBD products to review here at The CBD Blog.
I recently reviewed Orange County CBD Gummy Worms, which were absolutely brilliant, very tasty and a potent broad-spectrum CBD effect.  Definitely my all time favorite CBD gummy product I have tried to date.
Orange County CBD also very generously included a sample of their Girl Scout Cookies CBD E-Liquid for me to review from their Cali Range.
I have been eyeing up the Cali Range CBD E-Liquids from Orange County CBD for some time now, so was really looking forward to sampling this one.
Very cool branding on the Cali Range CBD Vape Liquids, definitely some of the most stylish on the market currently.
The label is very high quality, reflective and just looks spot on with the cookie and cannabis leaf design.
Taste & Flavours:
The Girl Scout Cookies CBD E-Liquid flavour is absolutely amazing, tastes exactly like a pack of milk chocolate cookies, coupled with some mild cannabis terpenes coming through also.
I would describe the Girl Scout Cookies CBD E-Liquid as a cannabis dessert flavour style e-liquid.
As soon as you crack open the bottle it smells exactly like opening a pack of milk chocolate cookies.  Definitely one for the cookie lovers out there.
Really love the taste on this one, its not overpowering, just the right amount of milk chocolate cookies with some delicious mild cannabis terpenes.
Effect:
The 2500mg Girl Scout Cookies has a nice balanced CBD effect and Orange County really have got the potency/strength perfect here for me when it comes to all day vaping purposes.
The Girl Scout Cookies as such is an amazing choice of CBD vape juice for continuous vaping purposes throughout the day and I find it a great choice of CBD E-Liquid whilst working.
Gives a nice CBD effect, but not so overly potent that it renders you too tired/sleepy to work or function.
I often struggle to find a CBD vape liquid that is just the right strength/potency for me without it lowering my cortisol levels too much, so I couldn't rate the Girl Scout Cookies more in this regard.
For those used to CBD and with tolerance I would recommend the 2500mg CBD strength.
Definitely one of the best balanced CBD E-Liquids that I have tried to date over the past few years and I will be trying their other flavours from the Cali Range soon to see how they compare.
The Cherry OG Kush and Super Lemon Haze are peaking my interest.
Overall:
Massive fan of the Orange County CBD products that I have had the pleasure of reviewing so far here at The CBD Blog.
The Girl Scout Cookies Cali Range CBD E-Liquid is another amazing CBD product, everything from the taste to the effect.
A 50ml bottle lasts ages too, so you get a really good amount of delicious vaping for the price.
Would definitely recommend anyone who is looking for a tasty bulk CBD vape e-liquid for all day vaping purposes to check out the Cali Range at Orange County CBD.
Information
Price
£60.00 for 2500mg (50ml bottle)
Ingredients
Broad Spectrum hemp derived Cannabidiol (CBD) 1500mg per 50ml, Vegetable Glycerine (60%), Mono-Propylene Glycol (40%), Flavourings, Terpenes.
Where To Purchase
For more information or to purchase check out Orange County CBD at: Orange County CBD
Get 25% Discount Off your order at Orange County CBD with our unique discount code = THECBDBLOG