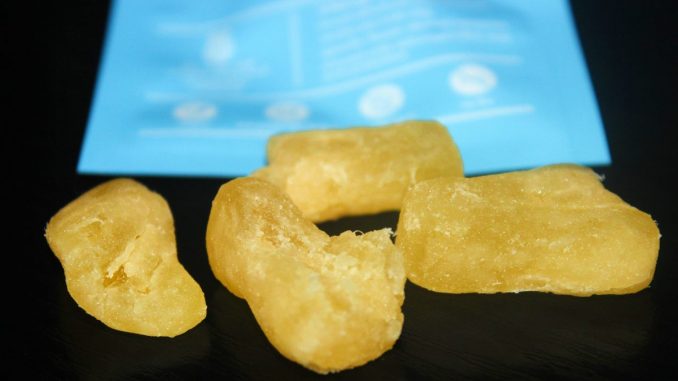 This week's Hemp CBD product review and up this time we have the amazing Uplift (Pineapple) CBD personalised dried fruit pieces from cbme.
cbme are a manufacturer of the only personalised CBD coated dried fruit products, enriched with CBG and a variety of supporting herbal elements.
Their current range includes Relax (Papaya), Relieve (Apricot) and Uplift (Pineapple), the latter which we will be reviewing here today at The CBD Blog.
cbme describe their Uplift as "Your day to day stress manager!" 
Uplift is made with premium broad spectrum cbd, fortified with cbg, an anxiety busting amount of ashwagandha, a touch of probiotics to help your tummy, finished off with the happiest terpenes found naturally in hemp.

cbme's Uplift is 100% Vegan, contains 0% THC and is 3rd party lab tested.
35mg Broad Spectrum CBD per piece.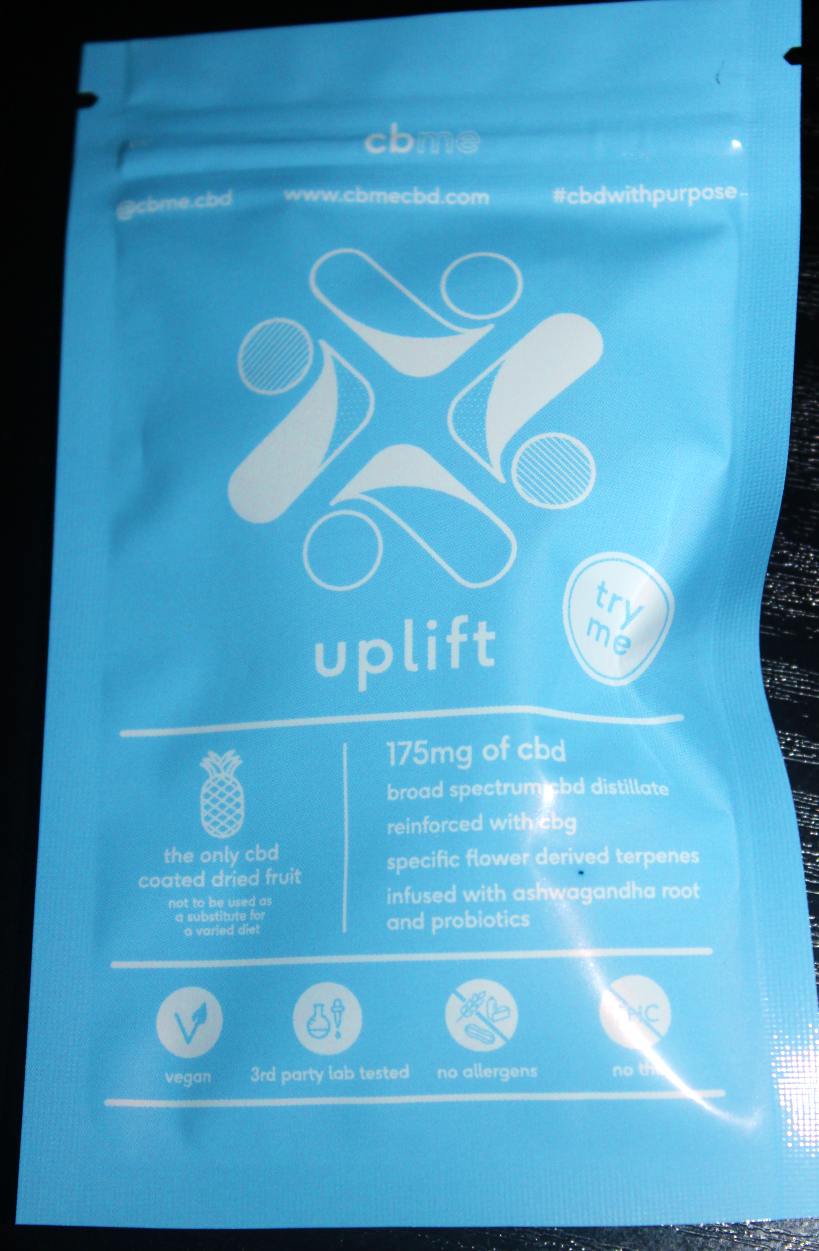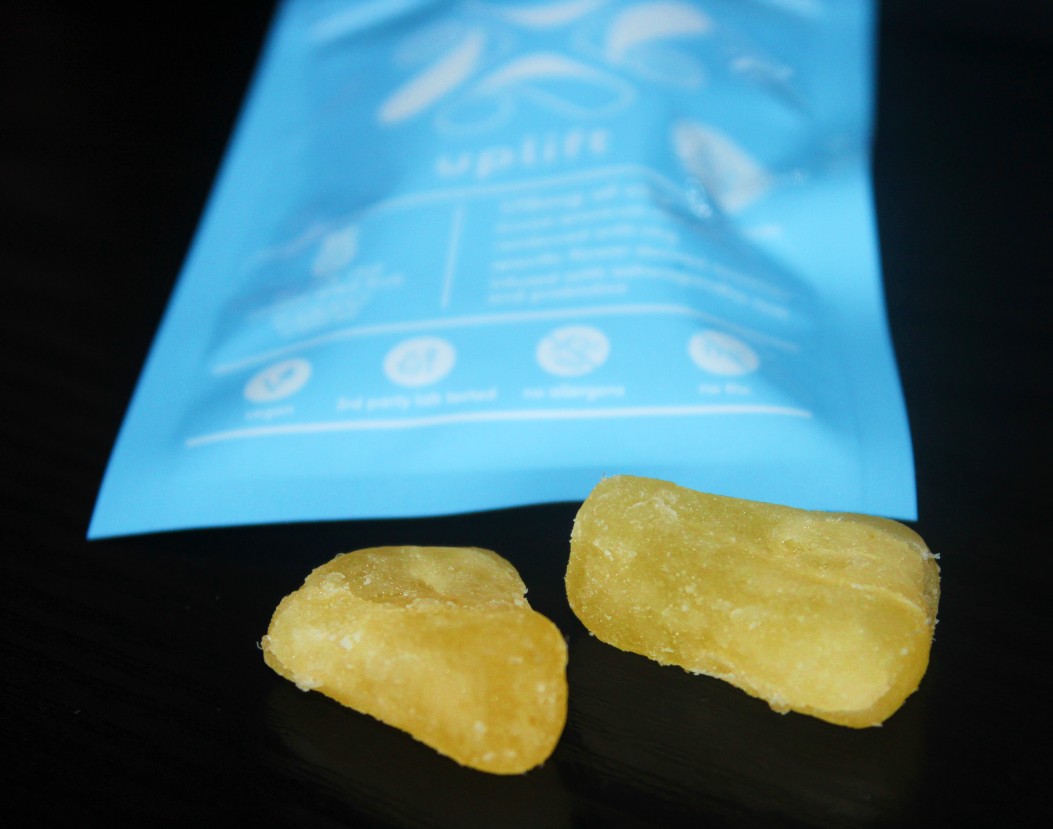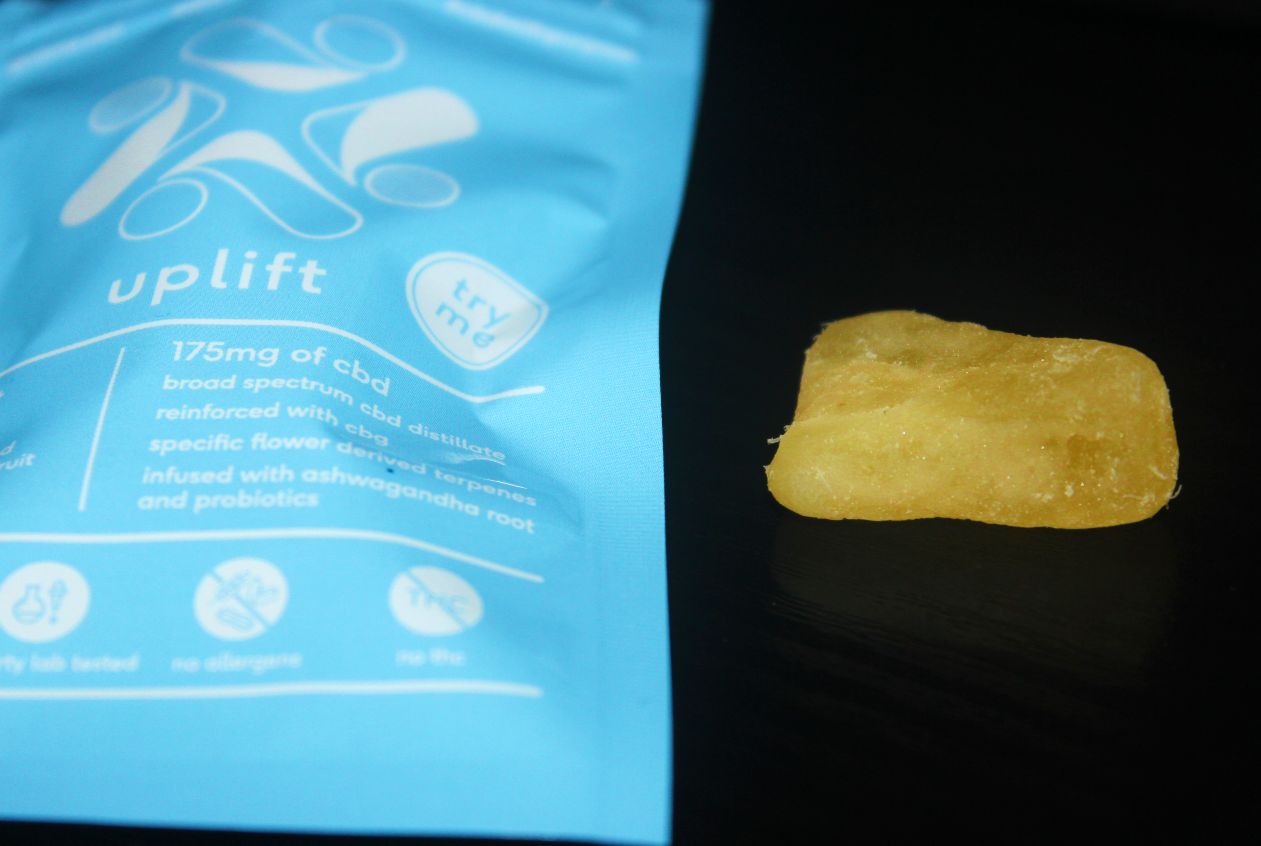 The CBD Blogger Review
Firstly I would like to start off the review by saying many thanks to cbme for generously gifting us samples of their amazing and unique CBD products to review here at The CBD Blog.
I have been eyeing up cbme's cbd personalised dried fruit products for a long time now after stumbling upon their informational videos on Instagram.
I would describe cbme's personalised dried fruit products as a next generation CBD edible, plus a CBG and health supplement all rolled into one.
One of the things that peaked my interest about the Uplift was that I seen it was infused with one of my favorite adaptogen herbs in Ashwagandha root, also known as "Indian Ginseng".
Ashwagandha is a popular herb in Ayurvedic medicine and is classed as an "adaptogen".
Adaptogens are non-toxic substances which increase the bodies resistance to stress and have a normalizing effect on the body.
cbme's products are extremely unique and unlike any other CBD edible on the market currently, so I was really looking to reviewing the Uplift.
Taste & Flavours:
The cbme Uplift Pineapple dried fruit pieces are absolutely bursting with flavour, natural sugars and are a delicious CBD edible overall at only 23 calories per piece.
The Uplift CBD dried fruit pieces are finished off with specific flower derived terpenes (limonene and myrcene), which really take the taste to the next level.
The dried fruit pieces have a really nice natural sugary Pineapple flavour, but the addition of the flower derived terpenes adds some lemon/citrus and other terpenes to the flavour.
Very flavorful CBD edibles overall, that just melt in your mouth and are great for nibbling on.
Effect:
The cbme Uplift (Pineapple) CBD dried fruit pieces are a very good choice of CBD edible for anxiety and stress support.
The Uplift dried fruit pieces contain a very effective and generous 35mg of quality Broad Spectrum CBD distillate per piece.
The CBD content alone is typically a higher dose than most other CBD gummies contain on the market.
I find the Broad Spectrum CBD distillate to be one of the best extracts of Cannabidiol for its anxiolytic and anti-anxiety effect.
cbme's Uplift is also enriched with CBG (Cannabigerol), which is another non-psychoactive cannabinoid found in the Cannabis Sativa plant and may have a range of benefits including neuroprotective, anti-inflammatory and even potentially anti-cancer properties.
I find CBG (Cannabigerol) to have more of an energizing and stimulating effect than CBD, which as most will probably know has a mild relaxing and calming effect typically.
Combing both an effective dose of broad spectrum CBD and CBG together in the same edible, once again really takes the Uplift to the next level over most typical CBD edible products.
But that's not all the Uplift contains, the Pinapple dried fruit pieces are also infused with a number of health supportive herbal elements and supplements, in this case the herb Ashwagandha root and Probiotics for digestive support.
cbme's Uplift is infused with Ashwagandha root as mentioned, which is an amazing choice of herb for anxiety support due to its mild calming effect and GABA-mimetic activity.
Adaptogen herbs such as Ashwagandha also help to balance stress hormones such as cortisol and the hypothalamic-pituitary-adrenal axis.
I find the Uplift to have a very good calming and anti-anxiety effect, whilst at the same time being good for boosting energy and having an uplifting effect first thing in the morning.
Overall I am a huge fan of the Uplift, they make for a great, tasty CBD/CBG infused adaptogenic and adrenal supportive edible to start your day with.
Overall:
Extremely impressed with cbme's very unique CBD personalised dried fruit edibles and their product range overall.
Their products are totally unlike anything else that I have come across on the CBD edible market currently and they offer something completely different to all the other generic CBD gummies out there.
I feel cbme have really set the benchmark here as far as next generation CBD edibles and functional cannabis health foods go.
We also have a review coming soon for cbme's Relax (Payapa) dried fruit pieces, which is another great product especially for sleep support, so keep an eye on our blog for updates.
Highly recommend our readers who are interested in enhanced health supportive CBD edibles to check out cbme's tasty range of products.
Information
Price
£13 for 5 Pieces (Try Me) Pack or £49.00 for Original (30 Pieces) Pack
Ingredients
Pineapple dried, sulphur dioxide, cane sugar, citric acid, ashwagandha root, CBD distillate, CBG Isolate, purified water, organic stevia, natural flavour, potassium sorbate, flower derived terpenes.
Nutritional Information (Per Piece)
CBD: 35mg
Energy: 23 calories – Fat: 0g – Carbohydrates: 5.6g of which sugars 4.7g – Protein: 0g
Where To Purchase
For more information or to purchase check out cbme at: cbme
cbme's full range of products are also now available to purchase at Ghost CBD: cbme – cbd – the only personalised cbd coated dried fruit