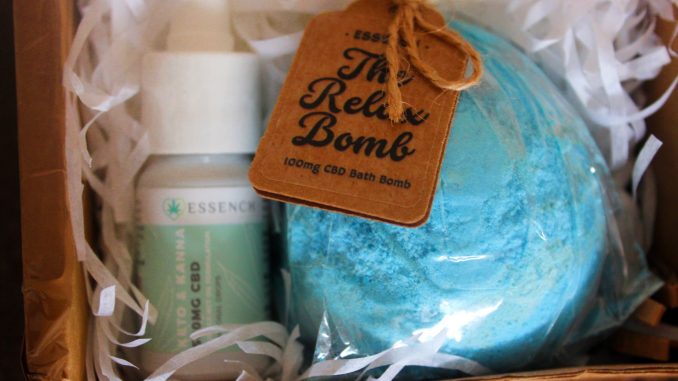 This week's Hemp CBD product review and up this time we have the amazing 100mg Relax CBD Bath Bombs from Essench.
Essench are a United Kingdom based online retailer of Hemp and CBD products with an extensive range including CBD oils and Cannabidiol infused skincare, bathcare and haircare products.
We previously reviewed Essench's Keto & Kanna 500mg Broad Spectrum CBD Oil on the blog last year, which in my opinion was one of the best CBD Oils we reviewed all year in 2020.
Would definitely recommend to those looking for a high quality Keto MCT Oil friendly CBD Oil.
Anyway back to Essench's 100mg Relax CBD Bath Bomb….
Essench describe their 100mg Relax CBD Bath Bomb as:
Bath time will never be the same again, with our eye-catching colours and amazing scents. Not only will your skin be left feeling fresh and rejuvenated but your mind and body relaxed.
A fusion of CBD, Cayenne pepper, and turmeric, with Lavender as the cherry on top to provide the best relaxation experience.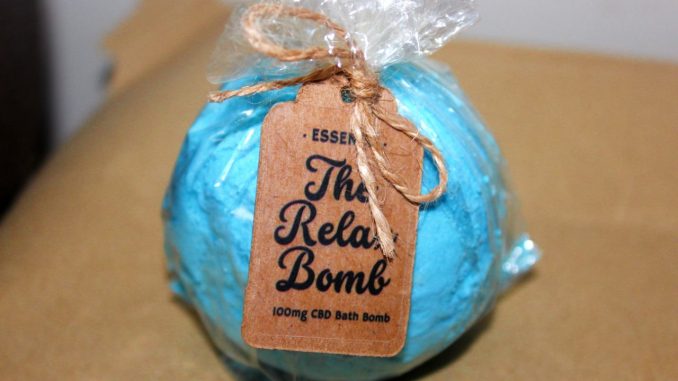 The CBD Blog Review
I have been wanting to review a CBD Bath Bomb for some time, so I'd like to firstly start by saying thanks once again to Essench for kindly providing us a sample of their 100mg Relax CBD Bath Bombs to review on the blog.
I initially wanted to do a video of the CBD Bath Bomb dissolving in the bath, but I didn't quite realize how fast these things dissolve, so I'm glad I got a few pictures before hand.
The Relax CBD Bath Bomb comes in a very cool light blue colour and you can smell the Lavender essential oils, which is one of my favorites, especially for reducing anxiety and stress.
The Relax CBD Bath Bomb I found really good for the skin and left my skin feeling very moisturized from the Epsom Salts I suspect and would be great for those with dry skin I'd imagine.
Really good for relaxing and soothing heavy aching tired muscles I found after a workout. The addition of CBD really seems to add to the muscle relaxant and anti-stress effects, along with the essential oils such as Lavender and the addition of Cayenne Pepper.
For those wondering if the CBD Bath Bombs leave any mess, colouring or stains they don't, they wash/rinse away just like any other coloured bath salts and I have a white bath to test that with.
The CBD Bath Bombs are a very novel and enjoyable way to chill and wind down after a heavy day of work and stress. Will definitely be experimenting and reviewing more CBD bath and skincare products in the future on the blog.
Overall: If you are a fan of relaxing baths then CBD Bath Bombs definitely take things to the next level of spa level relaxation and experiencing hemp cannabis infused skincare.
Big fan of Essench's Relax CBD Bath Bombs and I'll be trying their other The Love Ball CBD Bath Bomb very soon to see how it compares.
For those interested in both high quality CBD oils and CBD skincare products I would definitely recommend to check out Essench, they have a great range of products.
Information
Price
£8.00
Ingredients
Cannabidiol, Sodium bicarbonate, Citric acid, Zea mays(corn)starch, Magnesium sulfate(Epsom salts), Kaolin, Polysorbate, Curcuma longa (turmeric )root oil, Lavandula angustifolia(lavender) flower oil, Aqua, Olea europaea(olive)fruit oil, Capsicum frutescens(cayenne pepper) fruit extract, Tocopherol, Helianthus annuus(sunflower)seed oil, Arnica montana flower extract, Mica colours :CI 77891,CI 77019,CI 77007,CI 77861,CI 77288. ALLERGIES: Linalol, Limonene. Key Ingredients: Cayenne Pepper
Where To Purchase
For more information on Essench's products visit their official website at: Essench UK