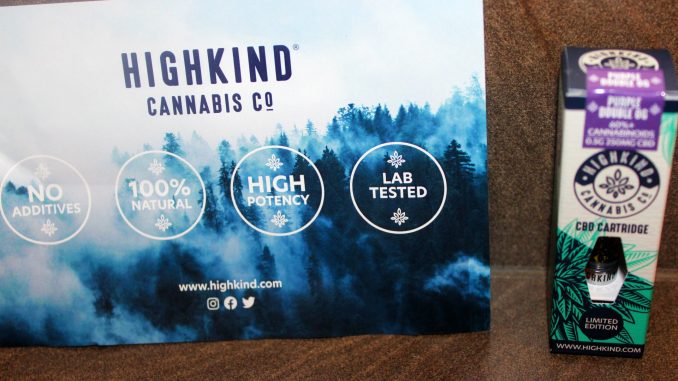 This week's Hemp CBD product review and up this time we have the Limited Edition "Purple Double OG" CBD Vape Cartridge from HighKind.
HighKind Cannabis Co are retailers of premium quality CBD products including CBD concentrates, CBD Vaping Oils and Cartridges, CBD Oral Oils and Pastes and much more.
HighKind are the latest rebrand of their former business(Synergy Extracts) and to our CBD connoisseurs out there, will know they are experts in the CBD vaping and dab/concentrate field.
Presenting the "Purple Double OG" CBD Vape Cartridge. A member of their Limited Editions Collection, infused with elite terpenes derived exclusively from the cannabis plant.
Each cartridge contains the distilled cannabis oil from 5 Grams of CBD/Hemp flower and the vapour distilled terpene essential oil(essence) from 2.5 Grams of Premium, Grade A Cannabis Flowers.
Containing no PG, VG or MCT, just all-natural organic full-spectrum hemp and infused with hand-selected terpene blends.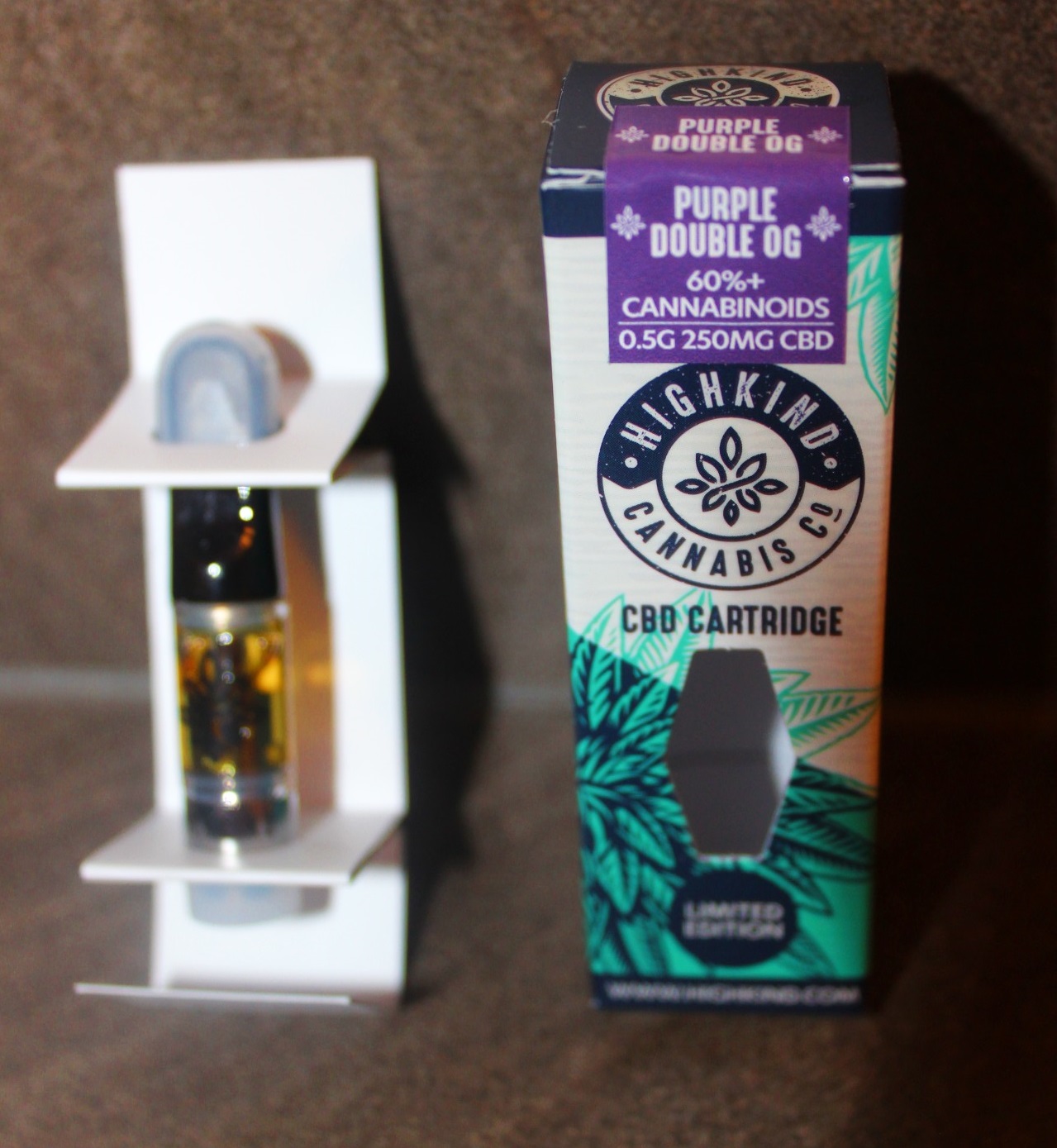 The CBD Blog Review
Firstly I would like to say many thanks to HighKind for generously gifting us a sample of their limited edition Purple Double OG CBD Vape Cartridge so that we could review on our blog.
This was my first time trying HighKind Cannabis Co. new line of products, so I was really excited to get my hands on some of their CBD Vape Cartridges to sample.
I was a massive fan of their Synergy Extracts CBD vape and CBD Concentrate products previously, so I knew I would be instore for a premium quality CBD vaping experience here once again.
Taste & Flavours:
The taste of HighKind's Limited Edition Purple Double OG is phenomenal, absolutely bursting with cannabis flavours and terpenes.
The flavours are very reminiscent of the strain Purple Kush with a strong pine, kush and cannabis aroma.
Definitely the most flavourful CBD vape products on the market and the closest you get to the real thing.
Each hit is just an amazing flavourful experience and the addition of the cannabis derived terpene profiles has really taken the CBD vape cartridges to the next level.
Effect:
The effect of the HighKind Purple Double OG CBD Vape Cartridge was nothing short of amazing and extremely potent at 250mg CBD per 0.5g uncut oil.
The CBD effect comes on almost instantaneously after taking a small inhale of vapour and you are greeted with a very pleasant relaxing, calming and anti-anxiety/anti-stress sensation.
For me vaping is definitely the fastest way to medicate with CBD.
This specific terpene profile I found great for chilling out at night and aiding sleep.
Even myself with strong CBD tolerance, a small hit of vapour was more than enough to provide a very strong CBD effect.
Definitely the most potent and rounded in effect CBD vape cartridges I have tried to date.
Economical:
One of the most impressive aspects for me was how economical and how many hits you get out of a small 0.5g uncut oil CBD vape cartridge, it just seemed to last forever.
HighKind state on their website that an enhanced design allows for up to 200+ puffs, making it a very consumer friendly and economical way for users to obtain their CBD needs.
I have been reviewing the Purple Double OG CBD Vape Cartridge intensely day and night since it arrived a few weeks back and I still have a small amount of oil left.
Packaging:
I'm really loving the new HighKind branding and design for their products.
The CBD Vape Cartridge comes in an awesome designed box complete with an insert/holder to protect the vape cart.
Each box is stickered and labelled with the specific terpene blend which is also very cool and gives the product a very professional medical grade design.
Overall:
Overall I am absolutely blown away at the amazing quality of HighKind Cannabis Co new line of limited edition terpene infused CBD Vape Cartridges.
I will definitely be back to sample and review more of their flavours and products on the blog in the very near future, so keep an eye out for that also.
If you are looking to try a premium quality CBD vape product then I would definitely recommend to check out HighKind's range.
10 out of 10 quality, you won't find a better CBD Vape Cartridge for taste/flavours or quality on the market.
All the details and links to their website can be found in the product information box below.
Information
Price
£34.99
Ingredients
Each cartridge contains the distilled cannabis oil from 5 Grams of CBD/Hemp flower and the vapour distilled terpene essential oil(essence) from 2.5 Grams of Premium, Grade A Cannabis Flowers.
Cannabinoid Profile

CBD 47.9% | CBDA 4.3% | CBG 9.1% | CBDv 3.6% | THC 0% | Terpenes 16.1 %
Where To Purchase
For more information on HighKind's products check out their website at: HighKind