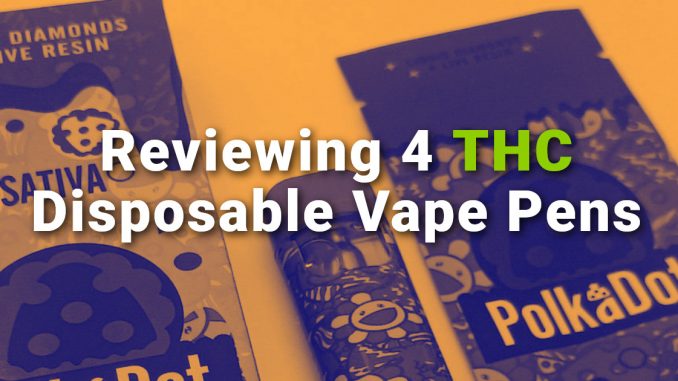 More Cannabis Culture articles here at THECBDBLOG.CO.UK and up this week I'm reviewing four different THC disposable vape pens.
I have been gaining more interest recently in vape pens, in a serious effort to stop smoking and lower my flower consumption.
I often find that many of the disposable vape pens I have tried previously, have lacked that overall satisfying feeling and effect that I get from smoking cannabis flower.
However, given I haven't tried many different brands of THC vape pens, I thought I would sample a variety to see which ones were my favorite.
I obviously cannot verify the authenticity of these products, they could well be replica's of course.
So I'm purely reviewing them on what I've been given and my experiences.
Polka Dot – Guava Gelato & Papaya Punch – Liquid Diamonds & Live Resin – Disposable Vape Pen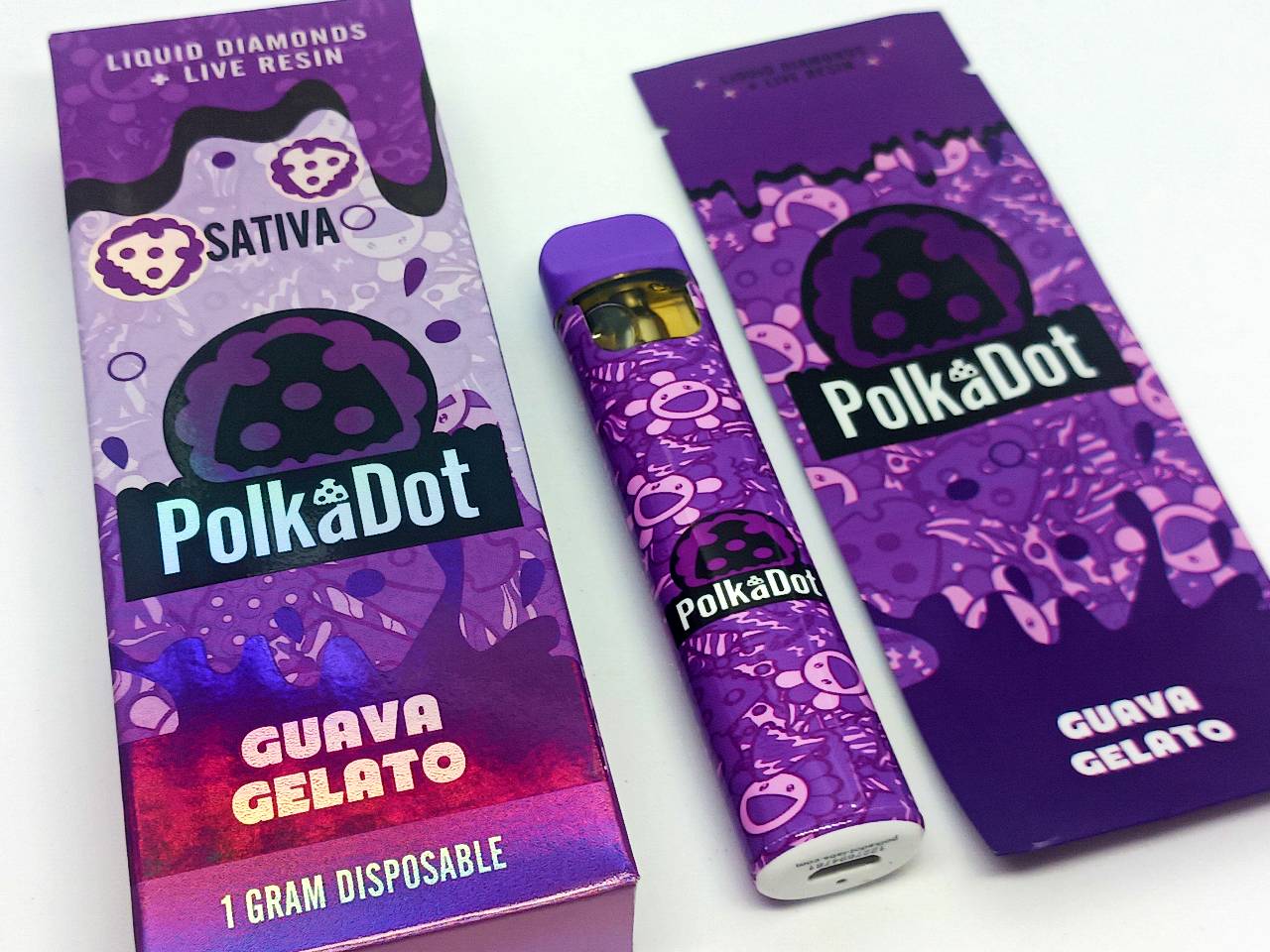 Starting off our list, we have the Guava Gelato (Sativa) and Papaya Punch (Hybrid) Liquid Diamonds and Live Resin 1 Gram Disposable Vape Pens from Polka Dot.
Absolute top quality these vape pens were from Polka Dot.
In fact, I enjoyed the Polka Dot Liquid Diamonds & Live Resin 1 Gram Disposable Vape Pens so much that I came back three times for different flavours.
Everything from the flavour, taste to the potent euphoric effect to the disposable vape pen design was spot on.
The Polka Dot disposables were the only vape pen on the list that was truly able to curb my cravings for smoking flower and was a potent, satisfying substitute.
Polka Dot – Papaya Punch (Hybrid) Vape Pen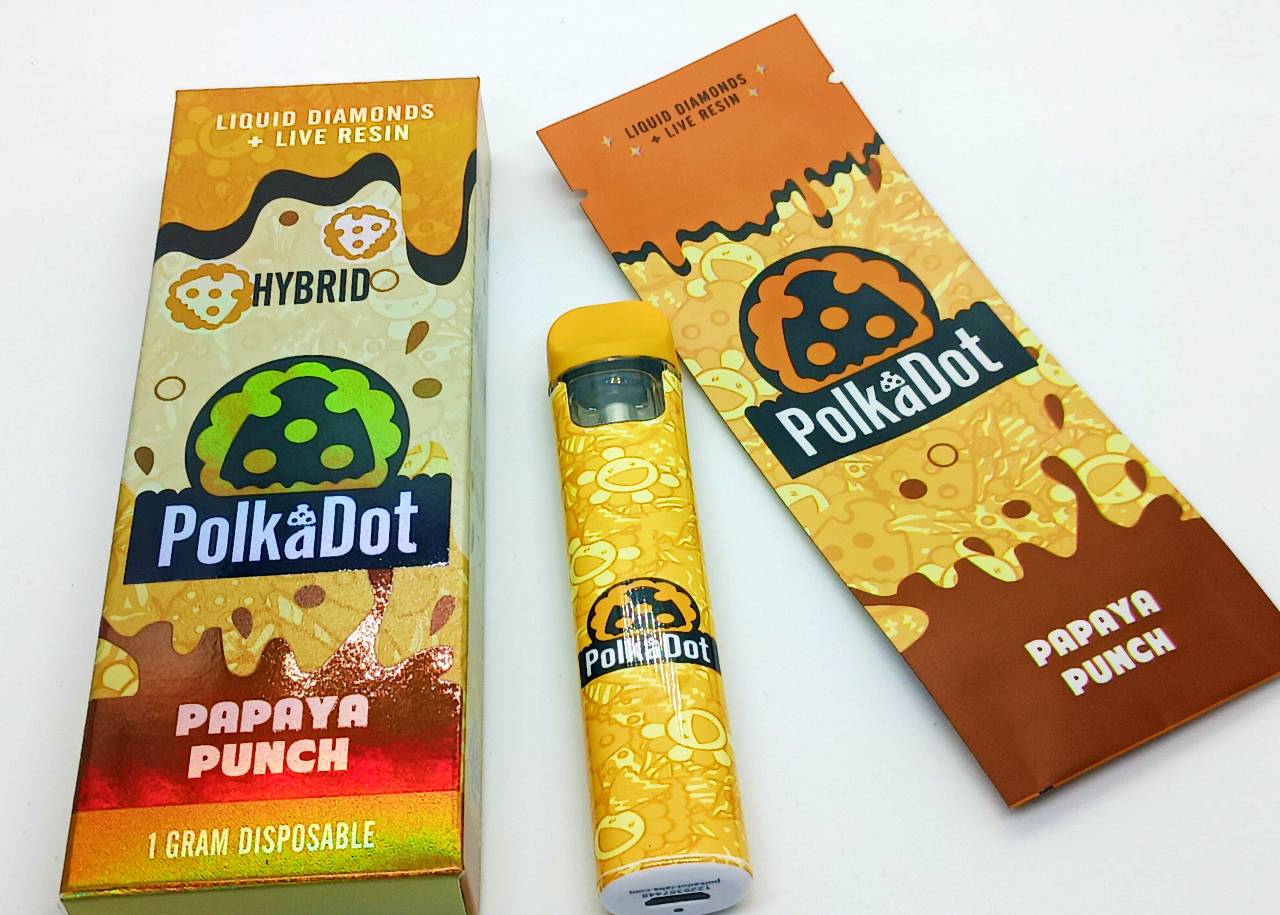 The three flavours I had the pleasure of testing were the Guava Gelato, Papaya Punch and the Pineapple Slushy, the latter not pictured.
Out of them all, I would say the Guava Gelato was probably the tastiest, with a nice light fruity cannabis terpene profile.
The flavour might not be as strong as some of the other vape pens on our list, but it makes up for it in the satisfying, euphoric and very strong effect that one to two inhales of the vape produces.
Another thing I really like about these Polka Dot disposable vape pens is the small rounded compact design, they are very fun to carry around and the branding is awesome too.
The only downside that I could see to the Polka Dot disposable is that if the pen has been upside down in your pocket and so on, it can take a second or two for the oil to readjust and unclog before the vapour comes through.
This doesn't happen very often, I finally figured out it was because the pen had been upside down and all the oil had gone to the top.  As I say it readjusts quick and you get the nice strong cannabis oil vapour.
Definitely my favorite disposable vape pen on the list.
CAKE – Jungle Juice (Hybrid) – Disposable Vape Pen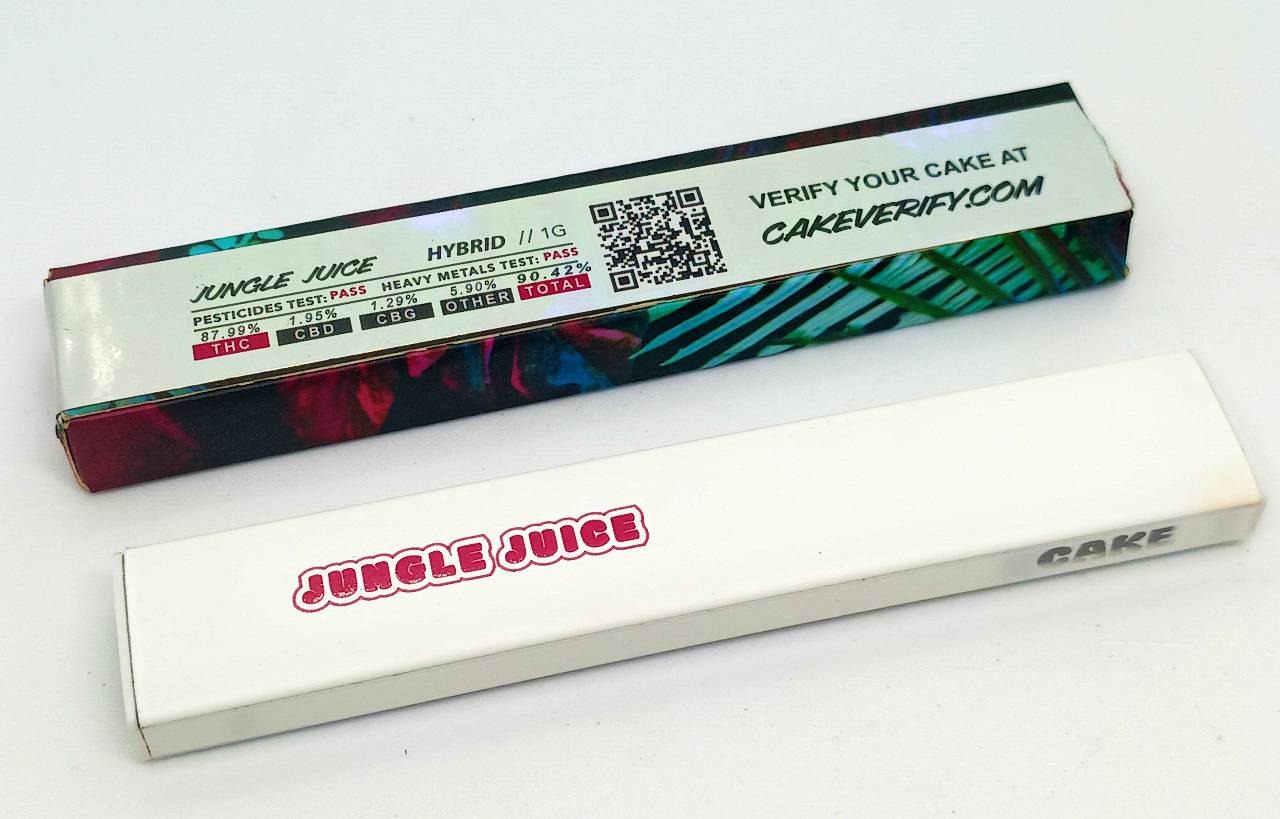 Next up on our list we have the Jungle Juice flavour disposable vape pen from CAKE.
Boasting a THC content of 87,99% with an overall Cannabinoid content of 90.42%.
The Jungle Juice disposable by CAKE was actually the first vape pen out of all on the list that I had the pleasure of reviewing.
Very nice, mood boosting, euphoric effect from the CAKE Jungle Juice disposable.
The Jungle Juice flavour tastes like a bag of fizzy sweets or skittles in your mouth, it's light but very tasty at the same time.
As most will probably notice, I have tried to go with Hybrid or Sativa terpene profiles on the vape pens I choose, rather than the usual Indica's.  Outright Sativa's or Hybrids are my preference.
The CAKE disposable pen has what I would describe as a balanced hybrid effect, I didn't find this one too heavy on the eyes, tiring or body load.
The main noticeable effect was the nice euphoria after a couple of inhales.
Design wise the CAKE pens are more of a rectangle shape, but still very small, compact and easy to carry.  The picture actually makes the pen look much bigger than it is, but its only around 3 inches I would say in height.
A decent disposable vape pen overall for taste to effect.
Medi Monkey Concentrates – Zkittlez – Live Resin – Disposable Vape Pen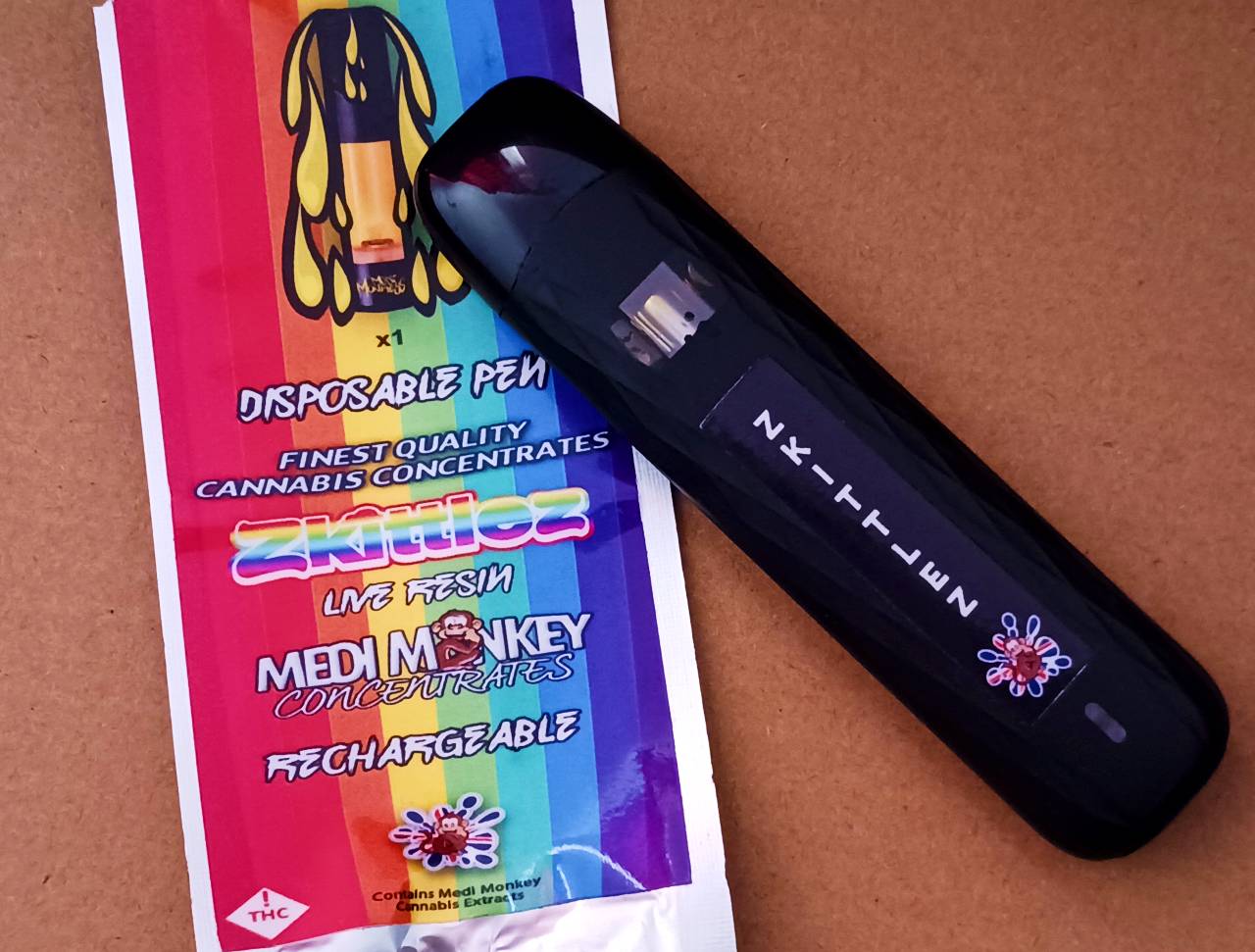 Third up on our list we have the Medi Monkey Concentrates Zkittlez flavour Live Resin disposable vape pen.
Medi Monkey Concentrates Zkittlez flavour Live Resin Disposable vape pen I would say was the strongest in both terms of flavour/taste and overall potency.
Starting with the effect, this one was a potent heavy hitter, you can nearly instantaneously feel it building in the classic, heavy eyes Indica effect washing over you.
Flavour wise this was one of the tastiest vape pens on our list, the Zkittlez terpene profile was actually very similar to a Blue Dream vape pen I had previously.
Tasty blue candy cannabis terpenes is how I would describe the flavour and taste on this one.
A very potent, tasty and medicinal disposable vape pen overall.
The 10/10 – Glueberry – Premium Disposable Vape Pen – 1000mg THC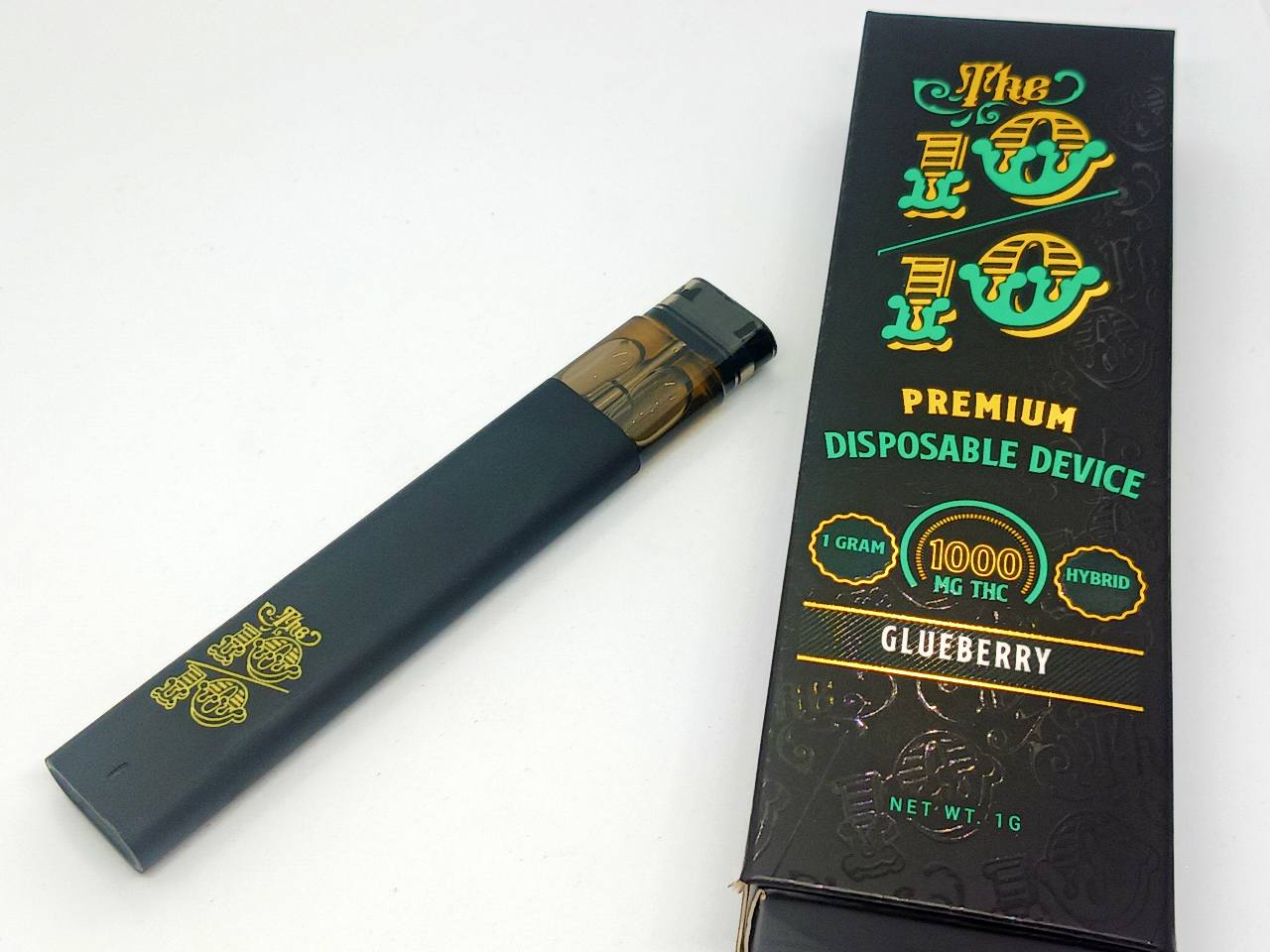 Last up on our list we have the Glueberry 1000mg THC Premium Disposable Vape Device from The 10/10.
Very sleek, classy design on the Glueberry disposable by The 10/10 and made in California.
The Glueberry had an interesting flavour and terpene profile, which was intensely woody with hints of grape, berries and skunky cannabis.
I really enjoyed the woody terpenes on this one, along with the very potent effect once again.
The Glueberry Disposable I would say was more leaning towards an Indica dominant hybrid and you can nearly instantly feel the heavy eyed Indica effect building.
Another really nice disposable that has allowed me to lower my smoking and flower consumption, due to the medicinal level potency that the vape pen provides.
I often require strong THC to manage some of my chronic fatigue syndrome symptoms, especially the nausea from dysautonomia or just to support energy levels in general.
So one of the main benefits I found from the vape pens like The 10/10 Glueberry was that they were a very economical way of medicating, much more so than flower.
One to two hits of the vape at a time is a good dosage for me.
---
OVERALL:
To be honest, I was really impressed with all the disposable vape pens on the list and as an old school, hardcore flower and hash smoker, most vapes I have tried in the past haven't been pleasurable, strong enough or had that complete satisfaction factor that smoking flower gives me.
But some of the vape pens on the list such Polka Dot's Liquid Diamonds and Live Resin 1 Gram Disposables were good enough for me to be able to substitute smoking real flower, due to how satisfying and potent the effect was.
It is for that reason I'm giving the Polka Dots the top spot as best overall vape pen on the list.
The effect is just too good and moreish, that I find myself keeping going back for more.
Most Potent: Medi Monkey Concentrates – Zkittlez – Live Resin – Disposable Vape Pen
Best Effect: Polka Dot – Liquid Diamonds & Live Resin – Disposable Vape Pen
Best Flavour/Taste:  Tie between: Medi Monkey Concentrates Zkittlez and the Glueberry from The 10/10
Most Euphoric: Tie between: CAKE – Jungle Juice and Polka Dot – Liquid Diamonds & Live Resin – Disposable Vape Pen
Best Overall: Polka Dot – Liquid Diamonds & Live Resin – Disposable Vape Pen
---
TOP SPONSOR: