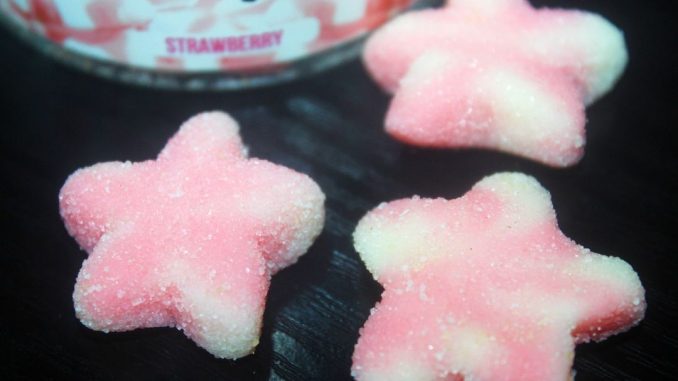 This week's CBD gummy product review and up this time we have the very tasty 20mg CBD Strawberry Pink and White Star Gummies from CBD Infusions.
CBD Infusions are a CBD brand and shop based in Dundee, Scotland.
Stocking a wide range of CBD products including an extensive and unique range of CBD gummies which include fizzy bananas, watermelon slices, gummy rings, fizzy gummy bottles of all different flavours to gummy bears and many others.
Each jar contains approx 25 gummies.
With 20mg of CBD per gummy.
Although CBD Infusions also do an even higher strength version at 30mg CBD.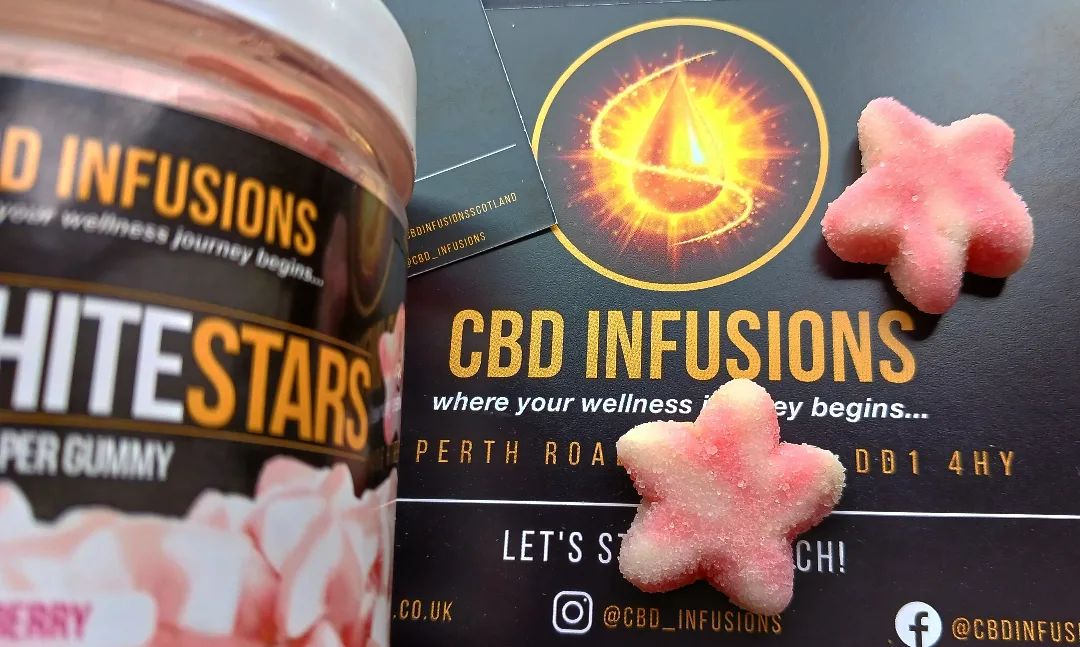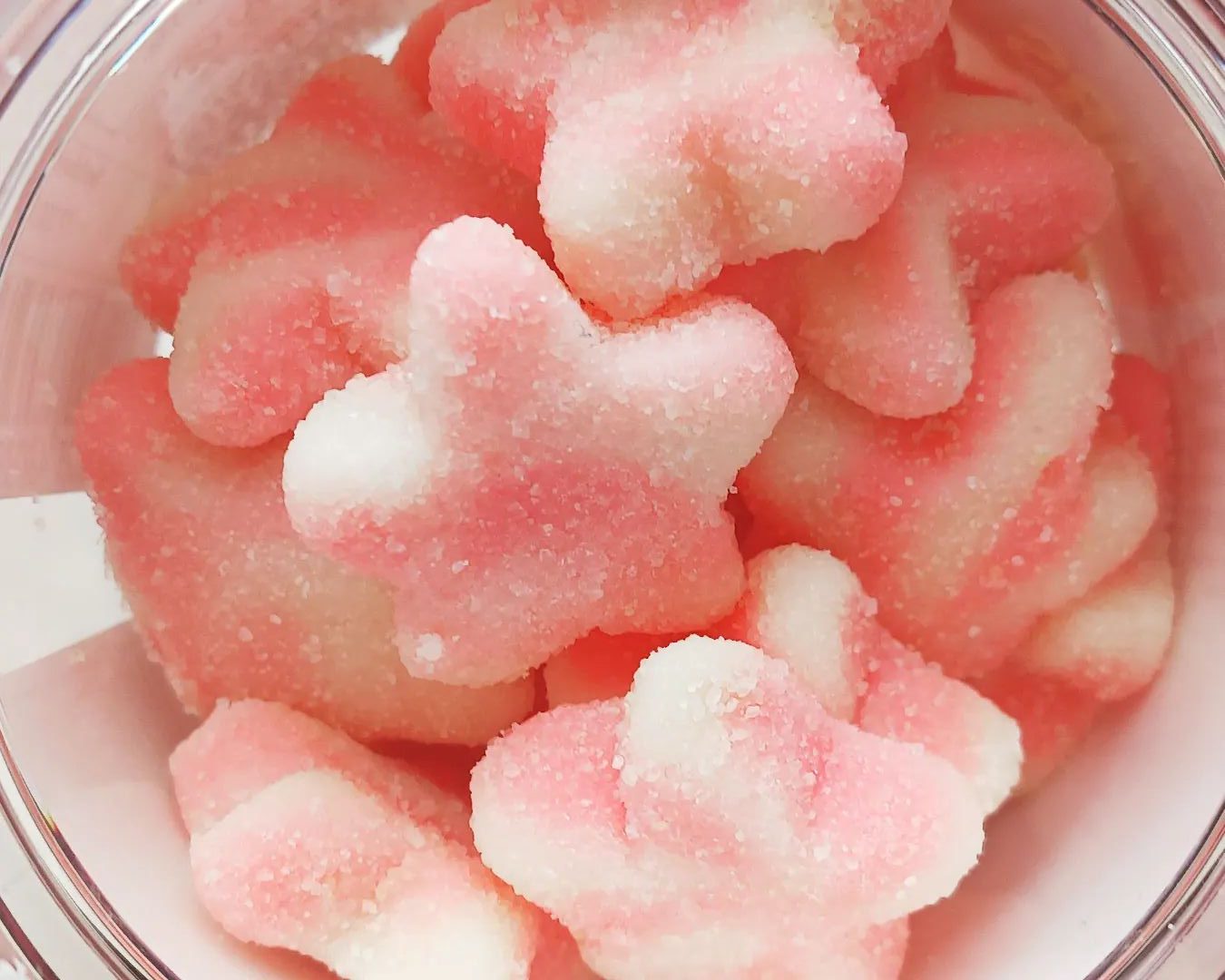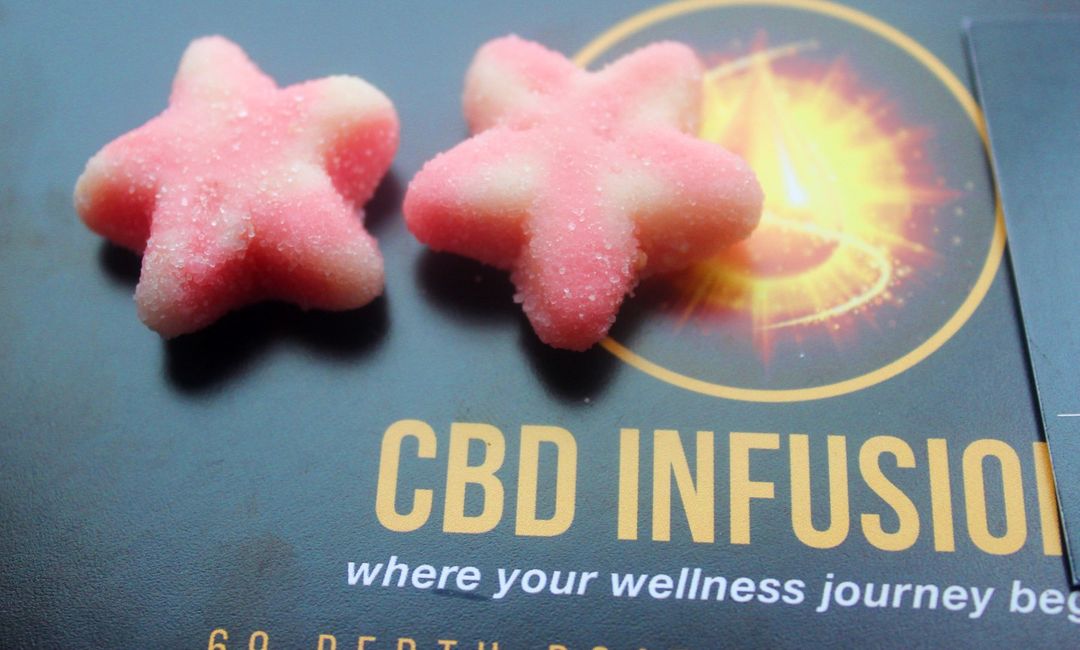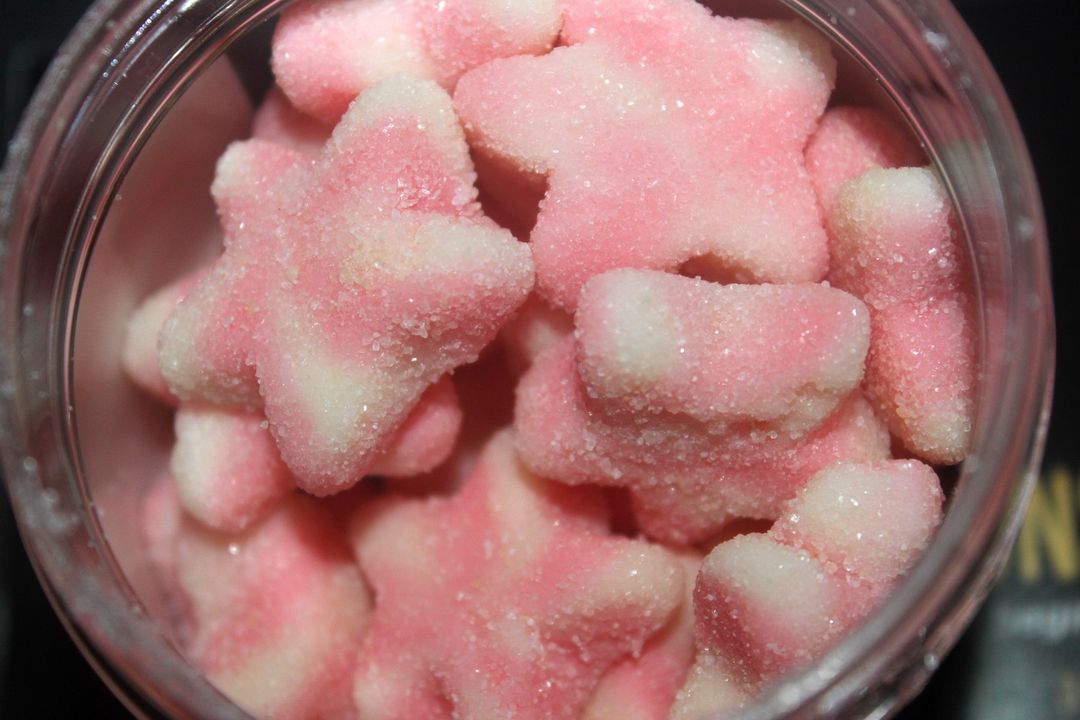 The CBD Blogger Review
A few months back, I decided I would check out the local CBD shops here in Dundee, Scotland.
A quick google search luckily led me to CBD Infusions up on the Perth Road.
CBD Infusions stock an amazing range of CBD products from CBD drinks from brands such as Little Rick, Rebelicious Drinks to a wide range of their own CBD gummies to many other CBD goodies.
I dropped in and picked up a variety of CBD goodies, but the Pink and White CBD gummy stars caught my eye for a review.
Taste & Flavour:
What better place to start off the review than with the delicious taste, flavour and the consistency of the Pink and White Strawberry flavour CBD Gummy Stars.
The Pink and White CBD Gummy Stars have a very tasty strawberry, almost creamy, yogurt flavour.
Coupled with the very soft consistency of the gummies, it makes for a nice CBD gummy.
I will state the Pink and White CBD Gummy Stars are not vegan, as they contain beef gelatine.  So this could be a good reason why the consistency of these gummies is so nice, soft and easy to digest.
CBD Infusions Pink and White CBD Star gummies have definitely been one of my favorite gummies that I have had the pleasure of reviewing so far, in regards to the taste, flavour and consistency for sure.
Definitely up there with the gummy worms and neon gummies, which are my other top choices.
Effect:
I purchased the 20mg CBD strength Pink and White CBD Gummy Stars, mainly because the 30mg were out of stock at the time.
However, I'm glad I actually started with the lower strength 20mg CBD gummies as they pack a nice, potent strong punch.
I have really enjoyed the effect of CBD Infusions Pink and White CBD Gummy Stars over the past month or two.
They have been one of my go-to gummies for giving me a nice CBD effect for supporting my health and managing my symptoms such as anxiety.
Overall:
The Pink and White CBD Gummy Stars from CBD Infusions have been some of the tastiest gummies I have reviewed so far on the blog.
If you are a fan of strawberry yogurt flavour then you will likely really enjoy the tasty flavour of the Pink and White CBD Gummy Stars.
For our local readers in Dundee, I would definitely recommend taking a trip up the Perth Road and dropping into CBD Infusions.
They stock such a wide range of CBD products, that there is something for everyone.
I will hopefully be reviewing more of CBD Infusions CBD gummy varieties in the future on the blog.
I am eyeing up their CBD Marshmallows to try next.
Information
Price
£20.00 per tub
Ingredients
Broad Spectrum CBD Extract, Glucose Syrup, Sugar, Water, Beef Gelatine (Halal), Modified Potato Starch, Acidulants (E-330, E-270), Colours (E-171, E-129), Artificial Flavours.
Where To Purchase
For more information or to purchase, check out CBD Infusions at: CBD Infusions
---
TOP SPONSORS:
Get 15% Off Your Order At Orange County CBD with our discount code: THECBDBLOG