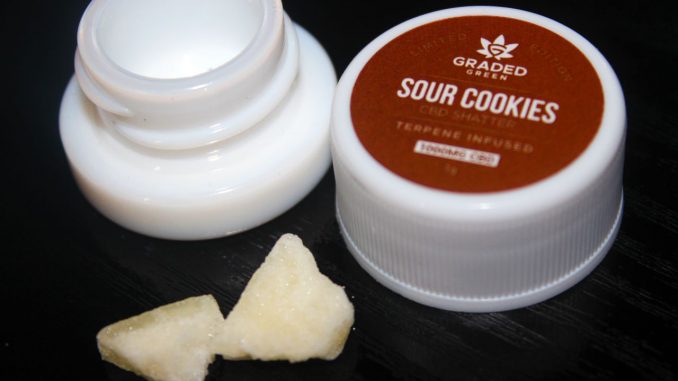 This week's CBD Concentrate review and up this time we have the amazing limited edition Sour Cookies 1000mg CBD Shatter from Graded Green.
Graded Green are a United Kingdom based retailer of premium quality Hemp and CBD products with a great range including CBD Oils, CBD Concentrates such as their terpene infused CBD crumbles and CBD Shatters, full-spectrum distillate 300mg CBD disposable vape pens and much more.
Graded Green's CBD Isolate Shatter is hand crafted using CBD crystals extracted from organic hemp.  Infused with top shelf terpenes in an artisan style.
Terpene Profile: Sour Cookies
CBD Content: 1000mg CBD
Dominant Terpenes: Beta-Pinene, Terpinolene, Myrcene, Beta-Caryophyllene, Alpha-Humulene
Aroma: Diesel, Spice
Brand: Graded Green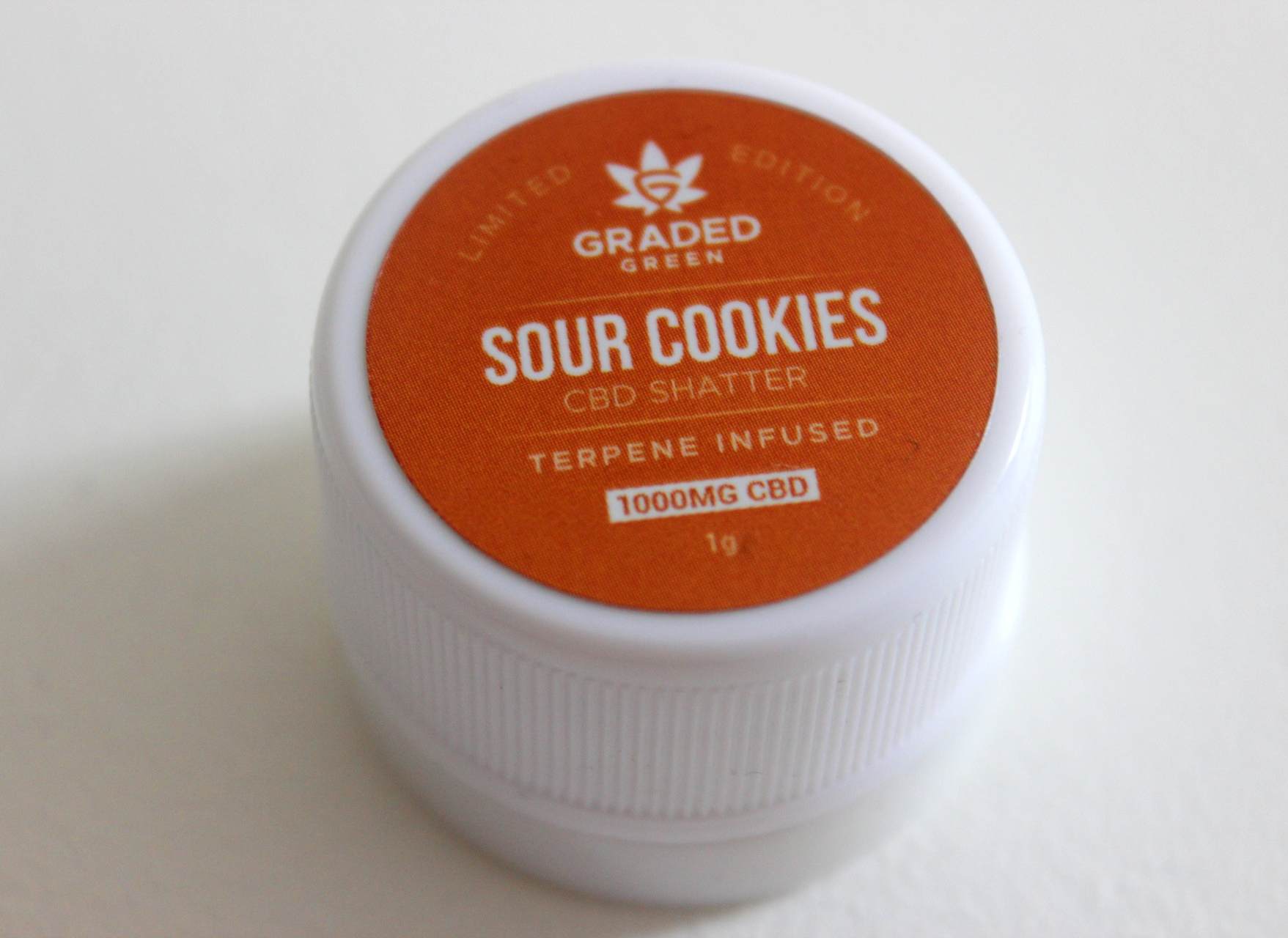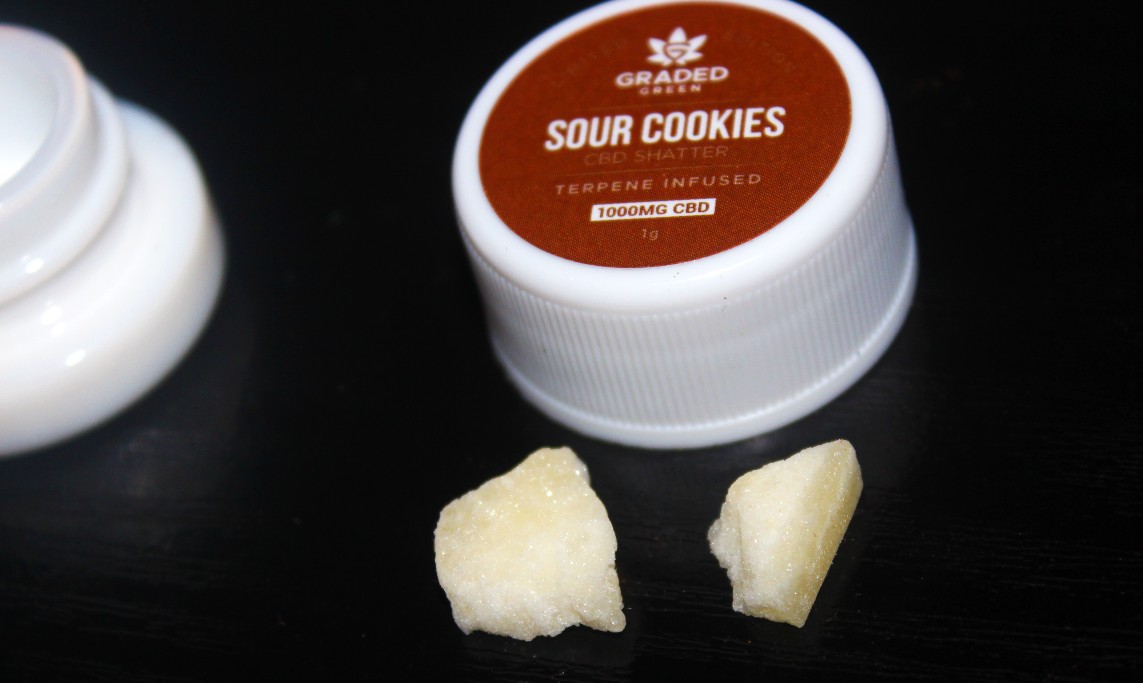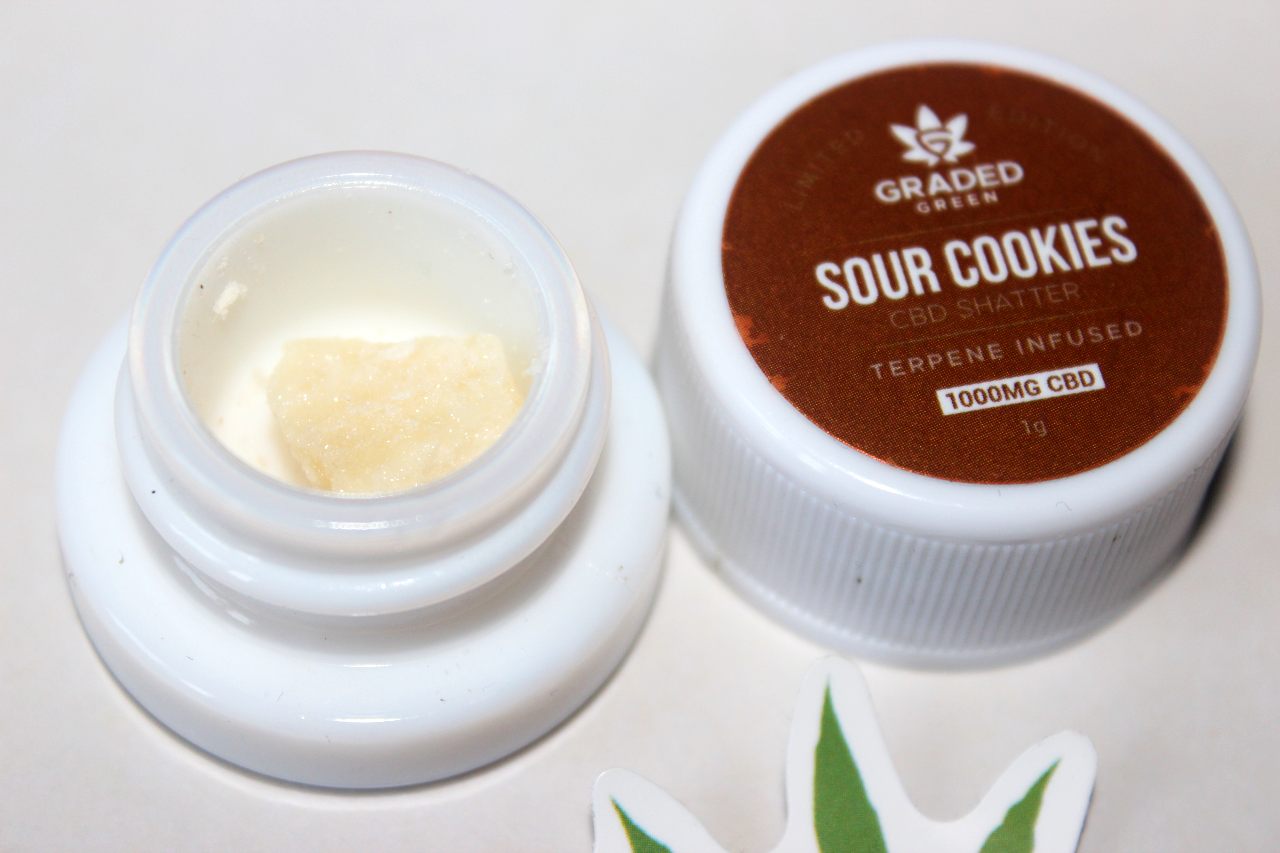 The CBD Blogger Review
I would like to start off the review by saying many thanks to the Graded Green team for their continued support both here at The CBD Blog and over at our Ghost CBD online shop also.
I have reviewed a few of Graded Greens amazing CBD concentrates here now at The CBD Blog and continue to be blown away by both the effect and how flavorsome their CBD extracts are.
The Limited Edition Sour Cookies terpene infused CBD Shatter was actually the first concentrate that I had the pleasure of trying from Graded Green and its a terpene profile that I continue to keep coming back too.
Aesthetics:
The Sour Cookies is once again visually another stunning piece of CBD extract from Graded Green.
You always get nice huge shards of crystalized CBD shatter with the Graded Green CBD concentrates.
Two big chunks of crystal shatter with a light white to sour yellow colour.
The little white jars that they come packed in are also excellent quality and I'm a huge fan of the branding on Graded Greens CBD extract range.
Taste & Flavours:
The Sour Cookies terpene profile has been my favorite and stand out flavour so far from Graded Green.
As soon as you crack open the lid, you are instantly greeted with the most intense sour, citrus, orange, diesel, spicy cannabis terps.
If you are a lover of pungent Sour cannabis terpene profiles, then the limited edition Sour Cookies CBD shatter is one I would definitely recommend.
The flavours of Graded Green's CBD extracts are extremely unique, complex and often difficult to articulate just how flavorsome these extracts actually are.
Bursting with intense flavours is how I would describe them.  The Sour Cookies is a great choice for the flavour chasers out there.
Effects:
The effects of Graded Green's CBD concentrates are exceptional, it still amazes me how cannabis-esque and like in effect these terpene infused CBD shatters are.
My favorite way of using the Graded Green CBD Shatters has been vaporizing them using the Volcano Vaporizer.
I just use a couple of pinches worth of CBD shatter to get a really potent Cannabidiol effect, so they are really good value for money and last ages.
The flavours also come out absolutely amazing in the Volcano Vaporizer with Graded Greens CBD extracts and the effect as I say is really enjoyable, not all that far away from how enjoyable real flower is in the Volcano, which is really impressive for CBD alone.
Graded Green have recreated the experience very well here with their extract range.  I can't wait to try their recently released full-spectrum distillate CBD disposable vape pens to see how they compare in effect to their concentrates.
The CBD shatters have a really quick acting relaxing, anti-anxiety and mood boosting effect I find, I really like vaping some of them before bed and just chilling out watching some TV.
The mood boost and music appreciation I get from Graded Green's CBD concentrates is also worth highlighting. I've tried lots of CBD vape carts, extracts and of course oils, whilst many of them have a good relaxing/calming/anti-anxiety CBD effect, many of them have little to no mood boost.
The Graded Green CBD Shatters and Crumbles almost boost my mood similarly to real flower these days, so they are well worth the money, especially for when you run out and require a worthy substitute.
The CBD Shatters I find stronger overall than the broad-spectrum CBD crumbles for their relaxing and calming CBD effect, so they are a great choice for winding down in the evening and aiding sleep.
The Sour Cookies in particular is a great terpene profile for giving a good relaxing sleep I found.
Overall I continue to be blown away with the effects of Graded Greens CBD Shatters and I'm really enjoying experimenting with all their different terpene profiles.
Overall:
The Sour Cookies limited edition terpene infused CBD Shatter has been my favorite flavour so far from Graded Green.
Unique, pungent and full of taste is how I would best sum up the Sour Cookies CBD Shatter.  Here's hoping Graded Green make the Sour Cookies a permanent flavour, rather than just limited edition.
Graded Green's terpene infused CBD extracts are some of the best priced on the United Kingdom market currently for the quality on offer, especially when they are running their additional sales and discounts on top.
(Currently 1g of CBD shatter on sale at £19.99) so the CBD shatters/crumbles I find are a very economical way of medicating CBD.
I would highly recommend anyone interested in top quality flavorsome CBD concentrates to check out the massive range of terpene profiles over at Graded Green.
Great quality products at great prices.  Graded Green also have many new interesting CBD products currently in the works, so keep an eye on their website and Instagram page for the latest updates.
Information
Price
£24.99 per gram or discounts for larger quantities.  Currently on sale at £19.99

Important Information
10%+ Terpenes Infused
Organic Hemp Derived
THC Free
Co2 Extracted
Food Grade
Solvent Free
Where To Purchase
For more information or to purchase check out Graded Green at: Graded Green