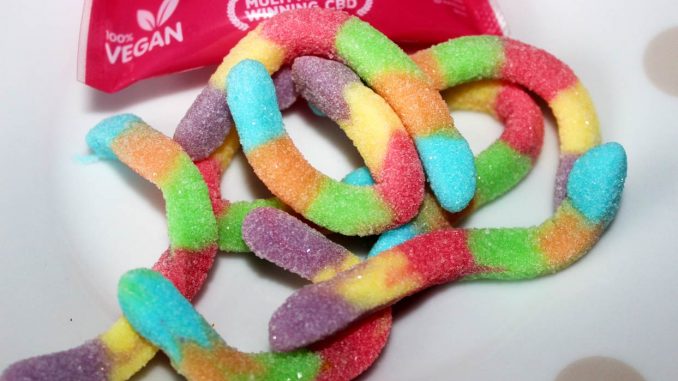 This weeks Hemp CBD Edible review and up this time we have the delicious CBD Gummy Worms from Orange County CBD.
Orange County CBD are one of the most popular and well known brands of Hemp CBD products in the United Kingdom.
They have one of the biggest range of CBD infused gummy products in the United Kingdom including CBD Gummy Worms, CBD Gummy Bears, CBD Gummy Buttons, CBD Gummy Rings and much more.
Each pack contains 200mg of CBD and 8 gummy worms per bag. (25mg CBD per worm).
The CBD Gummy Worms are also 100% Vegan and gluten free.
Our customers can also get a very generous 25% discount off their orders at Orange County CBD with our special discount code – THECBDBLOG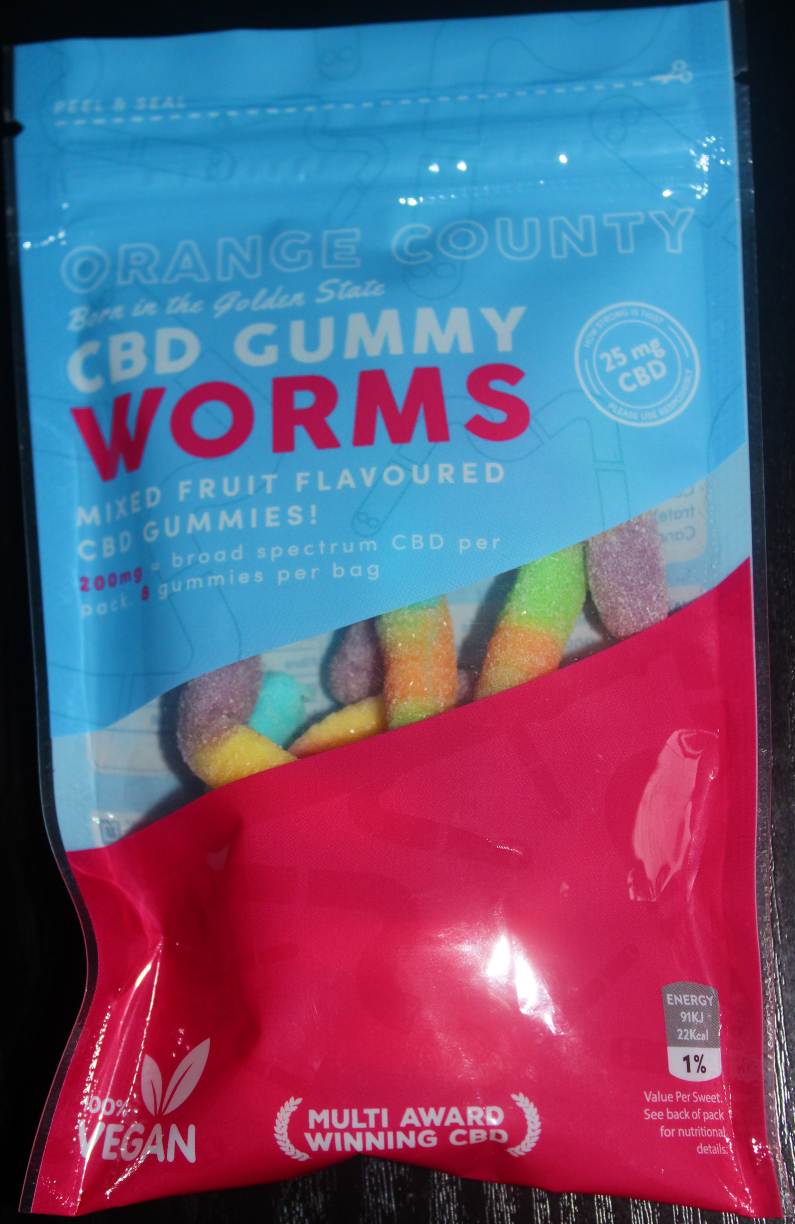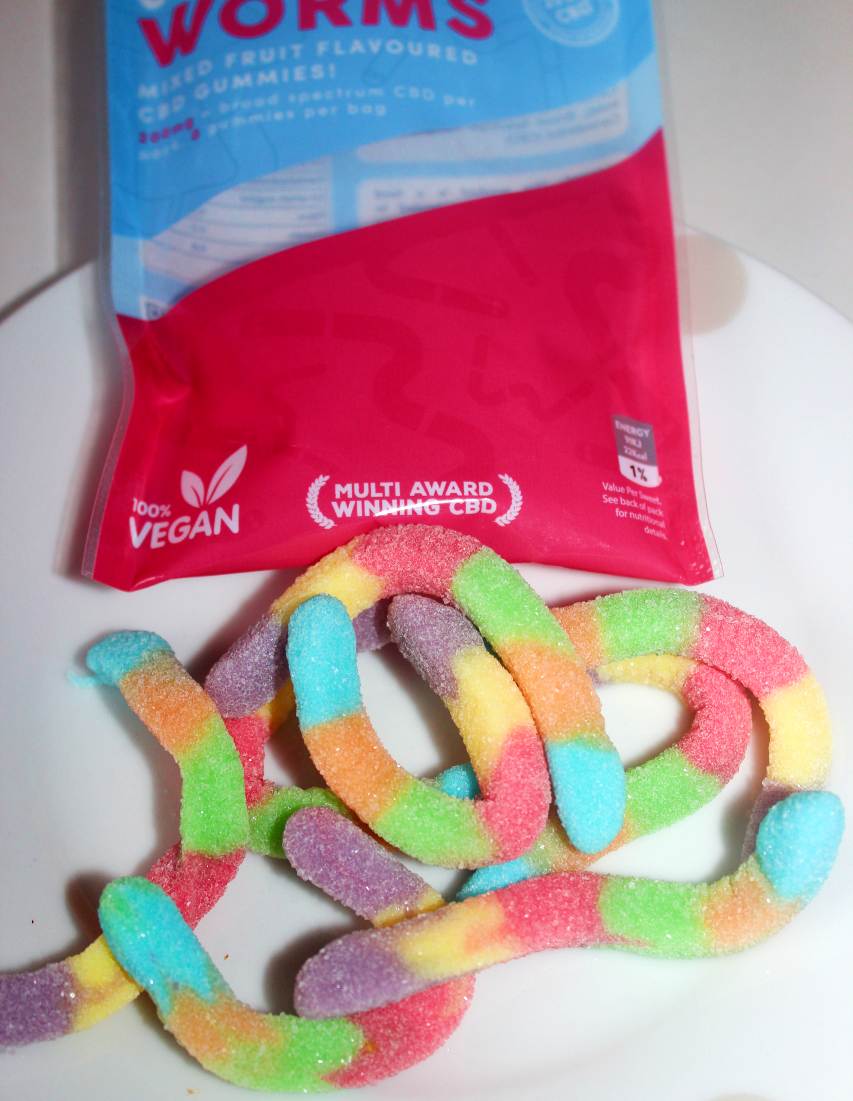 A close up picture of Orange County's delicious broad-spectrum CBD Gummy Worms
The CBD Blogger Review
Firstly I would like to start off the review by once again saying many thanks to Orange County CBD for generously gifting us samples of their amazing CBD products to review here at The CBD Blog.
I have been eyeing up Orange County's ever expanding range of CBD gummy products for a long time now, after hearing many great things about their products and even on the appearance alone, I have been dying to review these CBD gummy worms.
So I'm very grateful to Orange County CBD for reaching out and giving me the opportunity to sample their amazing products including their Girl Scout Cookies Cali CBD E-Liquid that I also have a review coming soon.  Another highly rated product.
Taste & Flavours:
The CBD Gummy Worms are absolutely bursting with fruit flavours, definitely the best tasting CBD gummy products that I have reviewed so far.
It's not difficult to see why Orange County's CBD Gummy Worms have won awards for best CBD edibles such as 1st place for edibles in the 2020 Canex Awards.
Having also tried Orange County's CBD Gummy Bears now, I can say the CBD Gummy Worms are still my favorite.
I think the size of the gummy worm really helps here, along with the texture, really adds to the amazing flavours.
Great taste/flavours overall and very moreish. 10 out 10.
Effect:
To the best of my knowledge I think the CBD Gummy Worms from Orange County are the most potent CBD gummy product that I have reviewed here at The CBD Blog.
Each CBD Gummy Worm contains a very generous 25mg of their multi-award winning broad-spectrum CBD sourced from the United States.
The CBD Gummy Worms(25 mg) are about twice the potency of their CBD Gummy Bears(16.7 mg) by comparison and it definitely shows in the effect.
The Gummy Worms are the perfect level of CBD strength for me and produce an amazing relaxing, calming, anti-anxiety CBD effect that comes on very quickly.
Broad-spectrum CBD is my favorite when it comes to CBD gummy products and I find it significantly more effective, especially for reducing anxiety than full-spectrum gummies.
Amazing, potent and very consistent effect.
Overall:
I have reviewed lots of different CBD infused gummy products here now at The CBD Blog and the CBD Gummy Worms from Orange County are now my all time favorite CBD edible I have tried so far to date.
These are going to be very difficult to beat for top spot of best CBD gummy here at The CBD Blog.
Between the great taste/flavours and the very generous 25mg of broad spectrum CBD you get per gummy worm, everything about these CBD gummy worms is a winner.
I like that they come in smaller grab bags, which I found even lasted me about a weeks worth of use.  At £10.00 per grab bag its a great value CBD edible.
I will definitely be back for more of the CBD Gummy Worms in the future from Orange County.
Brilliant product, couldn't rate them any higher for our readers on the lookout for delicious tasting CBD gummies, which are vegan friendly and contain a high dose of broad-spectrum CBD per gummy.
10 out of 10.
Information
Price
£10.00
Ingredients
Broad Spectrum hemp-derived Cannabidiol (CBD) 200mg per bag, Organic Evaporated Cane Juice, Organic Corn Syrup, Organic White Grape Juice Concentrate, Pectin Sodium Citrate, Citric Acid, Ascorbic Acid, Natural Flavourings, Colourings; Annatto, Turmeric, Grape Juice Concentrate, Red Fruit Juice Concentrate
Where To Purchase
For more information or to purchase check out Orange County CBD at: Orange County CBD Gummy Worms