This week's CBD product review and up this time we have the delicious 40mg Peach Hoops CBD gummies from Purple Seal CBD.
Purple Seal CBD are a United Kingdom based CBD brand with a huge range of products from CBD Oils to CBD Shatters to CBD Disposable Vape Pens, CBD gummies and much more.
They stock a wide range of CBD gummies including Giant Dummies, Neon Flowers, Giant Apples, Giant Strawberries and of course their Peach Hoops that I will be reviewing on the blog today.
Each Peach Hoop gummy contains 40mg of Broad-Spectrum Cannabidiol (CBD).
Our followers can also get a very generous 15% discount off orders at Purple Seal's official website, using the code – PURPLE15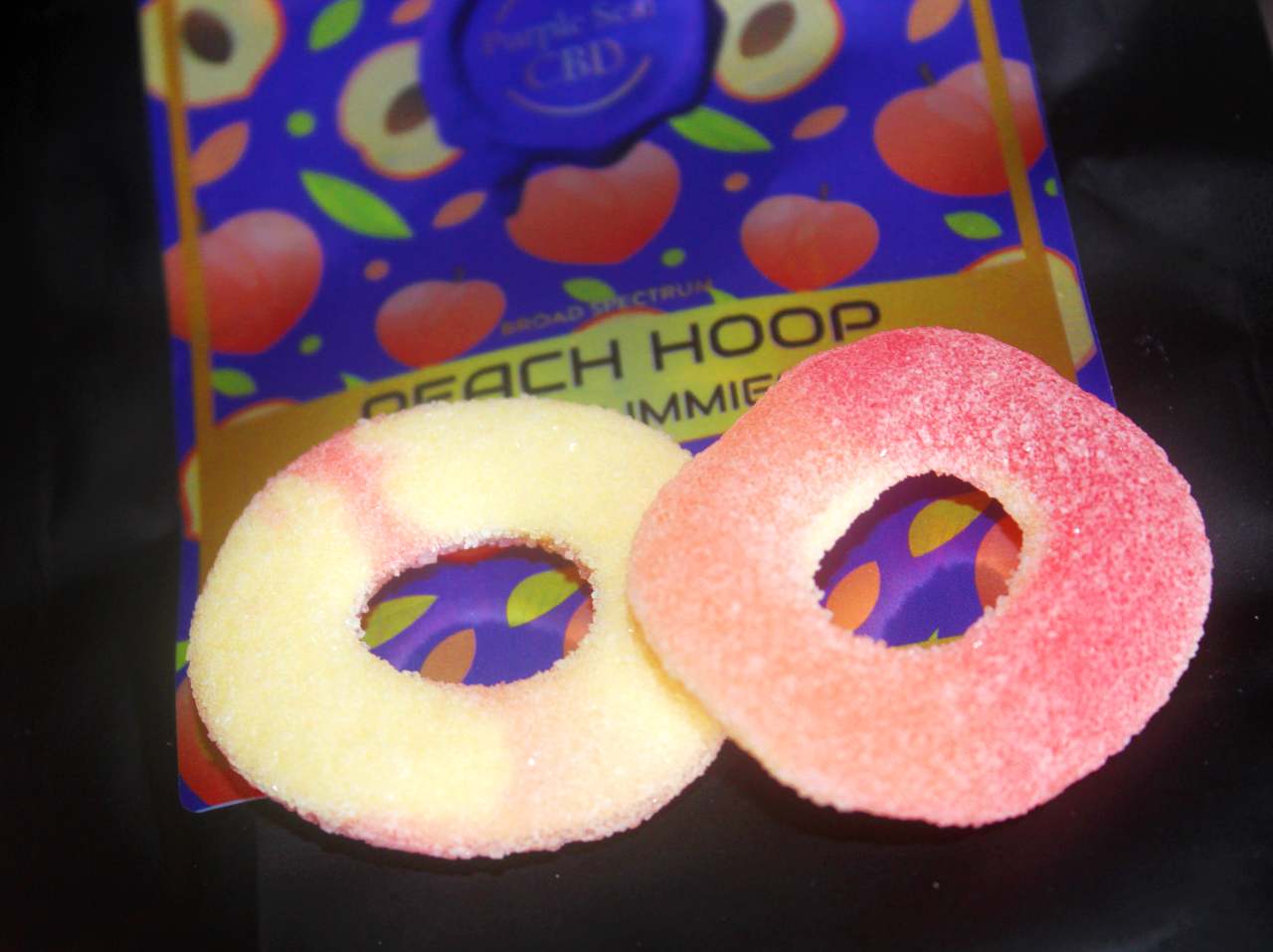 The CBD Blogger Review
Firstly, I would like to start off the review as always by saying a huge thanks to the Purple Seal CBD team for generously providing us samples of their quality products and for the continued support.
I have been eyeing up reviewing Purple Seal CBD's products for a long time now after stumbling upon them on Instagram.
I decided I would start off by sampling their tasty 40mg CBD Peach Hoop Gummies, out of the amazing selection of goodies they sent over for testing.
As past readers of our blog will already know, I'm a huge fan of CBD gummies as a format for medicating Cannabidiol, and I've reviewed many different types of CBD gummies so far here at The CBD Blog.
Anyway, what better place to kick off the review than with the great taste of these gummies.
Taste & Flavour:
Absolutely delicious flavour and taste from Purple Seal's Peach Hoop CBD Gummies.
The Peach Hoops have an almost creamy, fruity, Peach yogurt flavour to them.
There are two types of Peach Hoop style CBD gummies that are currently on the United Kingdom market.
One which is more of a jelly type gummy consistency with a fruit flavour and then Purple Seal's variety, which is softer in consistency and is my favorite of the two.
Everything from the consistency of the Peach Hoop gummies to the taste, makes it one of the top CBD gummies in my opinion.
If you are a fan of a Fizzy Fruity Peach Yogurt type flavours, then I would definitely recommend trying Purple Seal's Peach Hoops.
Effect:
Purple Seal's Peach Hoop's contain a generous 40mg of Broad Spectrum CBD extract per gummy.
Broad-spectrum CBD I always find to have a nice dependable effect when it comes to its health benefits such as reducing stress, anxiety and for helping manage my chronic health problems such as CFS (Chronic Fatigue Syndrome).
I find one single 40mg Peach Hoop Gummy daily or every other day is perfect for helping to maintain my health, and that is someone with a decent tolerance to CBD (Cannabidiol) and other cannabinoids.
Overall:
Really enjoyed these Peach Hoop CBD Gummies from the Purple Seal CBD team.
The Peach Hoops have elevated themselves to one, if not the top CBD gummies.
Previously the gummy worms were my all-time favorite CBD gummy, but the Peach Hoops really are a close rival with their delicious taste, flavour, effect and consistency.
The Peach Hoops CBD Gummies are not vegan as they do contain beef gelatine (halal), however I suspect the addition of gelatin is what gives these gummies their spongy, soft, melt in your mouth, amazing consistency.
We also have many more reviews coming soon for Purple Seal CBD's awesome products.
Including their Raspberry Slush 300mg Disposable CBD Vape Pen, their Giant Dummies CBD Gummies, Blueberry CBD Vape Liquid, Vymto CBD Shatter and their Tangerine Kush Amsterdam Edition Free-Flow Wide Spectrum 800mg Distillate CBD Vape Bar.
So keep tuned on our blog for the latest CBD reviews.
Information
Price
£11.99 per 100g Pack
Ingredients
Broad Spectrum CBD Extract, Glucose Syrup, Sugar, Water, Beef Gelatine (Halal), Modified Potato Starch, Acidulants (E-330, E-270), Colours (E-171, E-129), Artificial Flavours.
Where To Purchase
Purple Seal CBD Peach Hoop Gummies are available to purchase either directly from their official website at: Purple Seal CBD
Alternatively, we also stock Purple Seal's entire CBD gummy range over at our Area 51 CBD Lab online shop at: CBD Gummies UK
---
TOP SPONSOR:
Get a generous 15% discount off orders at Orange County CBD using our special code – THECBDBLOG