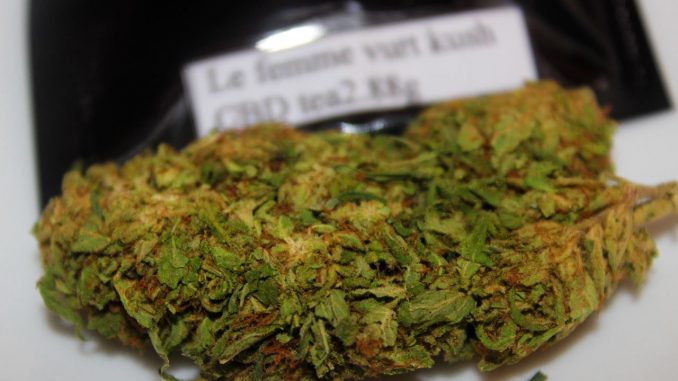 This week's Hemp CBD Flower review and up this time we have the "Le Femme Vurt Kush" from Hygeia CBD.
Hygeia CBD are a United Kingdom based retailer of premium quality CBD flower with previous strains including Sour Lemon, Orange Chem, Legendary OG and the Le Femme Vurt Kush.
All of Hygeia's CBD tea flowers contain less than 0.2% THC and are third party lab tested.
Probably one of my favorite parts of blogging recently has been sampling and reviewing all the different Hemp CBD Flower on the market currently.
The CBD Blog Review
This was my first time trying the CBD flower from Hygeia CBD.
I stumbled across Hygeia CBD on Instagram where a few of the other guys who review CBD flower had posted up pictures of their product and was impressed with the reviews.
I thought I would give them a shot and placed an order for 2g "Le Femme Vurt Kush" and got 1g of Harlequin and 1g Remedy also.
Smell: The smell of the "Le Femme Vurt Kush" was so strong that I could lightly smell it through black sealed grip bags.
This is the first Hemp CBD Flower I have come across to date that actually has a proper classic cannabis skunk aroma to it, rather than the indoor hemp smell than much of the other CBD buds on the market have.
Nice grassy, cannabis skunk kush aroma.
Appearance: One big 2.88g chunky nugget.
Maybe not as well cured as other CBD flower I have had, however the "Le Femme Vurt Kush" once again had a very classic cannabis cure to it. Some nice orange through it and dense buds.
Effect: The majority of the time I vape my Hemp/CBD flower as its my preferred method of consuming CBD bud.
However, I could tell from the smell and taste that the "Le Femme Vurt Kush" was a little bit special compared to other CBD Flower I've had previously, so I decided to roll a pure joint of this one to properly test it and to see if it would satisfy my cravings.
This is some really tasty CBD flower from the guys at Hygeia CBD.  It burns very well in the joint and the effect is just amazing, very nice CBD effect but without the sort of imbalanced high you sometimes get from CBD flower that just tires you out without giving you much of a high.
The rest of the "Le Femme Vurt Kush" I of course vaped in my trusty Volcano Vaporizer and it produces nice thick clouds of kushy vapour with a really enjoyable balanced effect once again, much different to other hemp CBD flower. Less sedating and more balanced, very satisfying.
Overall: The "Le Femme Vurt Kush" was some amazing premium quality CBD flower with a very satisfying rounded balanced effect.  I would definitely recommend our readers to check out Hygeia CBD's range of products.
Information
Price
£11.00 for 2 gram deal
Profile
Le Femme Vurt Kush – Strain Name
Under 0.2% THC
Where To Purchase
For more information or to purchase check out Hygeia's Official Website at: Hygeia CBD