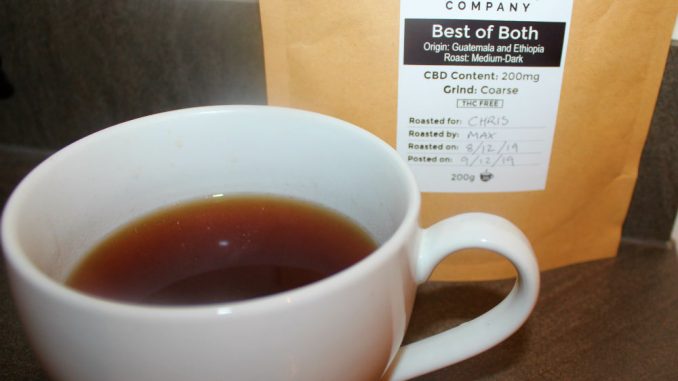 This week's Hemp CBD product review and up this time we have the "Best Of Both" CBD Infused Ground Coffee by the Calm Recovery.
Calm Recovery are a roaster, online retailer and wholesaler of CBD Coffee and many other CBD products.
With a range of different coffee blends, customers can choose their particular desired grind of coffee based on their preferences from Cafetière to espresso machine and how much CBD they wish to be infused.
Calm Recovery describe their "Best Of Both" as "a beautiful blend of coffee that has been grown in Ethiopia and Guatemala.".
An incredible blend of 50% Ethiopian coffee and 50% Guatemalan coffee infused with CBD.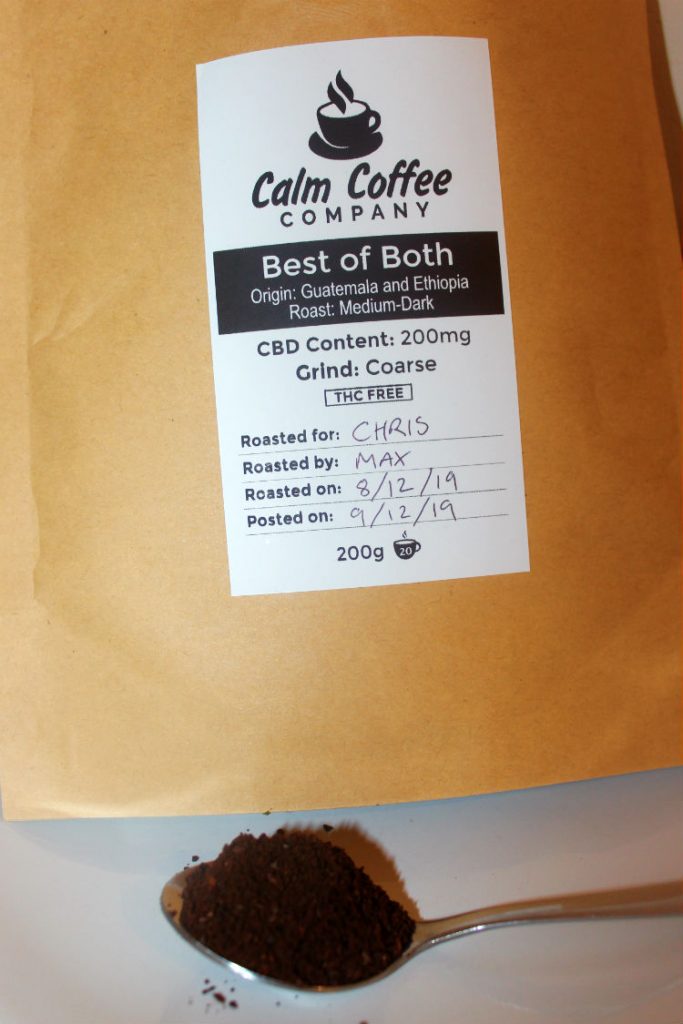 The CBD Blog Review
This was my first time trying Calm Recovery's CBD Infused Coffee and I'd like to say many thanks to Max for generously sending us a sample so we could review on our blog.
As soon as you open the resealable bag you are instantly greeted with the intense, delicious aroma from the coffee.
Just based on the beautiful smell of the coffee alone I was really looking forward to trying this blend.
I have tried a quite a few different brands of CBD infused coffee now, so feel I have a decent gauge on the market when it comes to CBD Coffee products.
The taste of the "Best Of Both" blend is delicious, a nice intense, full-bodied and balanced coffee.  One of the nicest tasting coffee blends I've had in a long time actually.
You can pick up the very mild classic hemp cannabis aroma also in the flavour and smell, which is nice.
Another thing I really like about Calm Recovery's CBD Infused Coffee it that it produces a really nice smooth cup of coffee.
Unlike some other brands of CBD infused coffee which often don't mix well and leave a "silky" or fatty texture, Calm Recoverys CBD Infused Coffee produces a very smooth tasty cuppa.
Each 10g serving of infusec coffee contains up to 13mg of CBD and is the perfect amount of Cannabidiol per cup in my opinion.  The CBD effect is very potent and has a great relaxing, anti-anxiety and anti-stress effect.
The "Best Of Both" blend makes for a great cup of coffee at any time of the day in my opinion, excellent in the morning, but also perfect if you enjoy a cup of coffee in the evening as I do.
I really love CBD infused coffee and feel the inclusion of the Cannabidiol balances out the caffeine and synergizes with coffee very well in general.
Overall: An amazing product.  If you are looking for premium gourmet quality CBD infused coffee then I'd definitely recommend checking out Calm Recovery's products.
You won't find better tasting or stronger CBD infused gourmet coffee on the market and customizable to your own preferences, which is another bonus.
10/10
Information
Price
Various different prices depending on quantity and CBD content.
Ingredients
Organic full spectrum hemp extract, fair trade coffee beans.
Where To Purchase
Calm Recoverys's range of CBD infused coffee and other CBD products are available to purchase from their official website at: Calm Recovery