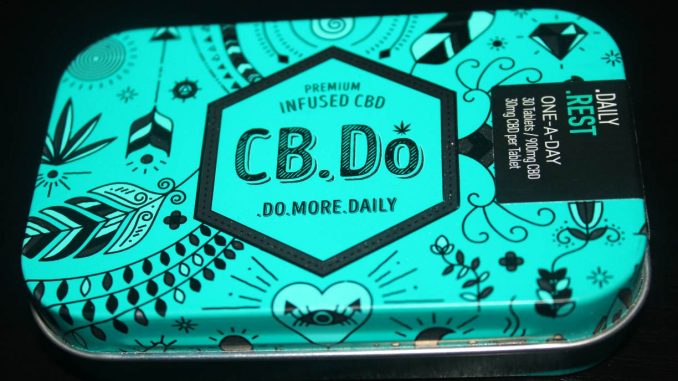 This week's Hemp CBD product review and up this time we have the Rest CBD Oil Tablets from CB.Do.
CB.Do are a United Kingdom based brand of the world's 1st Multifunction CBD Oil Tablets.
Their multi-function CBD tablets range includes four products currently including Boost, Protect, Rest and Energise.
CB.Do describe their Rest as: Designed to help mood, sleep and optimal relaxation whilst supporting mental and physical wellbeing. Recommended to be taken an hour before bed or used if feeling anxious.
The Rest tablets contain CBD, Spirulina, Chamomile, Lemon Balm, Citrus Aurantium, L-Theanine, Magnesium and Vitamin D3.
Completely 0.00% THC free.
100% Vegan, Allergen and GMO Free.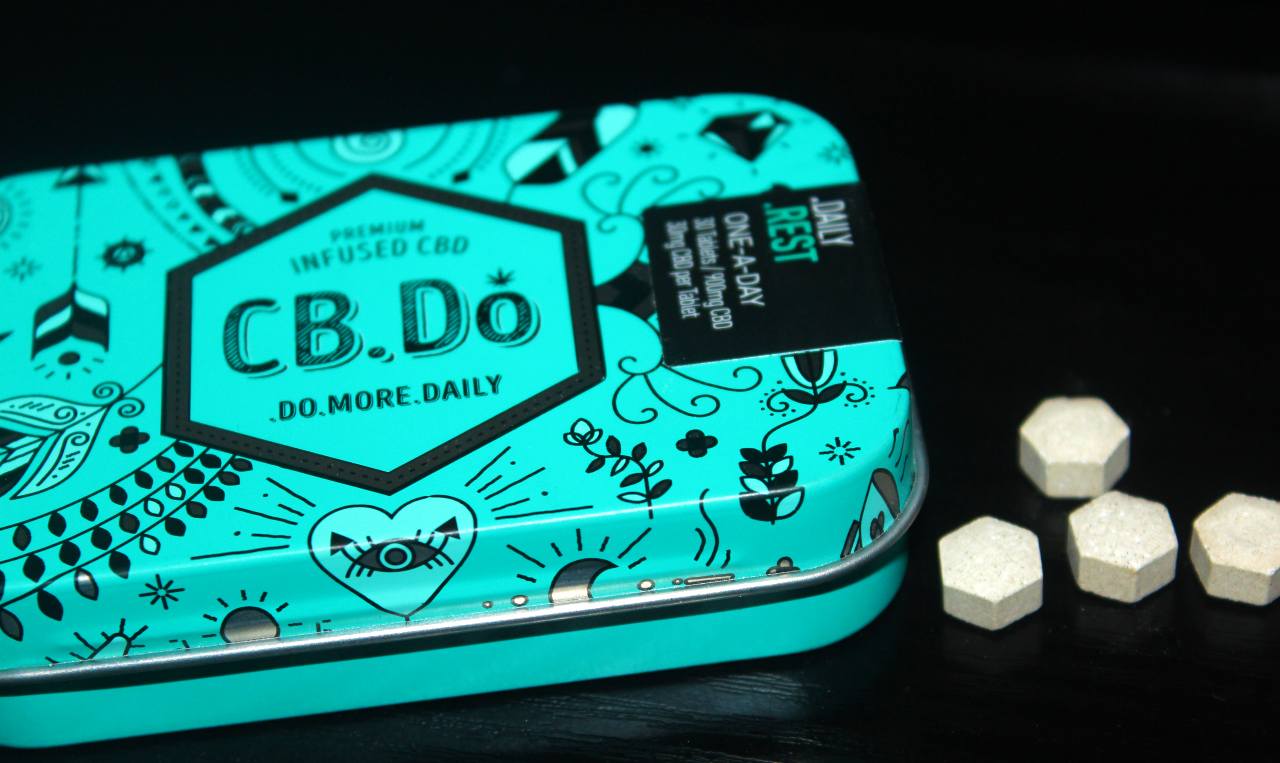 The CBD Blogger Review
Firstly I would like to start off the review once again by saying many thanks to CB.Do for generously gifting us samples of their wonderful CBD tablets to review here at The CBD Blog.
I recently reviewed CB.Do's Energise Tablets here at The CBD Blog and was absolutely blown away by the quality.  One of the best health supplements I have tried, highly recommended.
Very generously CB.Do also included a sample of their Rest tablets for me to review, which was hugely appreciated as I had been eyeing it up based on the many wonderful ingredients it contains.
Nervine Herbs + CBD (Cannabidiol)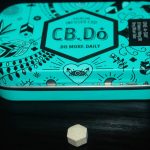 The CB.Do Rest tablets take the benefits of traditional nervine herbs such as Chamomile and Lemon Balm to another level with the inclusion of CBD (Cannabidiol).
"Nervines" are medicinal plants which have a beneficial action or supportive effect upon on the nervous system.
As a massive fan of the nervine herbs, I am really glad to see companies such as CB.Do now combining CBD with traditional nervines such as Chamomile and Lemon Balm.
CBD has an amazing potent "nervine" effect itself in my opinion and as a result is considered to be an effective calming agent with proven anxiolytic properties.
The cannabis plant also has a long history of being used as a "nervine" to reduce symptoms of trauma, stress and nervous system complaints.
CB.Do Rest tablets contain 30mg of their highly absorbable broad-spectrum water soluble premium CBD (Cannabidiol) per tablet.
The Rest formula contains two of my favorite relaxing nervine herbs with Chamomile and Lemon Balm extracts.
Both of these herbs have shown anti-anxiety, mild sedative properties and ability to improve/promote sleep quality.
I found the Rest tablets to be amazing taken before bed, one of the most naturally relaxing supplements for promoting sleep I have tried.
You feel really calm and cosy after taking it, drifting off to sleep quickly.
However, I also found from playing around with the Rest tablets that they are amazing for acute anxiety/stress support.
Whenever I would feel my anxiety or stress symptoms, I'd pop a tablet of Rest and feel better very quickly.  An all round great nervine tonic.
The synergy between the ingredients in the Rest formula again is where the knowledge of medical herbalism is invaluable and someone who is well versed with nutraceuticals can really take supplements to the next level.
Amount per serving:
Lemon Balm (From 20mg of a 4:1 Melissa officinalis extract) – 80mg
Chamomile (From 10mg of a 10:1 Matricaria chamomilla extract, providing 0.12mg of apigenin) – 100mg
Cannabidiol – 30mg
Anxiety, Stress & Sleep Support With L-Theanine & Magnesium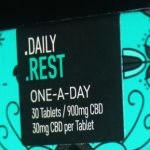 But the benefits don't just end there with relaxing nervine herbs and CBD….
CB.Do's Rest tablets also contains the amino acid L-Theanine, which is found primarily in green/black tea(Camellia Sinensis).
The inclusion of L-Theanine really takes the relaxation and calming benefits of CBD/nervine herbs to another level once again.
L-Theanine is one of my favorite nutraceuticals for anxiety/stress support and reducing the perception of stress.
CB.Do's Rest tablets also provide a nice generous boost of the calming mineral Magnesium at 75mg (20% RI).
Magnesium is a cofactor in more than 300 enzyme systems that regulate diverse biochemical reactions in the body.
Magnesium deficiency has also been shown to induce anxiety and hypothalamic-pituitary-adrenal axis dysregulation.
I find magnesium to be somewhat of a wonder supplement for my health, so the added boost of magnesium is another great benefit of the Rest tablets and synergizes well with the calming/relaxing nature of the other ingredients.
Amount per serving:
Magnesium – 75mg (20% RI*)
L-Theanine – 10mg
More Goodies (Citrus Aurantium, Spirulina & 200% RI of Vitamin D3)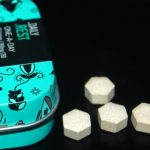 If that wasn't enough the Rest tablets contain even more goodies with Citrus Aurantium extract, a massive boost of the very important Vitamin D3 and a small amount of the superfood blue-green algae Spirulina.
Another thing I really love about CB.Do's supplements is that they contain a very good boost of Vitamin D3 at 10μg which equates to (200% RI*).
Vitamin D is still a common deficiency, especially here in the United Kingdom, so the CB.Do supplements really help to eliminate my need to take and carry around lots of different supplements.
Very convenient to have everything from your daily CBD needs to nervine herbs to magnesium to Vitamin D3 all in the one easy to take tablet.
The Rest tablets also contain Citrus Aurantium, which is commonly known as bitter orange and is a great source of bioflavonoids with many potential therapeutic health benefits from cardiovascular to having sedative/nervine effect.
Citrus aurantium extracts have also reported mood related benefits such as antidepressant effects (Kim et al., 2001) and (Song et al.,1996).
Amount per serving:
Spirulina – 8.6mg
Citrus Aurantium (From 30mg of a 5:1 Citrus aurantium L. extract, providing 18mg of bioflavonoids) – 150mg
Vitamin D3 – 10μg (200% RI*)
Overall:
Overall I'm a massive fan of CB.Do's CBD infused multi-function health supplements and can't say enough great things about their products and company as a whole.
CB.Do really offer something different to all the typical CBD products on the market at the moment, truly health orientated supplements.
The quality and depth of the ingredients used in their formulas are not only well researched, but as someone who has tried many different health supplements over the years, they have got the balance and synergy of their formulas absolutely spot on here.
Once again "multi-function" truly is the name of the game when it comes to CB.Do's supplements, so many different bases are covered that the benefits are endless.
You've got nervine herbs for nervous system/anxiety/mild sedative effect, thats before you even get to the decent dose of broad-spectrum water soluble CBD (Cannabidiol) and all the extra goodies such as L-Theanine, Magnesium, Citrus Aurantium, Spirulina and a 200% RI boost of Vitamin D3.
Highly recommend our readers interested in health orientated CBD supplements to check out CB.Do's amazing range of products.
Information
Price
£45.00 – One A Day/30 Tablets
Ingredients
CBD (Broad Spectrum Hemp Oil, Antioxidant [DL-Alpha-Tocopheryl], Emulsifiers [Sunflower Lecithin, Acacia Gum], Dextrin), Magnesium Oxide, Bulking Agent (Microcrystalline Cellulose), Citrus Bioflavonoids, Lemon Balm Extract, L-Theanine, Chamomile Extract, Vitamin D3 (Cholecalciferol), Anti-Caking Agent (Silicon Dioxide), Natural Food Colouring (Organic Spirulina Powder [contains naturally occurring Sulphites]), Anti-Caking Agent (Magnesium Stearate).
For allergens, see ingredients in bold.
Where To Purchase
For more information or to purchase check out CB.Do at: CB.Do