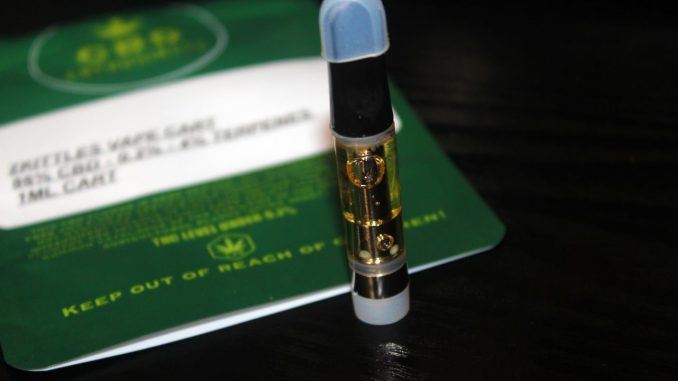 This week's Hemp CBD product review and up this time we have the tasty Zkittles 86% CBD Vape Cartridge from CBD Enthusiasts.
CBD Enthusiasts are a United Kingdom based retailer of Premium quality CBD products with a huge range including CBD Oils, CBD Capsules, CBD Vape Carts, CBD Concentrates, Hemp tea/flower, CBD solids at some of the markets leading prices.
Our readers can also get a very generous 15% discount off on top using our special discount code – THECBDBLOG
CBD Enthusiasts describe their Zkittles Full Spectrum 86% CBD Vape Cartridges as:
Our zkittles carts are back with a bang. Double the strength, double the size, but still completely affordable. 
This indica dominant candy flavoured strain profile represents simply a bag of Skittles.
The Zkittlez terpene profile produces a sweet berry and citrus taste along with a fruity aroma that is backed by earthy tones.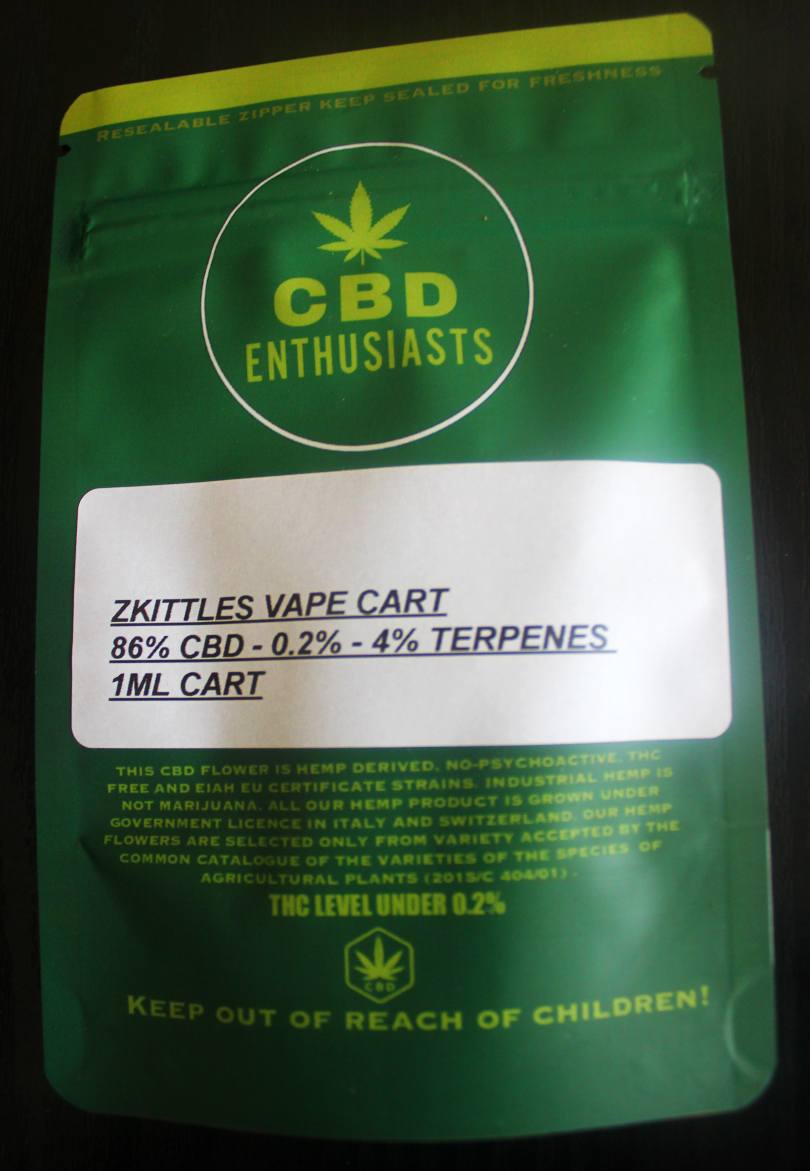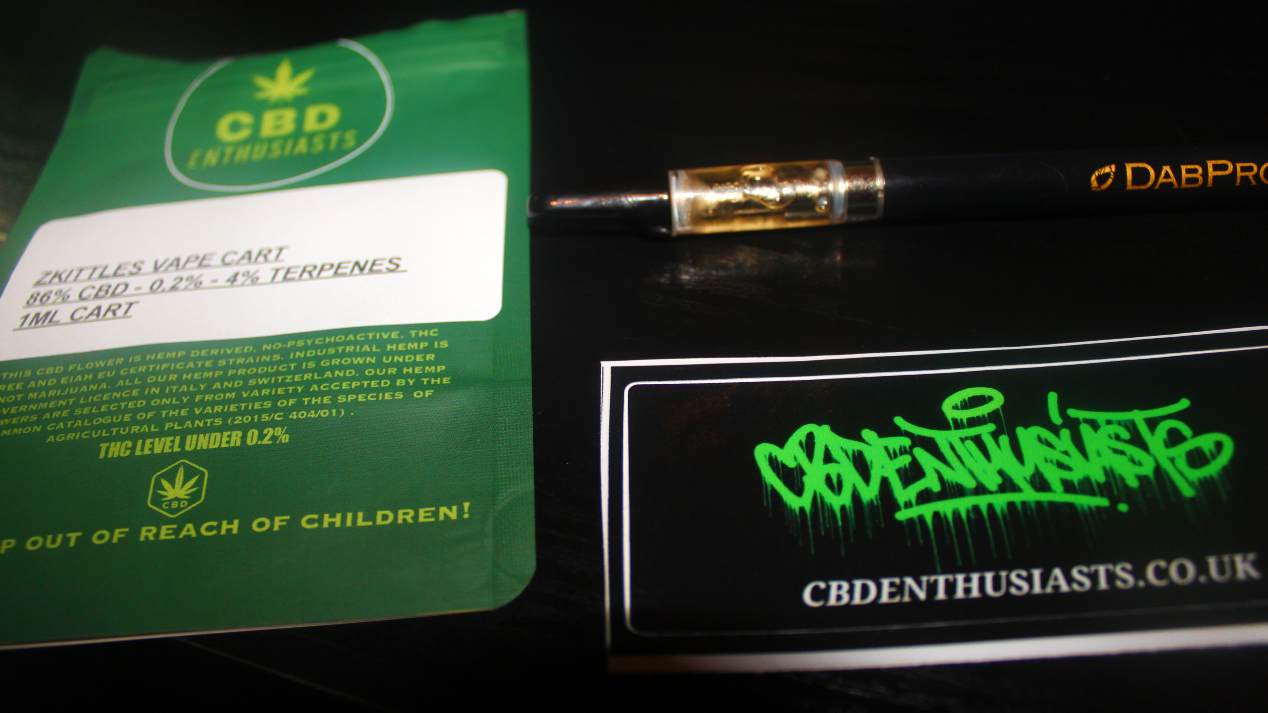 The CBD Blogger Review
Firstly I would like to start off the review once again by saying many thanks to CBD Enthusiasts for generously gifting us samples of their amazing products and for the continued support.
I have reviewed lots of CBD Enthusiasts product range here now at The CBD Blog from their CBD Concentrates to their tasty CBD Flower.
I'm a huge fan of CBD Enthusiasts as a company, premium quality products on offer at extremely good prices.
Taste & Flavour:
The Zkittles terpene infused 86% CBD Vape Cartridge has been one of the nicest and most authentic tasting products.
I loved the flavour of CBD Enthusiast's Zkittles 86% CBD Vape Cartridge so much, that it recently made our Top 5 Authentic Cannabis Tasting CBD Products list.
The Zkittles 86% CBD Vape Cartridge is derived from Cannabis terpenes and its instantly noticeable in the authentic and genuine flavour.
The Zkittles has that amazing hashy cannabis taste that comes over in the flavour, something I really love about the Cannabis derived terpenes.
But the Zkittles is also packed full of fruity, taste the rainbow flavours also.
One of the best and as I say most Cannabis-esque terpene profiles that I have had the pleasure of reviewing here at The CBD Blog so far.
Effect:
The Zkittles 86% CBD Vape Cartridge is what I would describe as a "heavy hitter" CBD product.
All I need is one to two small hits from my vape pen to get a very potent Indica CBD effect from the Zkittles Vape Cart.
The classic heavy eyed, relaxing Indica CBD effect comes on very quickly from this one.
At 86% CBD content its a high strength vape cartridge and due to the strong Indica CBD effect I find it to be a great choice of terpene profile for night time use and before bed.
Overall:
I would definitely recommend the Zkittles 86% CBD Vape Cartridge from CBD Enthusiasts for the strength and flavour chasers out there.
Great quality product, potent CBD effect and full of authentic cannabis flavour.
At £19.99 per 1ml vape cartridge, its one of the most competitively priced cannabis derived terpene/distillate CBD Vape Cartridges on the UK market currently.
Can't say enough great things about CBD Enthusiasts products.
Highly recommended.
Information
Price
£19.99
Details
1ml 510 Thread
86% CBD
4% Terpenes
0.2% THC
Nicotine Free
Totally PG, PEG, VG and MCT Free
Where To Purchase
For more information or to purchase check out CBD Enthusiasts at: CBD Enthusiasts