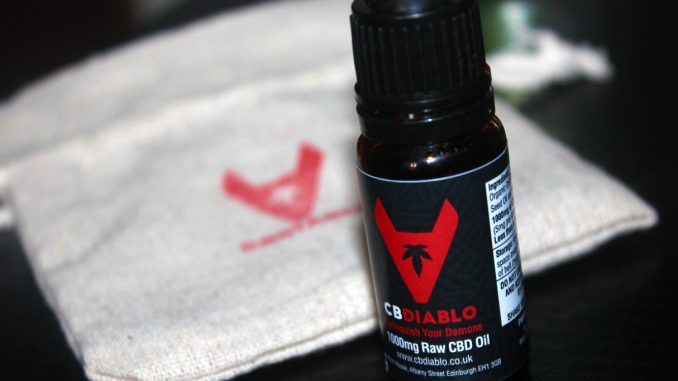 This week's CBD Oil review and we have another amazing product from the guys at CBDiablo, this time with their "Diablo" 1000mg Raw CBD Oil.
CBDiablo are a United Kingdom based retailer of premium quality CBD products with a great range including CBD Oil, CBD gummies, CBD vape cartridges, dab crumbles and much more.
They also donate an amazing 20% of their profits to CALMzone. The Campaign Against Living Miserably (CALM) is leading a movement against suicide.
Key Product Information:
Organically Grown Pesticide Free European Hemp
100% Natural & Lab-tested
Phyto Power= Vegan Friendly
Raw & Full-Spectrum – Contains CBD, CBDa, CBG, CBC & Legal THC Levels
Contains Naturally Occurring Terpenes
Packed Full Of Omega 3 & 6 Fatty Acids
Produced & Bottled In The UK
CBDiablo describe their Diablo 1000mg Raw CBD Oil as: their most popular product and stands as our flagship oil.
Diablo's 1000mg raw & full-spectrum formula has been designed to take full advantage of the entourage effect.
They have used an organic hemp seed oil base, a CBD distillate (using CO2 Extraction) and raw hemp extract to ensure each bottle contains a high percentage naturally occurring phyto-cannabinoids, terpenes and Omega 3, 6 & 9 beneficial fatty acids.
Contains 5mg CBD per drop.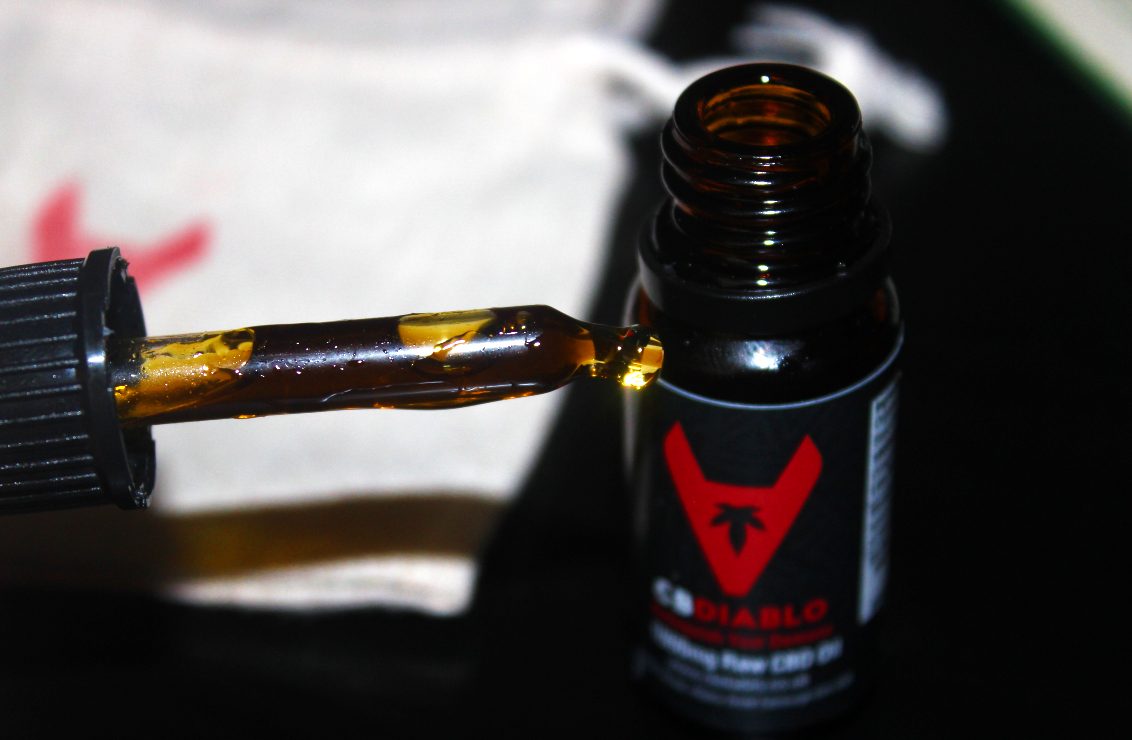 The CBD Blogger Review
Firstly I would like to start off the review once again by saying many thanks to CBDiablo for the very generous samples and for the continued support.
I have reviewed many of CBDiablo's product range now from their 1500mg Ophanim CBD Oil Spray to their Mimosa Terpene Infused CBD Crumble and their 10mg Vegan CBD Gummies, all of which were top quality products.
I had just finished my bottle of the Diablo 1000mg Raw CBD Oil today, so I figured it was fine time for another product review here at The CBD Blog.
Taste:
The Diablo 1000mg Raw CBD Oil has an amazing, rich Hemp Cannabis taste and flavour.
Huge fan of the flavour of the raw/full-spectrum CBD oils, they have that earthy, skunky, cannabis flavour to them that I really enjoy and my palate mentally associates with a quality CBD oil.
The taste/flavour reminds me a lot of another company called CBD Brothers, who's CBD Oils which were some of my first introduction to CBD products.  So the taste brings some nice nostalgia with it.
I previously reviewed CBDiablo's Ophanim 1500mg CBD Spray which was a relatively tasteless CBD oil in comparison.
Really depends what your taste preferences are when it comes to CBD oils, but for me I really love the raw flavour to the Diablo CBD Oil.
Great taste overall.
Effect:
The Diablo is a 1000mg Raw Full-Spectrum CBD Oil (10% CBD) and provides 5mg CBD per drop.
As with all of CBDiablo's products I have had the pleasure of reviewing so far, I find them to be excellent and consistently high quality.
The Diablo CBD Oil really helped rescue my anxiety several times over the past month or two of experimenting.
Really nice oil for sublingual application under the tongue due to the raw full-spectrum hemp cannabis flavour and provides a calming, anti-anxiety CBD effect very quickly.
The effect is slightly different to their broad-spectrum Ophanim CBD Spray, which is a THC free CBD oil.
It's difficult to articulate the differences in effect between the two oils, as they are both potent and have a great health promoting effect.
But I think overall the Diablo 1000mg Raw CBD Oil just slightly edges it for me and was my favorite of the two CBD oils
The taste and entourage effect from the full-spectrum natures gives it a really nice anti-anxiety CBD effect.
Overall:
Overall I'm a massive fan of CBDiablo's products and can't say enough great things about them as a company.
CBDiablo would definitely be one of my go to CBD companies that I would recommend for anyone looking for premium quality CBD oils right through to tasty CBD crumbles.
The 10ml bottle of Diablo 1000mg Raw CBD Oil lasted me a good month of use, due to how potent the effect was and I was often using generous half dropper fulls for an extra strong effect.
Next on my list of products I'm eyeing up to review from the CBDiablo range include their CBD Vape Cartridges and Pen, along with their CBD Capsules, all of which I've heard great things about and they look amazing.
CBDiablo are also currently working on some new sports related CBD products, so keep an eye on their website and Instagram for the latest updates.
Information
Price
£56.00
Ingredients
Each 10ml bottle contains: Cannabis Sativa L. Oil made with 100% natural & organic hemp strains & hemp seed oil. Each bottle contains roughly 200 drops and therefore each drop contains an estimated 5mg of Cannabinoids. This product contains legal THC levels.
Produced in an ISO9001 & BRCGS approved facility.
Where To Purchase
For more information or to purchase check out CBDiablo at: 1000mg Raw CBD Oil