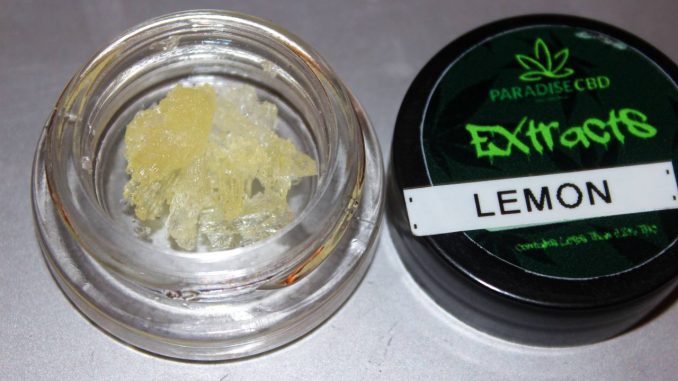 We're back with more CBD extract/concentrate reviews this week on the blog and up this time we have the Lemon Haze CBD Shatter from Paradise CBD.
Paradise CBD are a United Kingdom based retailer of premium Hemp/CBD products and have one of the most extensive ranges on the market currently including CBD Oils to CBD E-Liquids, CBD Patches to CBD infused edibles such as CBD chocolate bars, hot chocolate, coffee, gummy bears and much more.
Paradise CBD also stock a wide range of CBD extracts such as their terpene infused shatter, CBD Crumble, CBD Isolate, limited edition live CBD rosin and CBD live resin.
Their terpene infused shatter comes in many different flavour/strain profiles including OG Kush, Candy Land, Orange Diesel and Lemon Haze, the latter which I will be reviewing on the blog today.
Co2 Extracted Broad Spectrum Shatter.
Each jar contains 1.0g, 95% CBD/CBDa and is of course THC free.

Paradise CBD describe their Lemon Haze CBD Shatter as:
"A powerfully strong, THC free, indica dominant strain has been one of the most sought-after cannabis varieties since it's inception. A beautifully calming, relaxing strain, with citrus notes. perfect for those winter evenings indoors offering relief from anxiety and pain."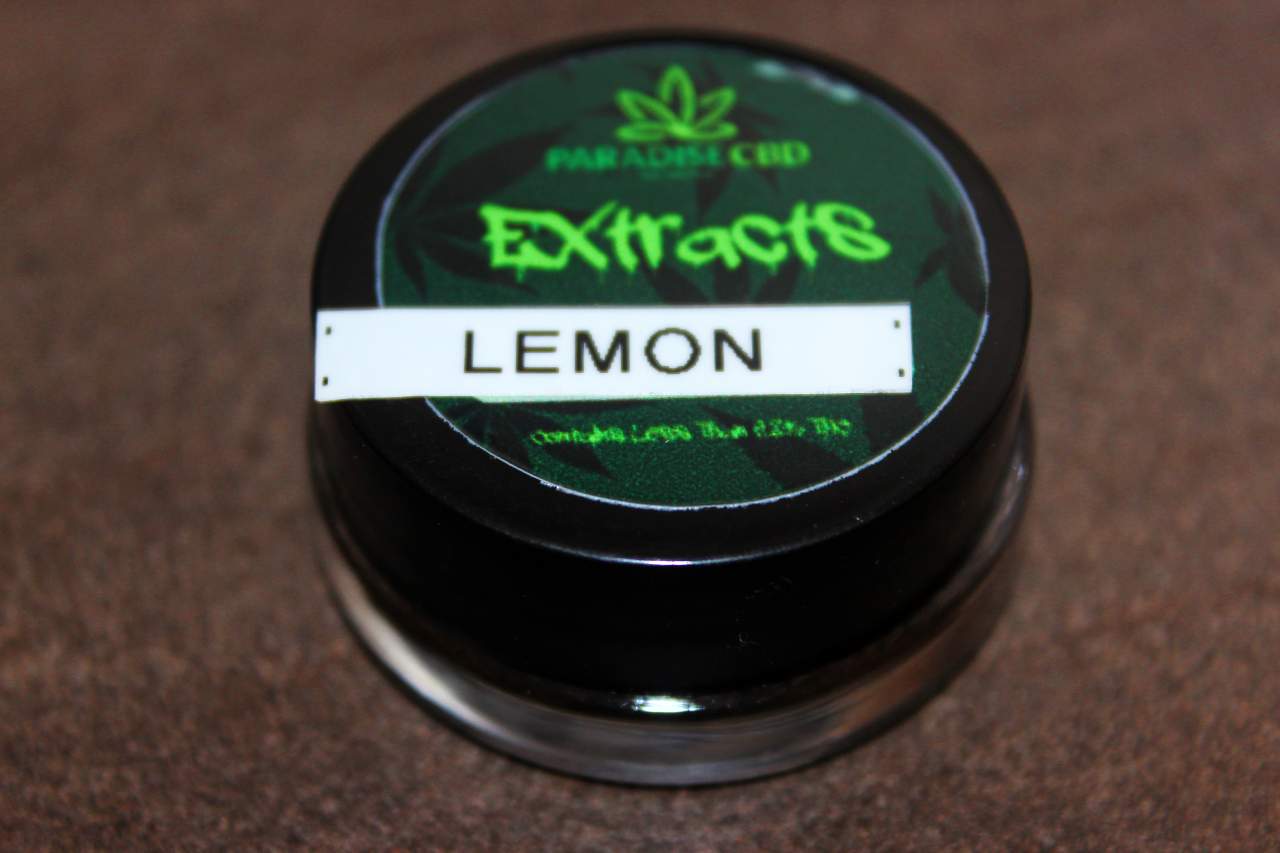 Close up picture of the Lemon Haze CBD Shatter – Lovely shards of CBD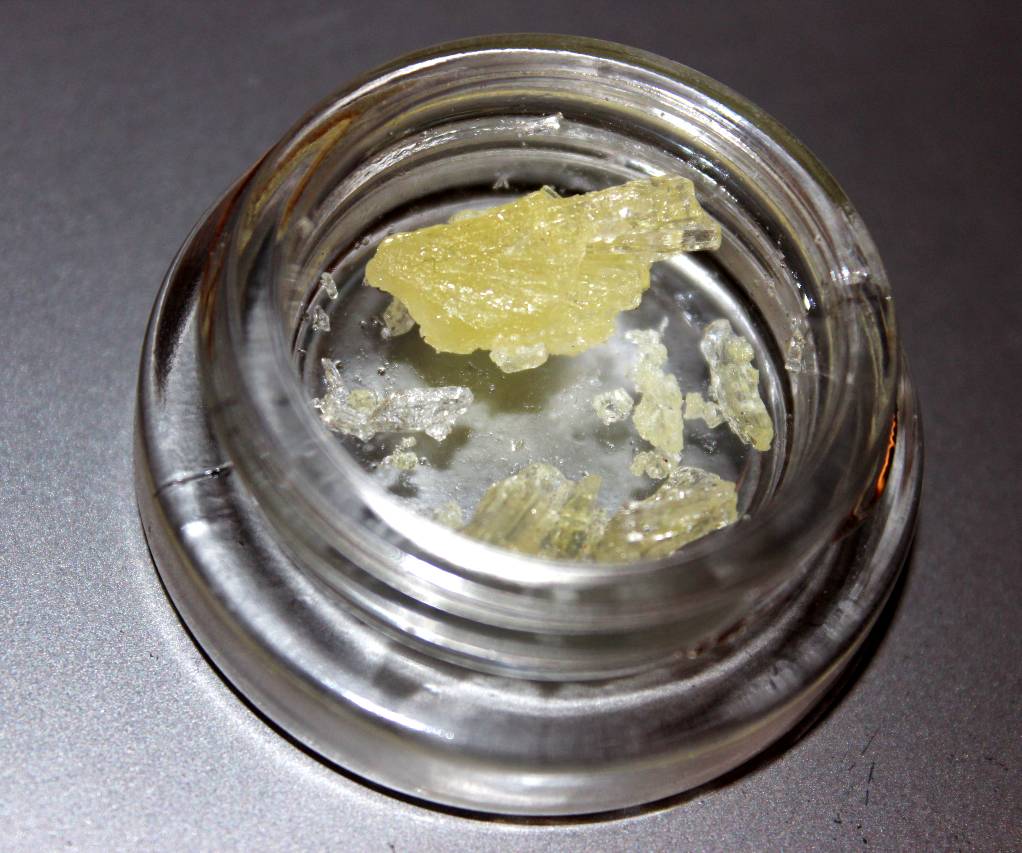 The CBD Blogger Review
Firstly I would like to start off the review once again by saying many thanks to Paradise CBD for generously gifting us samples to review on the blog.
We also have two CBD flower strain(Cheese & Gorilla Glue) reviews from Paradise CBD coming soon, so keep an eye on our blog and Instagram for updates.
Anyway back to the Lemon Haze CBD Shatter review…
This was my first time trying Paradise CBD's products and I have been dying for some time now to try their products, especially their extracts after hearing great things in the CBD community.
Appearance:
First thing I noticed upon opening the little jar was the amazing generous quantity of CBD shatter that you get for 1 gram of product.
The jar is packed with a great amount of CBD shards of shatter and the price is brilliant too at £13.99.
Paradise CBD are also running a sale currently and have reduced the price to £12.49 a gram, which is amazing.
Lovely big shards of CBD shatter.
Taste & Flavour:
A soon as you open the jar you are greeted with a delicious uplifting citrus lemon aroma.

I am a huge fan of lemon cannabis strains such as lemon haze which has been a firm favorite over the years, so I was really looking forward to seeing what the taste and flavours was like on this one.
Very tasty, fruity, stimulating citrus lemon flavour but not overbearing when it comes to the lemon either, just the right amount.
If you are a fan of lemon weed strains/flavours then you will definitely appreciate the taste and flavours of the lemon haze CBD shatter.
Effect:
The Lemon Haze CBD Shatter from Paradise CBD is extremely potent as you can imagine with a 95% CBD/CBDa content.
My favorite method for consuming CBD concentrates at the moment is using the Dab Vaporizer Pen from CBD Life.
You don't need much at all, I was using about a rice size grain of CBD shatter in the dab vape pen and the effect is very strong and comes on almost immediately.  As such the CBD shatter is a very economical and potent way to medicate your CBD(Cannabidiol) needs.  Not to mention tasty and fun too.
The Lemon Haze has a really nice strong indica, calming CBD effect, however it is also uplifting/stimulating at the same time and very good for stress too as I often find with lemon terpene profiles and lemon cannabis strains.
Other than 100% CBD Isolate, I think the Lemon Haze CBD Shatter is probably one of the most potent CBD products I have reviewed so far on the blog and it definitely shows in the strong relaxing Indica CBD effect. Definitely recommend this one.
The Lemon Haze CBD Shatter has a really pleasant effect overall and is a great choice of terpene strain profile/CBD product for relaxing in the evening I found personally.
Packaging:
The Lemon Haze CBD Shatter comes packed in a small jar as seen in our pictures, complete with logo sticker and strain name.
The jars are very high quality and keep the CBD shatter extremely fresh, full of flavours.
Overall:
Big fan of Paradise CBD's Lemon Haze CBD Shatter and I will be hopefully reviewing more of their flavours and product range in the coming future on the blog.
I have my eyes on their limited edition CBD rosin and CBD live resin, they look very interesting products and I can't wait to see how they compare to the likes of CBD shatter and CBD crumble in effect.
I would definitely recommend anyone who is interested in premium quality CBD products from CBD extracts to CBD edibles to go check out the extensive range of Hemp/CBD goodies that Paradise CBD has on offer.
10/10
Information
Price
£13.99
Ingredients
Organically grown premium CBD flower extract.THC Free.
*Suitable for vegetarians & vegans. Halal Approved. Organic & Natural. Made in the UK.
Where To Purchase
For more information or to purchase check out Paradise CBD at: Paradise CBD