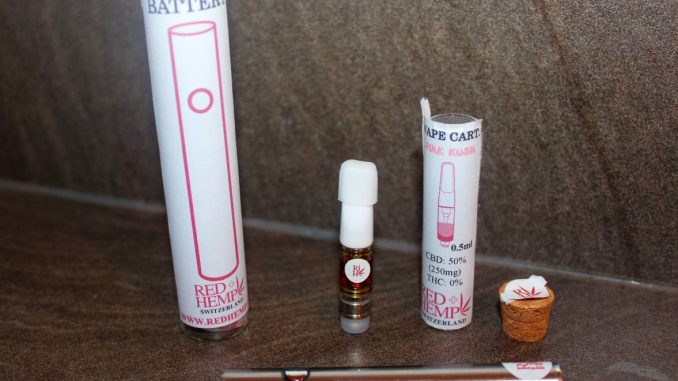 We are on fire with awesome Hemp/CBD product reviews this week on the blog and up this time we have the Pink Kush CBD Vape Cartridge and Battery/Pen by RedHemp Switzerland.
RedHemp Switzerland are a manufacturer of Premium quality Swiss CBD Oil products including 25% Full Spectrum CBD Oil(300mg), CBD Bath Bomb, CBD Infused Relax Mask, their range of Swiss hemp flower infused herbal teas and their CBD Vape Cartridges and Battery/Pen.
RedHemp have also generously created a special discount code where our readers can get an amazing 10% discount off their order plus free shipping, when you use our discount code – CBDBLOG
The Pink Kush CBD Vape Cartridge contains 50% CBD (250mg) and is infused with true Californian terpenes. 
Contains 0% THC.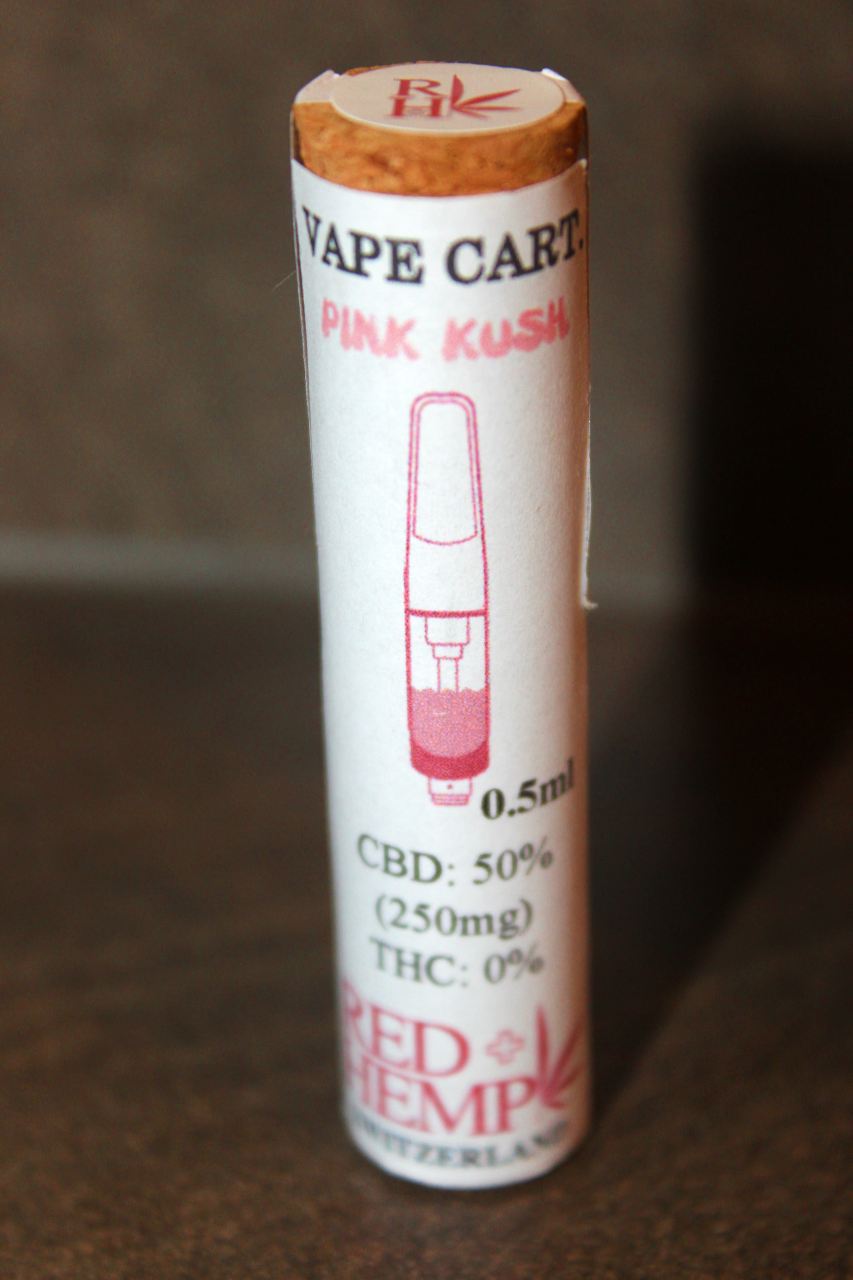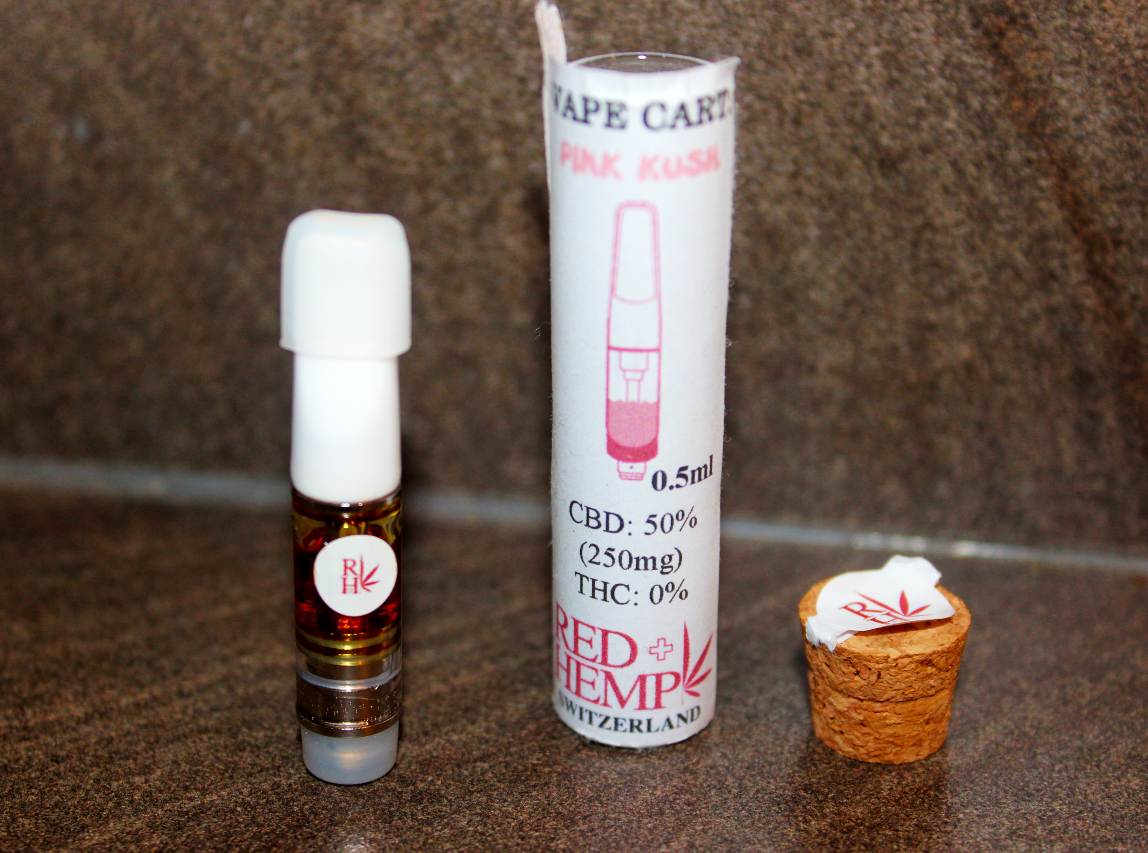 A close up picture of the Pink Kush CBD Vape Cartridge – Look at the beautiful golden red CBD vape liquid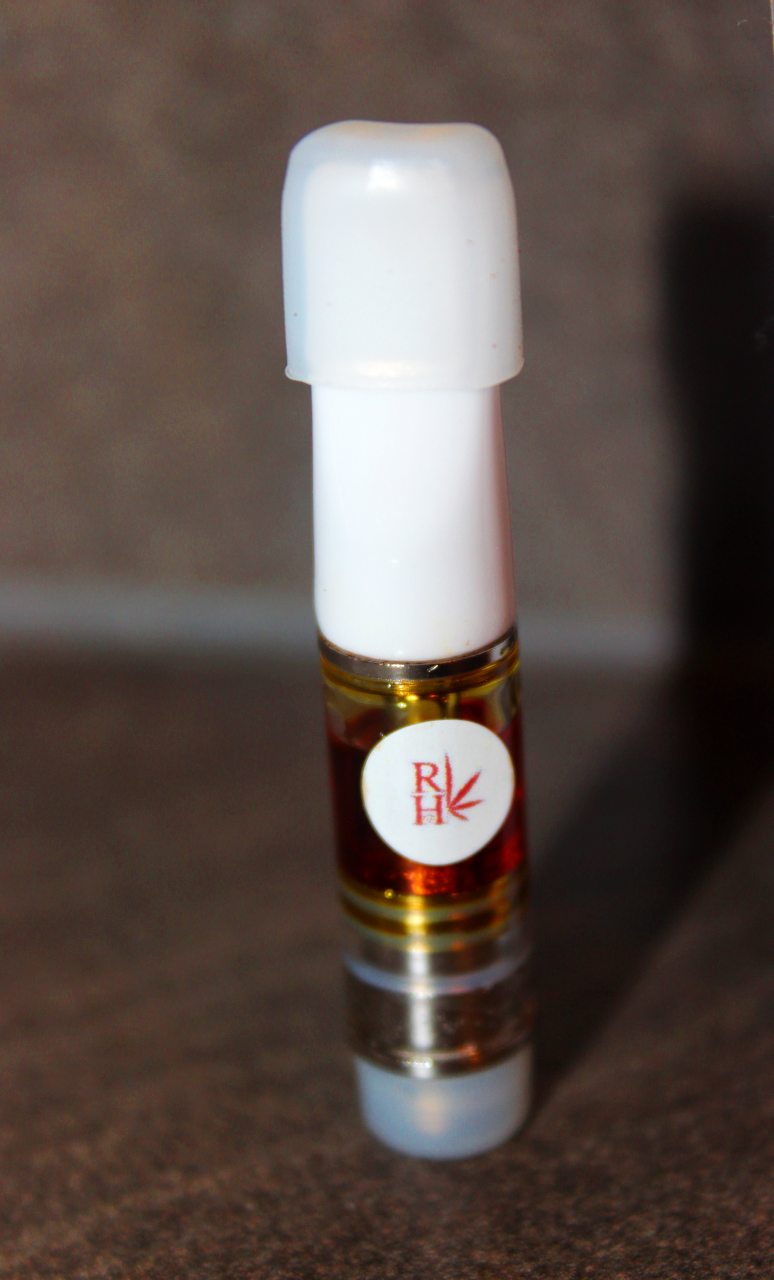 Picture of the Pink Kush CBD Vape Cartridge & Battery Pen in action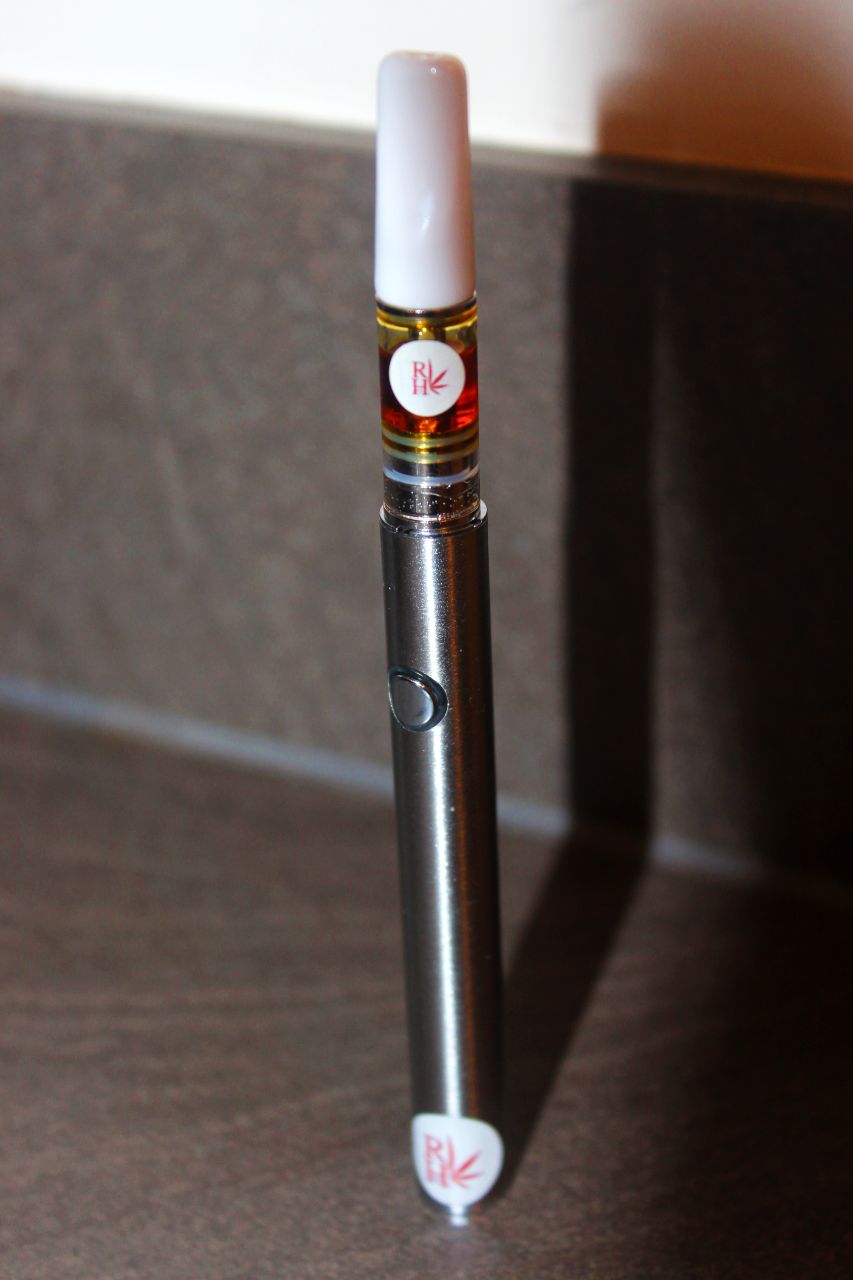 The CBD Blogger Review
Firstly I would like to start off the review once again by saying many thanks to RedHemp Switzerland for generously gifting us samples to review on the blog.
We have more reviews coming soon on RedHemp Switzerlands products such as their 25% CBD Oil and their Relax CBD infused Mask, so keep an eye on the blog for future updates.
This was my first time trying RedHemp's products and I decided I would start with the Pink Kush CBD Vape Cartridge as I had been eyeing it up for some time now.
Wow is all I can say, I think I've found a new contender for my current favorite Hemp/CBD product. 
Amazing quality both the vape cartridge and the vape battery/pen.
Taste & Flavours:
The flavours and taste of the Pink Kush Vape Cart are immense, infused with true Californian terpenes.
You can really taste the difference here with the Pink Kush vape cart, really cannabis-esque in flavour.  Definitely the most authentic flavours Ive sampled so far from a hemp product.
The flavour reminds me of the very top quality Pink Kush flower I used to get from Canada back in the days, brings back great memories with each hit. 
There are many kush terpene infused blends on the market these days, but the Pink Kush from RedHemp Switzerland here really is something different and in a league of its own, extremely cannabis like in the flavour and sensation of the hit.

Amazing flavours and terpenes overall.  Definitely one of the nicest flavoured hemp/CBD vape products I have sampled to date.
Effect:
The Pink Kush CBD Vape Cartridge packs a potent punch at a 50% CBD content (250mg).
From the taste/flavours to the effect, each inhale and hit really is an enjoyable and very authentic cannabis experience all round.
I don't know whether it is the Swiss grown CBD or the Cali terpenes, but each hit is just amazing all round sensation.
I find I only need 1-3 small hits for a really good CBD effect.  Nice smooth CBD vape liquid on the throat too.
I found the Pink Kush CBD Vape Cart to be a good terpene strain choice for any time of the day, whether it be first thing in the morning or winding down at night.
Has a really nice uplifting cannabis feeling, but at the same time the classic Indica/Kush CBD effect.
Definitely one of my favorite CBD vape products of all time and I have sampled quite a few now at this point.
Appearance:
The Pink Kush CBD Vape Cartridge has a beautiful golden red colour vape liquid.
Packaging:
The Pink Kush CBD Vape Cartridge and Battery come packaged in a really cool clear vial with a cork lid as pictured above, complete with labelling and stickers.
I am a huge fan of the packaging from RedHemp Switzerland and it was one of the things that drew my attention to the brand in the first place.
Vape Battery/Pen:
I thought I would also review the vape battery/pen that RedHemp Switzerland sell alongside the Pink Kush CBD Vape Cartridge as its an amazing piece of kit for £8.99
Really quality vape battery, easy to use, five clicks switches it on and then just your usual hold down the button and inhale. The button lights up blue also as its being held.
The vape pen produces nice thick clouds of vape and is a nice smooth hit, not overheating.  Great quality vape battery.
Overall:
The Pink Kush CBD Vape Cartridge is an amazing product overall from RedHemp Switzerland and has been one of my favorite products I have reviewed so far on the blog here.
A great quality CBD vape cartridge and vape battery/pen.  RedHemp Switzerland have also recently added a new CBD Vape Cartridge flavour in Zkittlez, so I will hopefully be reviewing this in the future also on the blog too.
I definitely recommend our readers to check out RedHemp Switzerlands range of CBD products and don't forget you can get 10% discount off your order with our special code – CBDBLOG
Information
Price
£28.99 for the Pink Kush Vape Cartridge and £8.99 for the battery pen.

Ingredients
0,5 ml vape cartridge
50% CBD (250mg) & 0% THC.
Made with Hemp extract, MCT Oil (coconut) and Terpenes.
Where To Purchase
For more information or to purchase check out RedHemp Switzerland at: RedHemp Switzerland