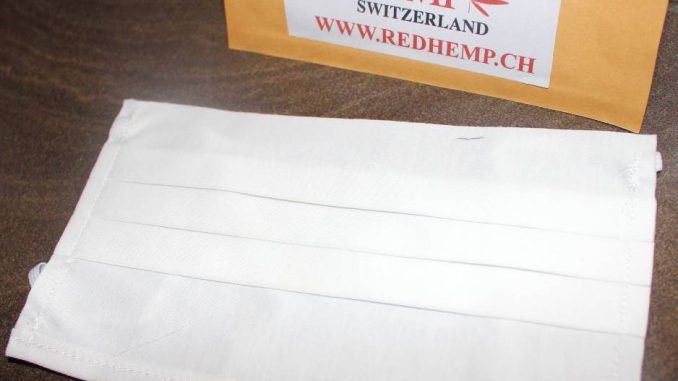 This week's Hemp CBD product review and up this time we have the Relax Mask from RedHemp Switzerland.
RedHemp Switzerland are a manufacturer of Premium quality Swiss CBD Oil products including 25% Full Spectrum CBD Oil(300mg), CBD Bath Bomb, CBD Infused Relax Mask, CBD Sleep Pillow Spray, their range of Swiss hemp flower infused herbal teas and their CBD Vape Cartridges and Battery/Pen.
Today I am going to be reviewing the CBD infused Relax Mask from RedHemp Switzerland that I have been testing daily for the past several months.
RedHemp Switzerland describe their Relax Mask as:
Our premium cotton Relax Mask® is an innovation in comfort and relaxation, without compromising on the protective qualities of a traditional mask. It is tested as one of the only cotton masks on the market to be as much effective as a surgical mask due to its silver technology.
Our unique relaxing blend of CBD, Aloe Vera and Lavender is designed to relax and soothe thanks to a unique patented technology. 
The mask fabric is infused with millions of microcapsules that contain our unique blend.
These microcapsules are released by the body's natural movements activating Cannabidiol. This mask is designed to withstand several washes without its properties being altered.
The Relax masks contains 2mg CBD per mm2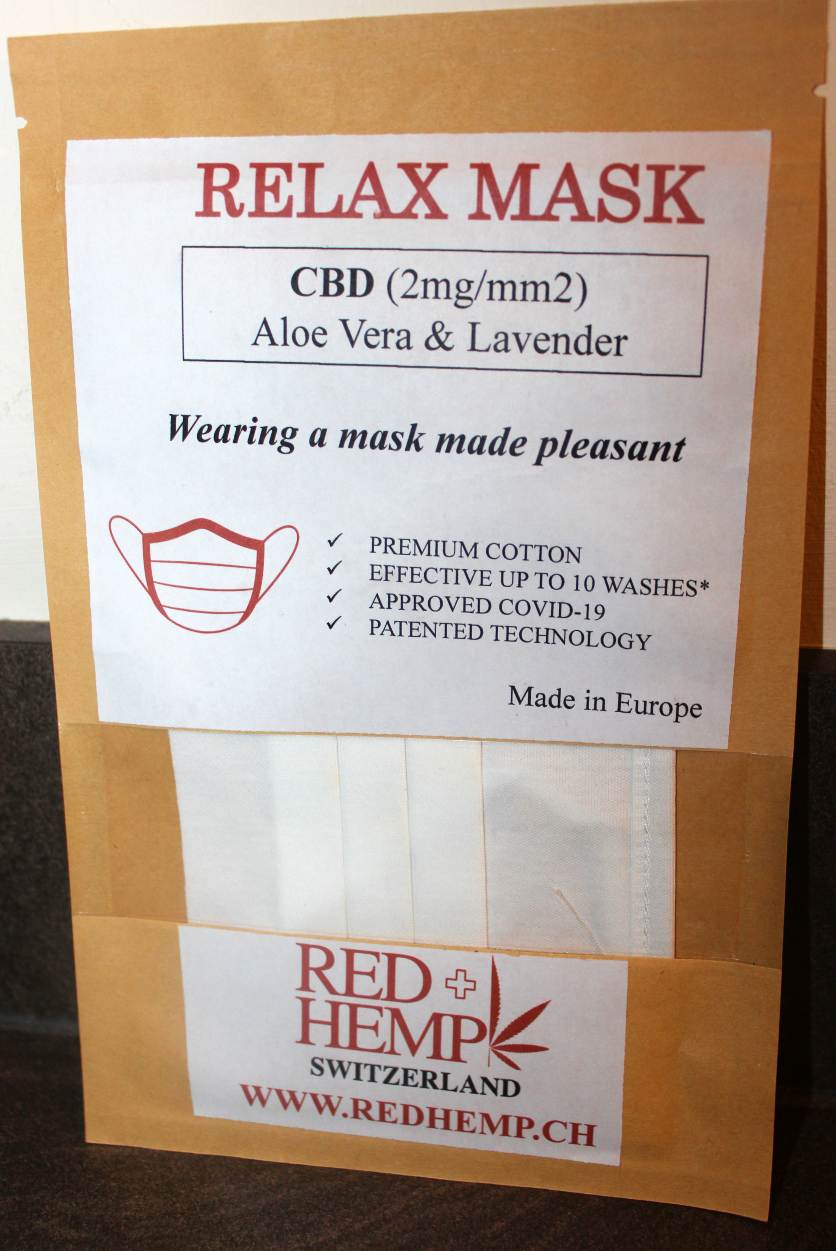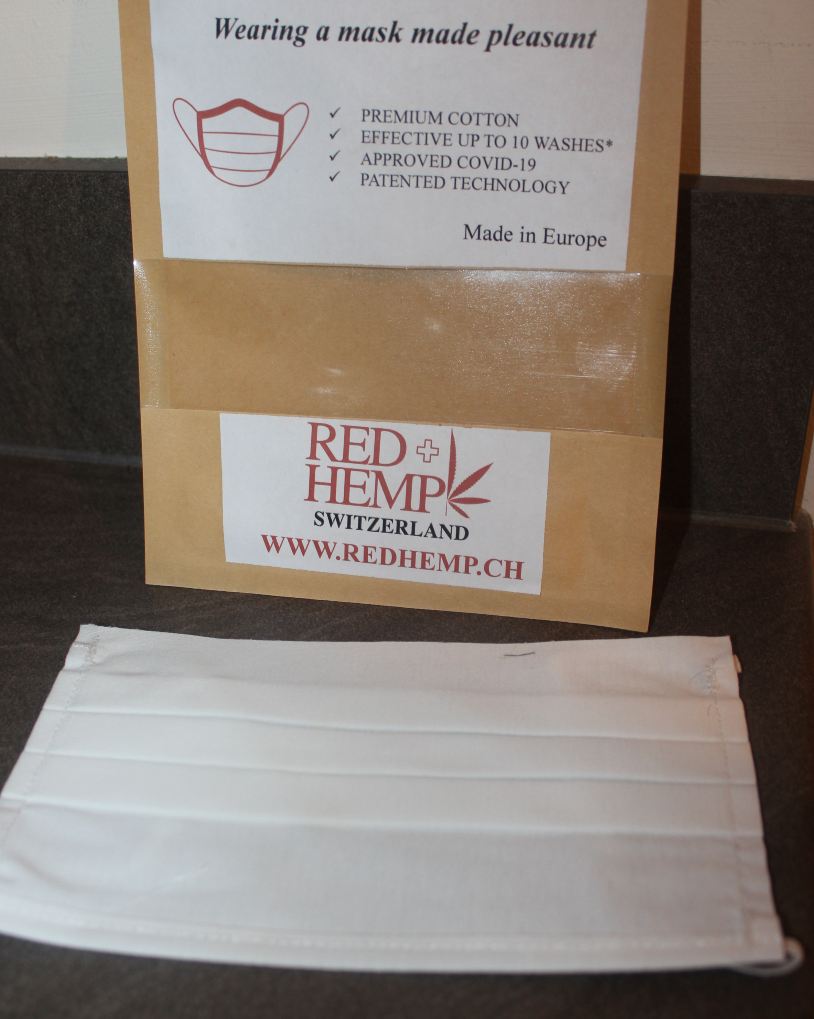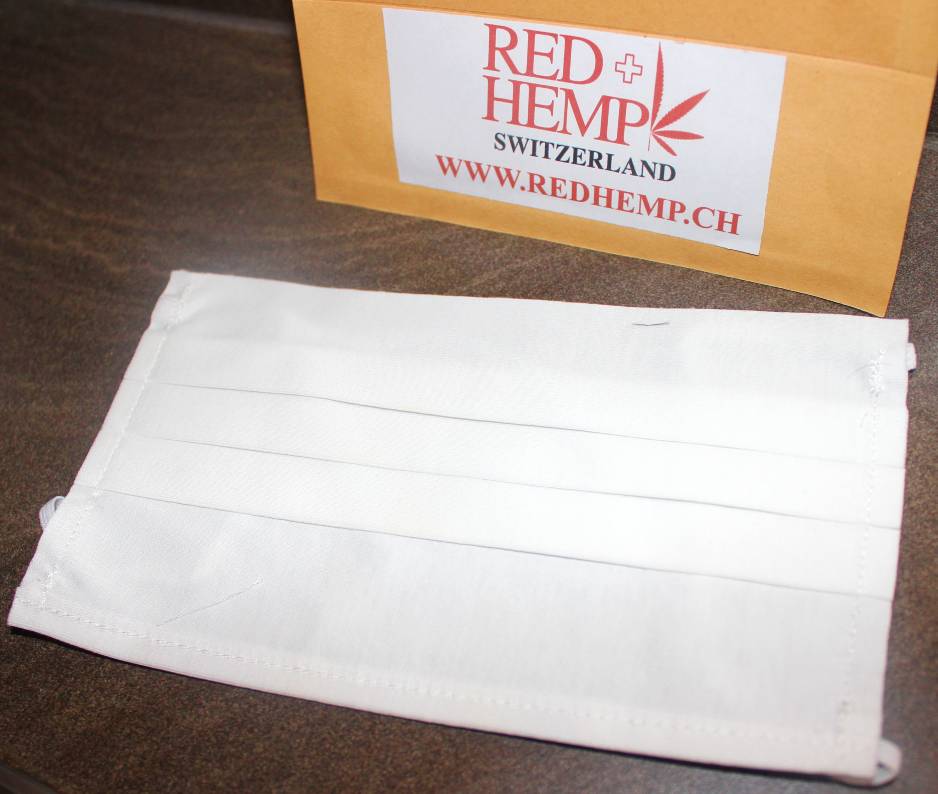 The CBD Blogger Review
Firstly I would like to start off the review once again by saying many thanks to RedHemp Switzerland for generously gifting us samples of their awesome products to review on the blog.
We have reviewed several of RedHemp Switzerland's product range so far here at The CBD Blog including their Pink Kush CBD Vape Cartridge and 25% CBD Oil.
In my order from RedHemp Switzerland was also one of their Relax Mask's to review and it was excellent timing as I had just lost the normal face mask I had been wearing the day my Relax Mask arrived.
It was also around the time last year where Covid restrictions heightened and use of a face mask was compulsory in order to go shopping etc.
Comfort:
The Relax Mask is made from a premium cotton and is a very thin style fabric, so not only is great for carrying about as its light, but its also very comfortable to wear also.
Infact, the CBD infused Relax Mask has been the most comfortable style fabric mask that I have tried generally speaking out of all masks I have worn during the pandemic.
The addition of Aloe Vera also gives it a very soothing feeling on the skin.
Effect:
The Relax Mask contains a very relaxing and stress busting blend of CBD (Cannabidiol), Lavender and Aloe Vera.
The synergy between the CBD and Lavender essential oil is amazing and provides a really nice calming, anti-anxiety and anti-stress effect.
The calming effect comes on very quickly upon wearing the mask also, so doesn't need to be worn for long periods to obtain the relaxing sensation.
For those like myself who initially didn't take too well to having to wear face masks, this would have been ideal for helping to reduce my anxiety related to breathing and having to wear masks constantly when indoors, which I often find a challenge at the best of times, especially during the hot summer months.
The Relax Mask is so effective for calming than even after wearing it for a small brief 5-10 minute period shopping is enough to give you lasting anxiety and stress relief for the walk or drive back home.
Overall:
Overall I really enjoyed reviewing the Relax Mask from RedHemp Switzerland for the past few months.
The Relax Mask landed at the perfect time for me and helped reduce my anxiety/stress when shopping over the winter months last year during the height of the Covid restrictions and social distancing measures.
The Relax Mask lasted me around a month and a half I would say of intensive daily usage before it started to lose its Lavender smell and CBD effect, but still remains a great mask to wear otherwise.
Great product overall that was a very essential part of daily life at the point when I reviewed the Relax Mask, so very thankful to RedHemp Switzerland for giving me the chance to review and keeping me safe throughout the pandemic also.
Information
Price
£17.99
Where To Purchase
For more information or to purchase check out RedHemp Switzerland at: RedHemp Switzerland
RedHemp have also generously created a special discount code where our readers can get an amazing 10% discount off their order plus free shipping, when you use our discount code – CBDBLOG